How to make your night before Christmas MAGICAL!
Merry Christmas and Happy Holidays everyone!
It's Toria from The Step Stool Chef. I'm so excited that Christmas is just right around the corner. It has always been such a magical time of the year. It seems there's so little magic in our everyday lives so I love to find and create magic where I can. The holiday season gives us the opportunity to experience the world through the innocence and wonder of a child's eyes. Plus, there is no evening more magical than The Night Before Christmas.
Christmas Eve is such a special time to create wonderful traditions with your family. Making snacks for Santa is one great tradition for many families. Here are a few more easy ideas for a magical Christmas Eve: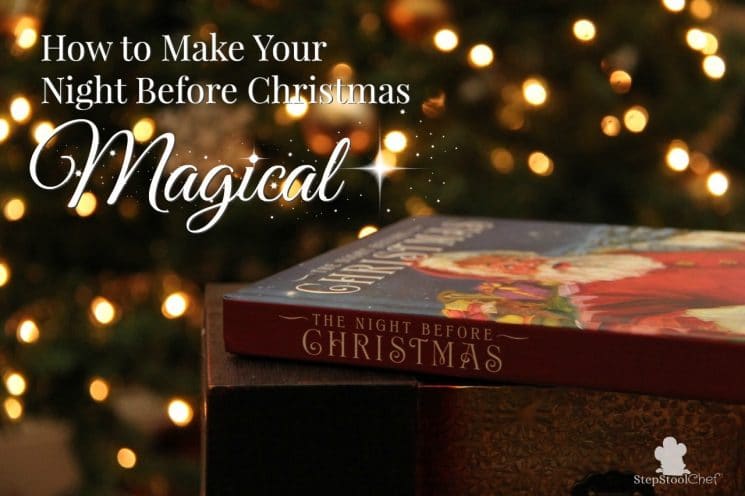 Make Reindeer Food
Santa is not the only one that needs a snack during the busy night. Before going to bed, the kids can make a fun, easy and eco-friendly recipe for Magical Reindeer Food to help the reindeers fly through the night. This has become an annual tradition in our home. The kids love being outside in their jammies and robes sprinkling food in our front yard for the reindeer to eat. Remember, the food is for the reindeers only, so no tasting allowed. Plus, the birds will eat what the reindeers may miss.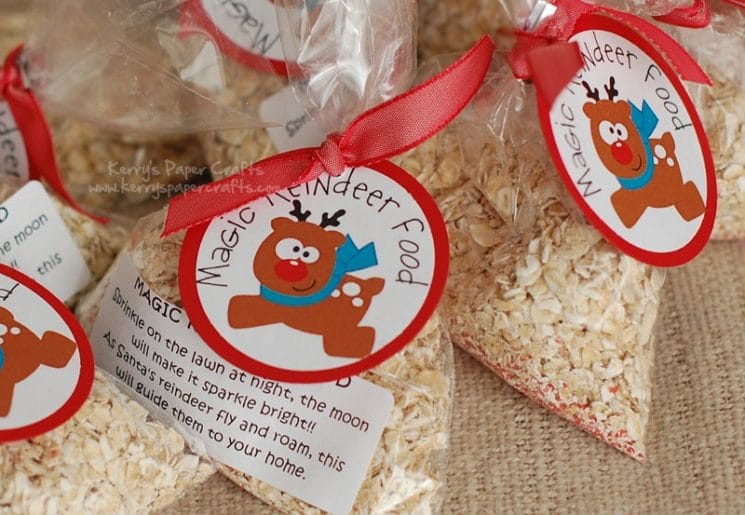 Reindeer Food Recipe: 1/2 cup oatmeal | 2 tablespoons red sprinkles | 2 tablespoons green sprinkles
Donate Bag of Toys and Leave for Santa
It's always important to celebrate the spirit of giving during the holiday season. This Christmas Eve, your little ones can fill their own bag of toys with their gently used toys they may have outgrown. Leave it out in front of tree for Santa to pick up to share with other little girls and boys.
Leave Santa's Footprints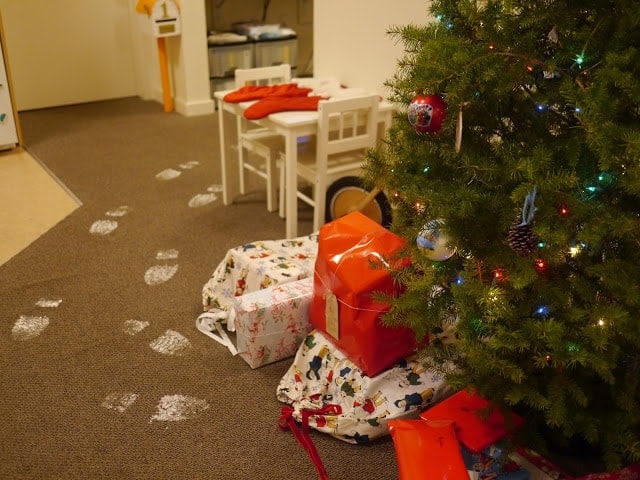 With the anticipation of the "Big Guy's" arrival on Christmas Eve, imagine the look in your kids eyes when they wake to find real evidence that Santa actually came. On Christmas Eve after the kids have gone to bed, pour out glitter on newspaper then stick a boot in it. If you live in a snowy climate, try using baking soda to create snowprints. You may need to lightly spray the bottom of boot with water to make sure it sticks. Then leave footprints wherever Santa may have gone around the house.
Wear Matching Jammies
There is something about wearing matching pajamas that brings a feeling of togetherness. Since my youngest daughter was born, we have put the kids in matching pajamas every year and this kids love it. Many families may open one gift on Christmas Eve. This year, try creating a special Christmas Eve box filled with matching Christmas pajamas, a family movie, popcorn and "Twas The Night Before Christmas" or other favorite book.
Sing Christmas Carols at your local nursing home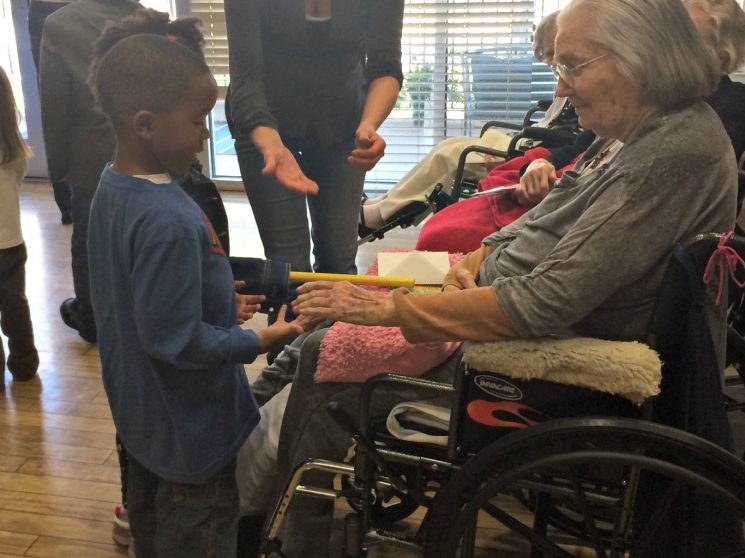 There are so many who spend time in a nursing home that may not be able see their families on Christmas. Just think how touching it will be to receive visitors on Christmas Eve who wish for nothing more than to belt out "Jingle Bells". What is more magical than the sounds of children laughing and singing? A small group of friends plus a simple call to your local nursing home can equal unspeakable joy to the residents and staff on Christmas Eve.
Pass out food to late night workers
Thinking more about those who may not be able to spend Christmas Eve with families, try making a bowl of soup and share a few random acts of kindness. Drive up to your local pharmacy drive thru or gas station and surprise them with your favorite soup recipe or hot cocoa. I am sure it will warm their hearts as well as their bodies.
Laugh… A lot!
Doesn't it seem like your best memories are spent laughing. The holiday season is a time to celebrate love, life and redemption and spend our days with those we love the most. With all the focus on holiday planning and rush to finish the ever growing to-do list, Christmas Eve is your chance to finally sit down and enjoy the moment with your family… because after all isn't that what it is all about.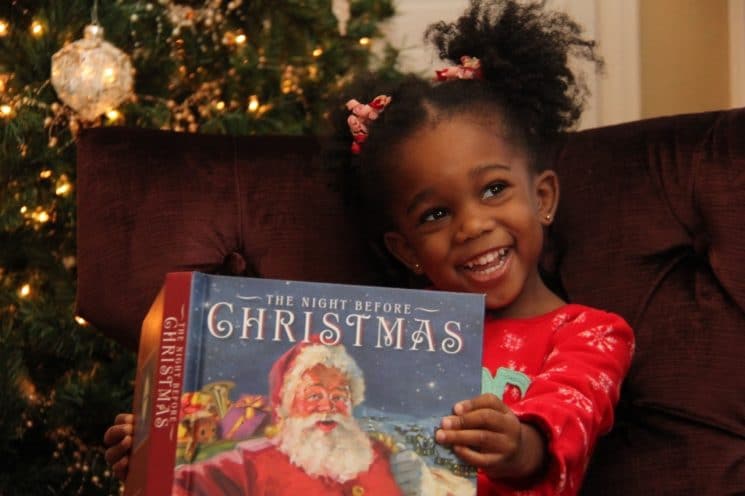 No matter how you spend your Christmas Eve, remember that you can create all the magic you need when sharing it with the ones you love!
Merry Christmas from The Step Stool Chef!
Toria and her 7-year-old son have an amazing Online Cooking School For Kids, The Step Stool Chef Academy , an innovative way to provide cooking classes for kids by encouraging kids and parents work together in the comfort of their own home at their own pace. For a 20% discount, use the coupon code: "Partner".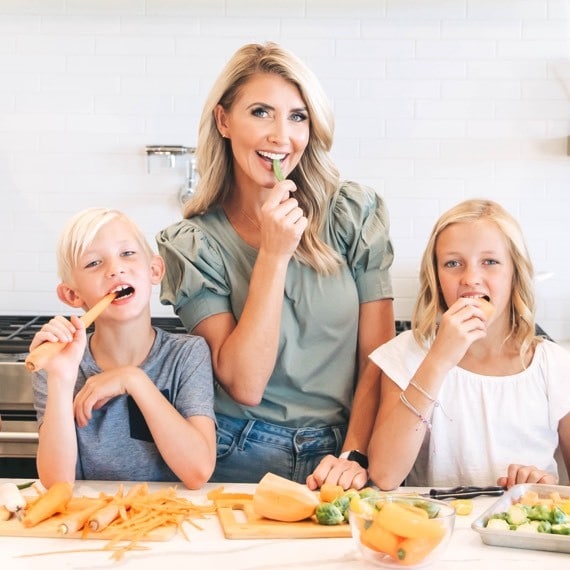 Natalie Monson
I'm a registered dietitian, mom of 4, avid lover of food and strong promoter of healthy habits. Here you will find lots of delicious recipes full of fruits and veggies, tips for getting your kids to eat better and become intuitive eaters and lots of resources for feeding your family.
Learn More about Natalie