A deliciously flavored twist on a classic quesadilla.  These Chicken Teriyaki Quesadillas are even good enough for your main dish!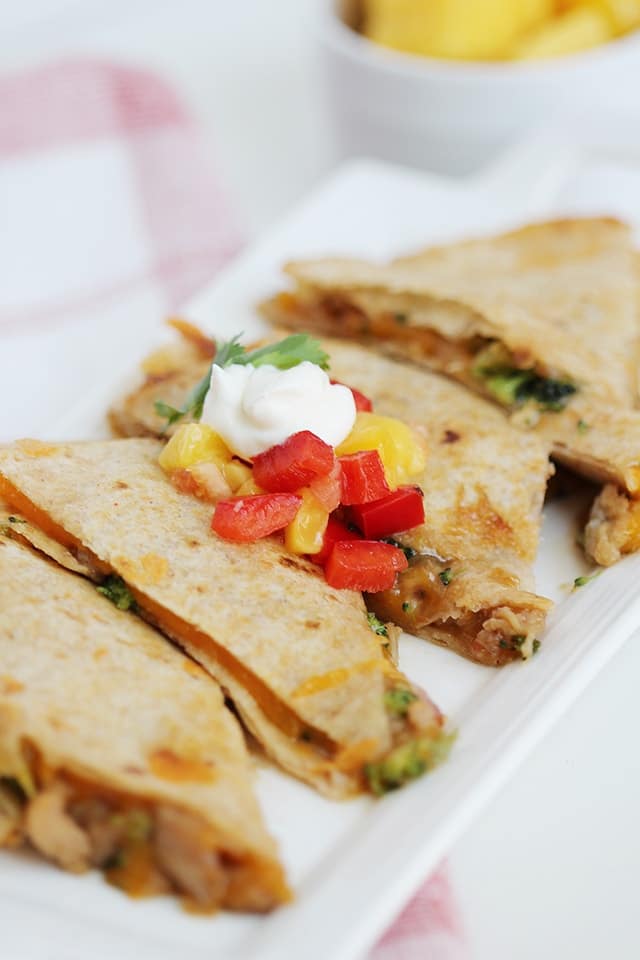 What is in a Chicken Quesadilla?
A classic quesadilla has a crispy tortilla on the outside and gooey cheesy fillings on the inside.  They great thing about quesadillas are they are affordable, quick and easy, and a food that almost everyone loves!  You can put practically anything inside a quesadilla, so there are many variations.  One of our favorite things to put in a quesadilla is chicken.  It adds protein and can be combined with a lot of different add-ins to create a delicious meal.  Some of our favorite recipes on our site are chicken quesadillas.  Keep reading for the links to those recipes.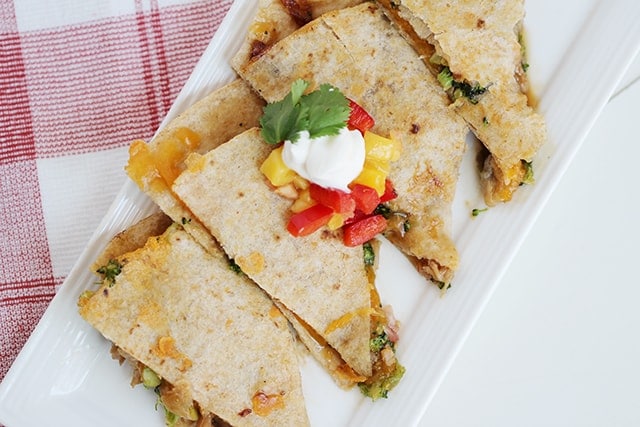 Are chicken thighs better than chicken breasts in a quesadilla?
Chicken breast is definitely the top-selling cut of chicken at the store, but people who cook a lot know that chicken thighs are the way to go with many recipes.  Not only are they less expensive, but they are also more flavorful, juicier, and a lot harder to mess up in a recipe.  Both chicken thighs and breasts are a good source of lean protein, although their nutrition profile does differ.  Chicken thighs have 30 more calories and about 6 more grams of fat in a 3 ounce portion.   Ultimately the choice of thighs or breasts comes down to flavor preference and if you are trying to eat a low-fat diet.  In a quesadilla, chicken thighs are definitely more juicy and flavorful and in this recipe, completely delicious!
What are the best vegetables to put in a chicken quesadilla?
The best vegetables for a quesadilla are those that can be cooked and maintain their texture and flavor.  Some of our favorites include onions, tomatoes, peppers, or mushrooms.  Depending on the type of quesadilla you are going for, you can really vary up the veggies.  In these Chicken Teriyaki Quesadillas, we added broccoli.   It may seem like a strange combination, but we promise it is absolutely amazing!  Even for non-broccoli lovers, it is a must try!  We have tried chicken quesadillas with butternut squash, sweet potato, carrots, and zucchini.  We have even tried and loved quesadillas with fruit!
How to Make Chicken Quesadillas
Our favorite way to cook a quesadilla is on the stovetop.  Heat a large skillet to medium high heat. You can add a little olive oil to the pan to crisp up the tortilla but you don't have to.  Place the bottom tortilla in the pan.  Sprinkle a little cheese around the tortilla.  Add the chicken and other toppings.  Then sprinkle more cheese on the top of the filling.  This helps the tortilla to stay together better.  Add the top tortilla.   Once the cheese begins to melt and the bottom tortilla is golden, gently flip the entire quesadilla over.  Once the ingredients are heated and the cheese is melted, your quesadilla is done!  Remove from the pan and let it cool for just a minute or two.   A pizza cutter easily cuts the quesadilla in triangles which is a great size for kids!
If Your Kids Love Quesadillas…..