Can you ever have too many butternut squash soup recipes?  I think not!  The way those things grow and the enormous size you can buy them in can make soup that lasts you a lifetime.  In fact, you'll  want several recipes in your arsenal. Here's our Sweet Coconut-Butternut Crockpot Soup Recipe.
We used one squash to get 3 cups of chopped squash for our soup, and it made an entire crockpot full of it.
First, our ingredients:
Second, we cut the end of of the squash, scoop the seeds out and peeled the skin off.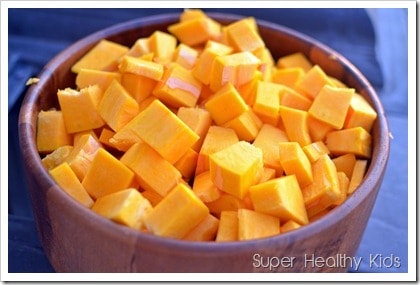 Then, we chopped enough squash and sweet potatoes to get us 6 cups worth.
From then, it was easy, our recipe was:
3 cups butternut squash, chopped
3 cups chopped sweet potato (about 1 large sized potato)
1 onion, chopped
2 cups chicken broth
1/4 cup butter
2 cups half and half  (or coconut milk)
1/2 tsp cumin
2 tablespoons shredded coconut
Place squash, sweet potato, onion, 1 cup of chicken broth and butter in a slow cooker, and cook on high for about 4 hours.
Using an immersion blender, or scooping your squash into a regular blender, puree until smooth.  Return to crockpot and add remaining chicken broth, half and half, cumin, and coconut.  Cook for about 30 more minutes, or until soup is heated through.  Sprinkle with extra coconut for garnishing.
Preserving tip: while you have the knife and peeler, finish peeling and chopping the entire squash!  Arrange in a freezer safe bag and freeze for easy soup during the winter!!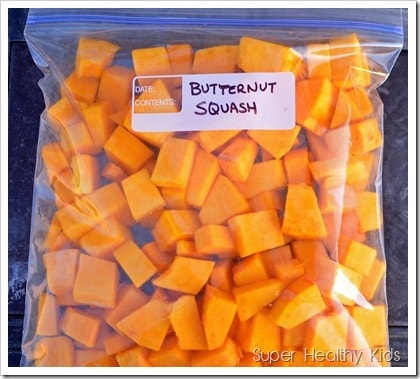 Butternut squash is a great thing to include in your families diet.
According to World's Healthiest Foods:
Winter squash is one of the most concentrated vegetable sources of alpha linolenic acid (ALA), an omega 3 essential fatty acid that is very good for heart health…Dietary ALA reduces the risk of cardiovascular disease.
I love how it emphasizes.. DIETARY ALA reduces CD risk.  Supplemental ALA must not produce the same dramatic results.  Getting our nutrients from whole foods for this reason is essential!