Honey Roasted Butternut Squash
Sweet, buttery, and bursting with fall flavor, this vitamin- and mineral-rich honey roasted butternut squash is a kid friendly side dish you'll come back to all season.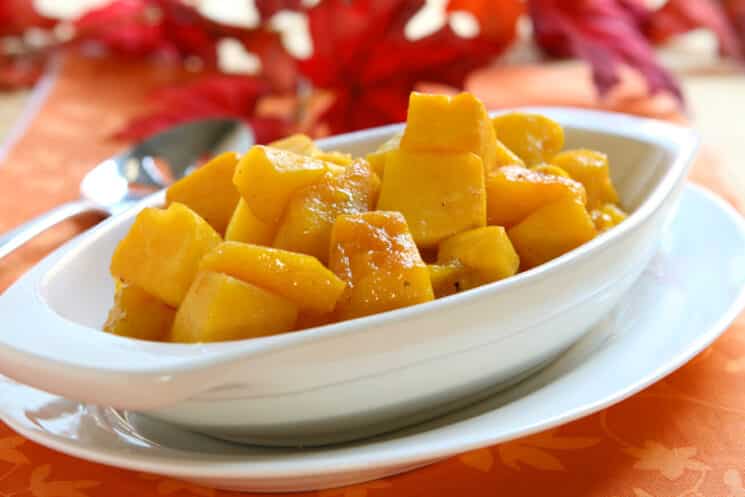 Squash is a perfect "starter veggie" for picky kids. That's because it's sweet, easy to chew, and a pretty color, too!
This simple recipe for honey roasted butternut squash highlights the natural flavor of this healthy fall veggie, and features a caramelized edge on every roasted cube.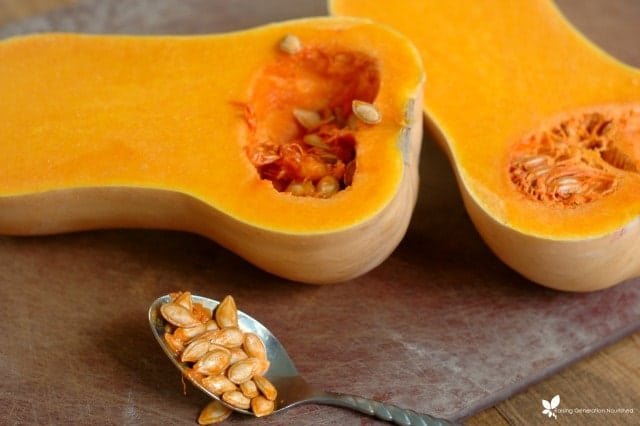 How to Make Honey Roasted Butternut Squash
Making this nutritious side dish is super easy, and it can be prepped ahead! The first step is to peel and cube your squash. If you find the flesh of the squash to hard to cut through comfortable, you can soften it in the oven for a half hour before peeling and cubing. This step is optional, but we like to do it if we can spare the time.
Make your cubes about 3/4 inch. Remember that they'll shrink a little in the oven.
Note: once your squash is peeled and cubed, it'll stay fresh in an airtight container for several days. Once you've completed this step, roasting your squash is ultra fast and easy!
Toss your squash cubes with a mixture of melted butter, olive oil, and honey. Make sure it's all well-coated before spreading it on a lightly greased baking sheet. (You can use parchment paper or a silicone mat if you like.)

Lastly, bake your squash for about 30 minutes, tossing once or twice along the way for even browning.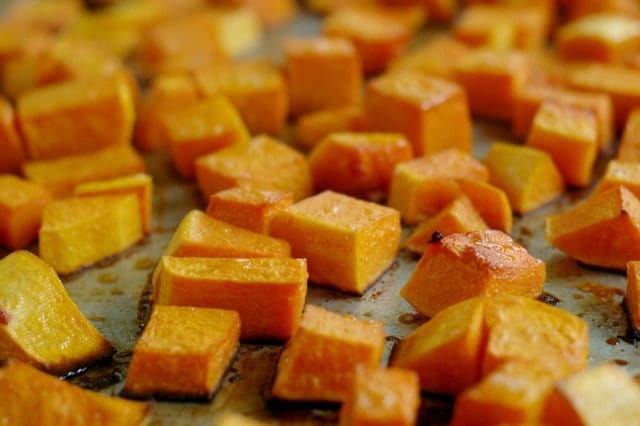 Why Squash is Super Healthy for Kids
Tasty butternut squash is an excellent source of vitamins A, C, and B6. It has a great fiber content, too!
Squash also provides minerals like magnesium, calcium, manganese, and potassium that are vital for kids' healthy growth and development.
Squash is something our kids have always taken to because they have had it since they were very young. But if you have big kid who aren't used to eating squash, it's still a wonderful veggie to introduce.
Tips for Serving Squash to Picky Eaters
Here's how you can introduce squash to kids that have never had it before:
Make it fun. Let them pick out the squash at the farmer's market or store.
Let them help you prep it. Some kids love to get their hands in the gooey middle to scoop out the seeds! They might like to toss the honey butter mixture too! And put the squash on non-stick baking mats.
Add a bit of sweetness. Our kids will try just about anything if there is a promise of a little honey. A small drizzle isn't going to create a big sugar rush in your kids, and quality honey has many nutritional benefits anyway!
More Fall Favorite Butternut Squash Recipes
Sweet and Salty Butternut Squash Fries
Butternut Squash Alfredo with Broccoli
Creamy Butternut Squash Soup
Honey Roasted Butternut Squash
Sweet & buttery, this vitamin and mineral rich honey roasted butternut squash is the perfect kid friendly side dish for any meal!
Print
Pin
Rate
Ingredients
2

pound

butternut squash

1

tablespoon

butter, unsalted

1

tablespoon

olive oil

2

tablespoon

honey

1/2

teaspoon

sea salt
Instructions
Place a whole butternut squash in a 400 degree oven for 30 minutes to soften it slightly. (This step is optional, but makes the squash easier to cut.)

When the squash is cool enough to handle, use a peeler to skin the whole squash and cut it into cubes.

Put the cubed squash onto a baking sheet, drizzle melted butter, olive oil, honey, and sea salt, and then stir to combine (Or let the kids get in there to mix it up with their hands!)

Roast at 400 degree oven for 30 minutes, turning the cubes halfway through for even browning.
Nutrition
Calories:
184
kcal
|
Carbohydrates:
35
g
|
Protein:
2
g
|
Fat:
6
g
|
Saturated Fat:
4
g
|
Cholesterol:
15
mg
|
Sodium:
301
mg
|
Fiber:
5
g
|
Sugar:
14
g