Honey Roasted Butternut Squash
Sweet & buttery, this vitamin and mineral rich honey roasted butternut squash is the perfect kid friendly side dish for any meal!
squash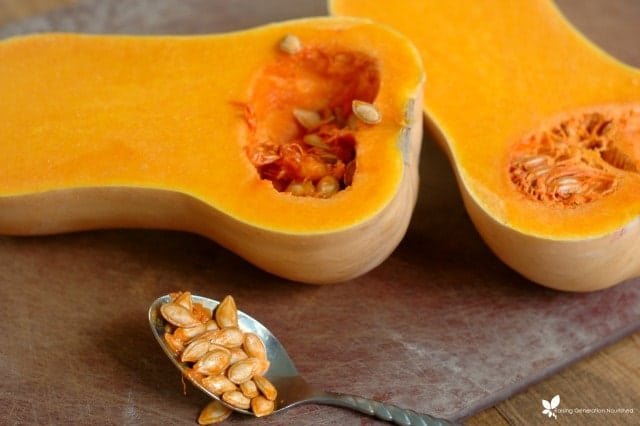 excellent source of vitamins A, C, and B6, and has a great fiber content
side dish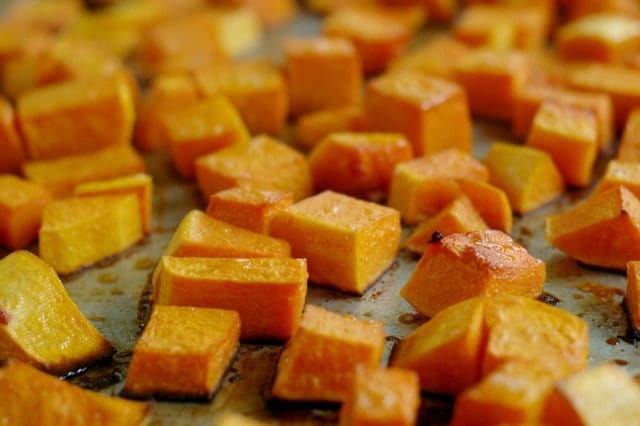 These sweet little butternut squashes are also a great source of minerals like magnesium, calcium, manganese, and potassium that are vital to have balanced in children for growth and development.
Squash is something my kids have always taken to because they have had it since they were very young, but what about those big kids? It's still a vegetable, right?! Kids are just notorious for pointing that out and making sure you know that they know it!
So how do we introduce squash to kids that have never had it before? Here are some ideas!
Make it fun. Let them pick out the squash at the farmer's market or store.
Let them help you prep it. Let them get their hands in the middle and scoop out the seeds. Let them smear the butter all over! And put the squash on non-stick baking mats.
A little drizzle of honey never hurt any! My kids will try just about anything if there is a promise of a little honey. A small drizzle isn't going to sugar spike them, and quality honey has many nutritional benefits anyway. I might suggest that if you have super little ones – as in under age 3 or 4, this is probably unnecessary. Butternut squash in particular is super sweet on it's own, and it's best to just keep those palates super low key as long as you can on those little ones.
butternut squash and apple soup
Renee blogs at Raising Generation Nourished, and with 3 girls aged 6 and under, she is passionate about raising the next generation of kids with a better understanding where their food comes from and how food affects their bodies.
Ingredients
2

pound

butternut squash

2

tablespoon

butter, unsalted

2

tablespoon

honey

1/2

teaspoon

sea salt
Instructions
Cut the squash in half length-wise and scoop out the seeds (You can soak the seeds in salt water and roast them just like pumpkin seeds by the way!)

Put the squash halves flesh side up on a baking sheet, butter the flesh, and then spread the honey over the flesh (Let the kids do this part with their hands!)

Roast in a 425 degree oven for 1 hour and 15 minutes.

Use a peeler to skin the whole squash.

Cut the squash in half, scoop out the seeds , and then cube up the squash.

Put the cubed squash onto a baking sheet, drizzle melted butter, honey, and sea salt, and then stir to combine (Or! Let the kids get in there to mix it up with their hands!)

Roast in a 425 degree oven for 50 minutes to 1 hour.