If you have been a regular reader here or a subscriber to our meal plans, you may already know me. I am the dietitian behind the Super Healthy Kids meal plans and oftentimes, I hear this from other moms when they find out who I am, "Oh! Your family must be so healthy!" My favorite is this one, "I am sure you know what's for dinner, lunch, breakfast and snack always!" Sorry to disappoint you all, I am human too and no, I do not know always have my family's meal plan all figured out. This is all the more reason I love to serve breakfast for dinner and why I am eager to share my family's favorite cocoa pancakes recipe with you.
Let's talk about "being real." Before I am a dietitian, I am a mother and a wife. Right? So in my mom world, I am challenged daily with my personal selective eater: my little prince. A 7 year old boy who is very active both in school and out, needs the proper nutrition to fuel activity as well as growth. When I am brainstorming my meal plans for my family (as well as ours here), I am constantly looking for ways to add more calories (his energy) as well as more nutrient density (his growth). This cocoa pancake recipe has been one that I have been working on to have such attributes.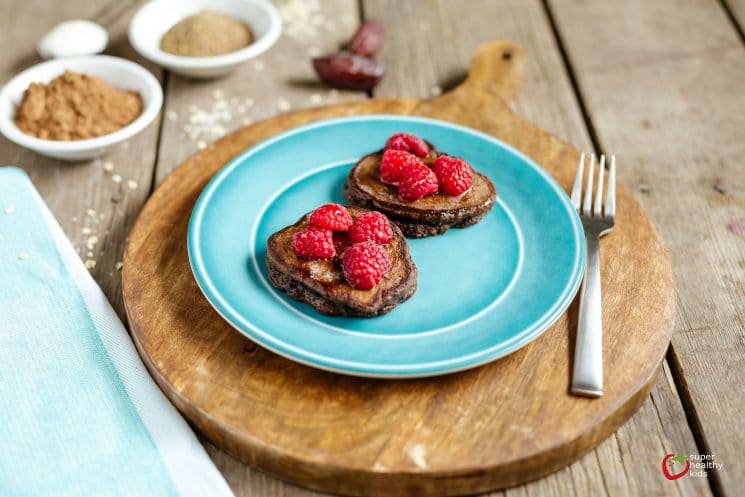 How does it size up for my growing prince?
oats: excellent source of manganese, good source of protein, phosphorus and B1
flax: excellent source of omega-3 fatty acids, good source of fiber, B1 and copper,
dates: excellent source of potassium and fiber, provides calcium, magnesium and iron
cocoa: antioxidants (the darker the better)
eggs: good source of protein, vitamin D and vitamin A
raspberries: excellent source of vitamin C, provides antioxidants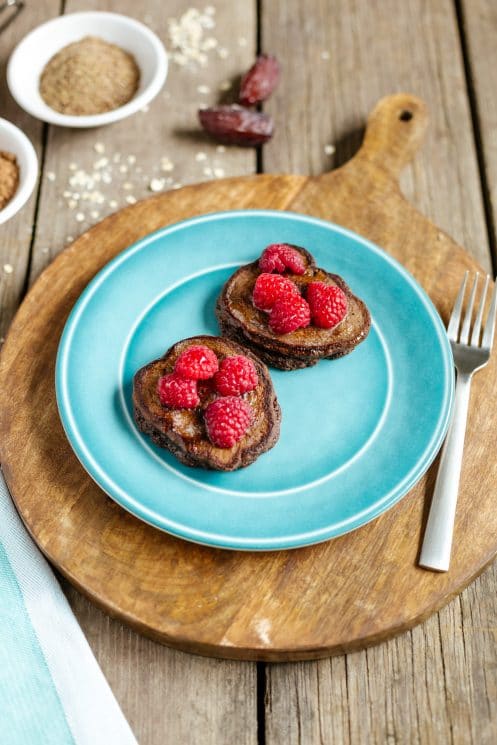 Are you wondering about the breakfast-for-dinner comment above? Be prepared, because you just may want to be my new best friend after hearing this: When in a pinch, serve breakfast instead! (Ooh! That could be a Tweetable!) As I mentioned, I am a mom first and life gets crazy. Who said you have to serve certain types of meals at specific times of the day? Here is what I do: make these sweet cocoa pancakes, serve with berries, cucumbers and carrots. You heard me right: veggies. If we can put them in an omelet, then why is it so weird to serve sweet veggies with pancakes? It adds color, variety and fills in those nutritional gaps your selective eater may be faced with as well.
So the next time you are struggling with that question of what to serve on your busiest of days (or on those days when you really do not feel like cooking something extravagant), I will be your cheerleading on your shoulder telling you it is ok to make these yummy dessert-like pancakes. You will thank me later when the kids are bragging about you to their friends, "Well, we ate chocolate pancakes for dinner!"
Jackie a Registered Dietitian, personal trainer and most importantly, a wife and mother of two school aged children. Through her site, The Wellness Solution, she shares clean recipes fit for the whole family, fitness routines and tidbits, motivational tips, as well as her personal secrets of living a fit, healthy, mompreneur lifestyle.
Medjool Cocoa Pancakes
Instructions
Place dates in a small dish and cover with water; microwave for 20-30 seconds to soften. Remove pits and toss dates into a high-powered blender along with oats. Blend until it forms a flour-like texture.

Add cocoa powder and blend again to fully mix. Add flaxseed and pulse 2-3 more times.

Pour flour mixture into a large bowl. Whisk egg whites and egg together in a separate bowl, then stir  into flour until just combined and no visible flour remains; there will be lumps. (May add 1 tablespoon of milk or water at a time to reach desired pancake batter consistency.) Set aside for 5 minutes.

Spray a large skillet or griddle with cooking spray and heat over medium. Add 1/2 tablespoon coconut oil and heat 30 seconds more until oil is spread around skillet.

Drop batter by 1/4 cup full and cook for 2-3 minutes or until bubbles form and edges look dry and airy. Flip and cook 2-3 minutes more or until golden. Repeat with remaining batter, adding more coconut oil as needed.

Serve pancakes topped with butter and raspberries.
Nutrition
Serving:
1
g
|
Calories:
505
kcal
|
Carbohydrates:
56
g
|
Protein:
18
g
|
Fat:
26
g
|
Saturated Fat:
15
g
|
Cholesterol:
124
mg
|
Sodium:
123
mg
|
Fiber:
13
g
|
Sugar:
19
g
www.superhealthykids.com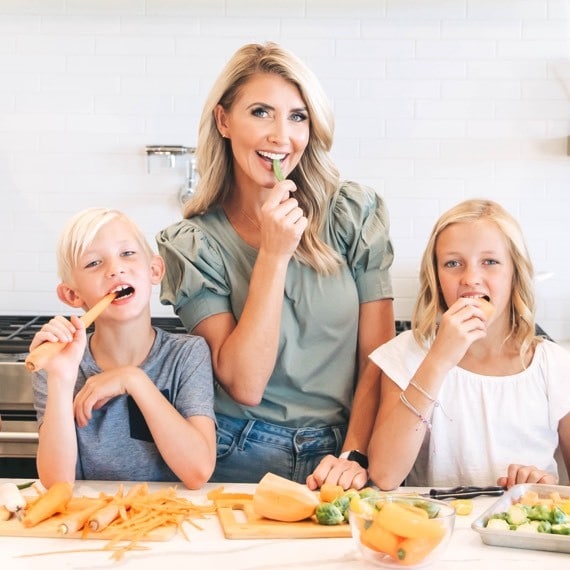 Natalie Monson
I'm a registered dietitian, mom of 4, avid lover of food and strong promoter of healthy habits. Here you will find lots of delicious recipes full of fruits and veggies, tips for getting your kids to eat better and become intuitive eaters and lots of resources for feeding your family.
Learn More about Natalie