Sunday Meal Prep with the Instant Pot
Use the Instant Pot for efficient Sunday Meal Prep, then serve quick, healthy meals all week long!
It's safe to say we're sold on the Instant Pot. In my house (stop me if this sounds familiar), a certain toddler likes to hang on my pant legs while I'm trying to cook dinner. She'd probably rather eat cereal than whatever I'm making, if it meant I could sit on the floor with her and make Play Dough teddy bears at 5pm.
But with the Instant Pot, I can throw some ingredients in the pot, push a button, and then walk away (or sit down to read the Berenstain Bears) while a real dinner cooks itself. And everybody's happy.
When I realized I could use the Instant Pot for more than a single weeknight dinner–that I could actually save huge amounts of time and energy by batch-prepping ingredients in it for the whole week–well, my crush on this gadget was complete.
The more Instant Pot magic I discovered, the more excited I became to share my discoveries with you! So here are some of the biggest-bang-for-your-buck Instant Pot prep ideas for making your weeknight meal plan even easier. Enjoy!
Beans
This is my number-one favorite thing to cook in the Instant Pot. Dried beans cooked under pressure are more tender, creamy, and flavorful than ones cooked on the stove. Make a pound of dried beans on Sunday, and use it all week in soups, salads, tacos, and casseroles.
I prefer not to soak dried beans before cooking, because the flavor is richer, and the beans hold their shape better.
How to do it: Rinse and sort your beans, then place them in the Instant Pot with enough water to cover the beans by 2-3 inches. Add a bay leaf and a drizzle of olive oil, then seal the pot and set the Instant Pot to cook on high pressure: 25 minutes for black beans, 30 minutes for kidney beans, and 30 minutes for pinto beans. Let the pressure release naturally before removing the lid.
Hard-Boiled Eggs
The first time I made hard-boiled eggs in the Instant Pot was a major revelation. They are perfect. And the perfection is in the peeling.
Because you know how "regular" hard-boiled eggs sometimes hold onto their shells so tight that you end up gouging out half the white just to get the shell off? Not so with Instant Pot eggs. Seriously, look at these shells. They slip off so easily, it's like magic.
How to do it: Place as many eggs as you like in a single layer on the steam basket insert of the Instant Pot. Add one cup of water, then seal the pot and set the manual timer for 5 minutes. When the timer beeps, open the valve to release the steam all at once. When the pin drops, open the lid carefully, and transfer the eggs into a cold-water bath.
Sweet Potatoes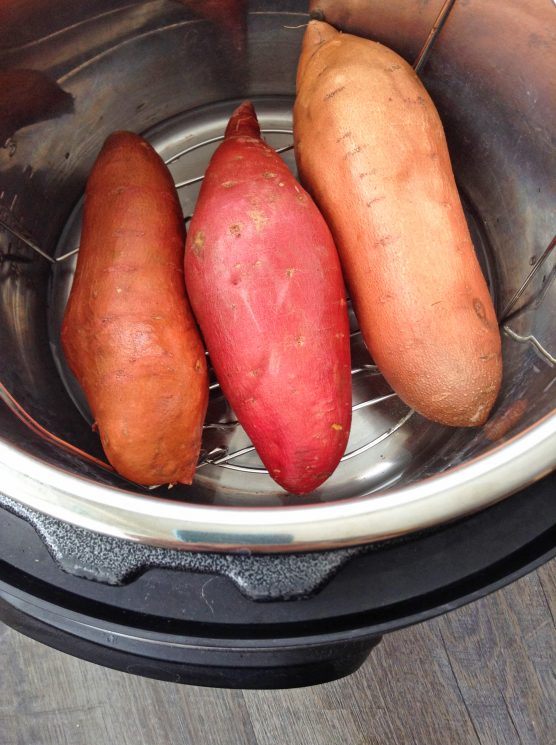 Before the Instant Pot, slow cooker sweet potatoes were my favorite preparation for this root veggie. Now I use the Instant Pot every time. Why? It's faster, the sweet potatoes are just as creamy, and the cleanup is easier. I like to have three or four cooked sweet potatoes in the fridge for a quick veggie option… it's easy to reheat and top with butter and cinnamon.
I was also happy to discover that white potatoes and sweet potatoes can cook together in the same amount of time, so I can knock out double the prep in one go.
How to do it: Place one cup of water in the bottom of the Instant Pot. Add the steamer insert, and place 3-4 medium-large rinsed potatoes (of any kind) on top of the steamer. Lock the lid and set the manual timer for 15 minutes. When the timer beeps, let the pressure release naturally.
Shredded Pork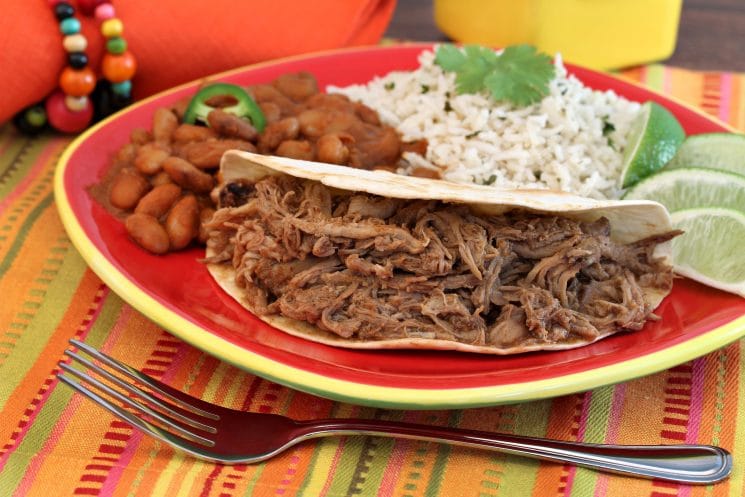 Dinner is so easy when there's already a Pyrex dish full of seasoned shredded pork in the fridge. Serve it in tacos, sandwiches, or alongside brown rice and beans, with a crisp salad on the side.
How to do it: Season 2-4 pounds of pork shoulder or pork butt with your favorite dry rub seasoning, then brown the meat on all sides using Saute mode in the Instant Pot. Pour 1-2 cups of broth, or a mixture of barbecue sauce and cider vinegar, into the bottom of the pot, then choose manual, and cook for 50 minutes. Let the pressure release naturally
Steel-cut Oats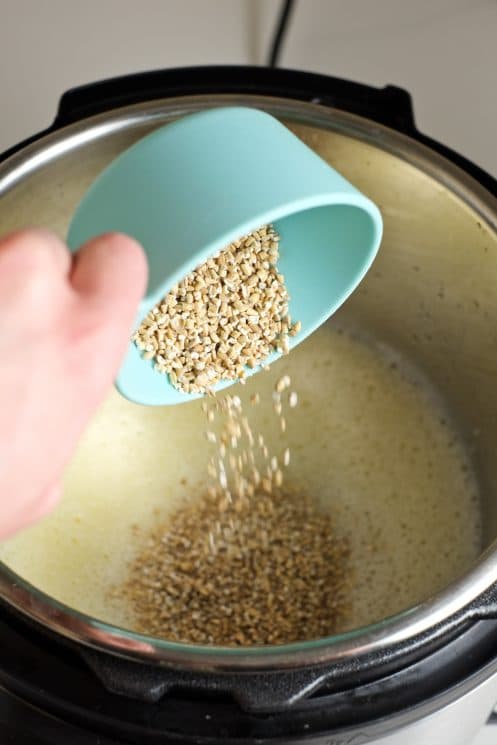 Maybe you've tried our Instant Pot Steel Cut Oats with Eggs, and you already know how fantastic this whole grain is under pressure. Try cooking a big, basic batch of steel-cut oats to cool and keep in your fridge all week. It's best to under-season your oats when you're cooking a big batch, so you can turn them sweet or savory depending on your mood (or your kids).
How to do it: Lightly grease the bottom of the Instant Pot, then add two cups of steel-cut oats plus six cups of water. Lock the lid, and cook for five minutes on the Manual setting. Let the pressure release naturally before removing the lid.
Quinoa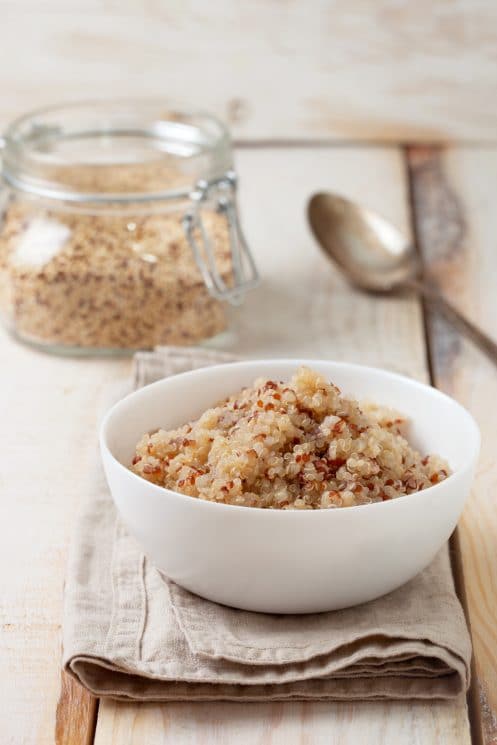 I still can't get over this; it takes ONE minutes at high pressure to make fluffy, ready-to-eat quinoa. Prep a big batch of quinoa in the Instant Pot to use in pilafs, as breading for chicken nuggets, or even as a sweet, hot breakfast, mixed with banana, milk and almonds.
How to do it: Rinse quinoa well, then add to the Instant Pot with 1.5 times the water. Set on manual to cook for 1 minute, then let the pressure come down naturally.
Chicken Stock
If you have a chicken carcass leftover, don't throw it away! Make golden, richly-flavored broth in the Instant Pot in a fraction of the time it takes to make it on the stove.
When I have a quart of homemade chicken stock in the fridge, I can quickly throw together a soup that tastes like it's been cooking all day. Such a time-saver!
How to do it: Place an entire stripped chicken carcass in the Instant Pot along with a quartered onion, two celery stalks, and enough water to cover it all. Lock the lid and set to cook for 60 minutes, then let the cooker depressurize naturally.
Happy prepping, friends! Do you have your own favorite ingredients to prep in the Instant Pot? Share in the comments!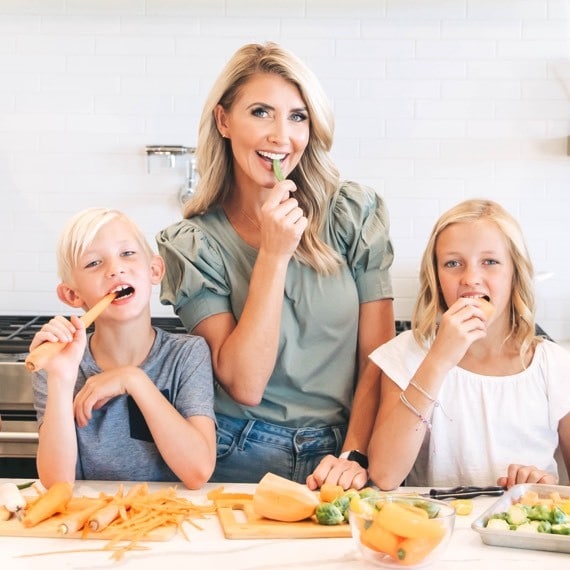 Natalie Monson
I'm a registered dietitian, mom of 4, avid lover of food and strong promoter of healthy habits. Here you will find lots of delicious recipes full of fruits and veggies, tips for getting your kids to eat better and become intuitive eaters and lots of resources for feeding your family.
Learn More about Natalie