Everyone needs a good basic lasagna recipe, adding fresh or frozen spinach is just a nutritious bonus! Spinach Lasagna Recipe
Is lasagna good for you?
Spinach lasagna is like any dinner idea. You can make a healthy version, and you can make an unhealthy version. So, what makes lasagna healthy or not?
Veggies: Any lasagna that includes vegetables, like spinach, will be healthier! Vegetables are low in calories, while packed with nutrients. If you take a bite of lasagna packed with veggies, you'll get more nutrients in that bite than if the lasagna was simply cheese and pasta.
Tomato Sauce: Tomato sauce seems innocent enough, but unless you read the label, or can your own, you might be getting more junk that tomato. Check tomato sauce labels for added sugar, salt, preservatives, or chemicals that you can't pronounce.
Meat: While we definitely are a meat eating household, quality of meat does matter when it comes to feeding your family. This spinach lasagna is vegetarian, so we didn't need to consider the meat. However, knowing where and how your meat is raised is helpful in knowing where to spend your grocery money. When possible, opt for grass-fed meat. Grass-fed, as opposed to grain-fed beef, contains more of the healthy fat, as well as more vitamins like vitamins A & K (source).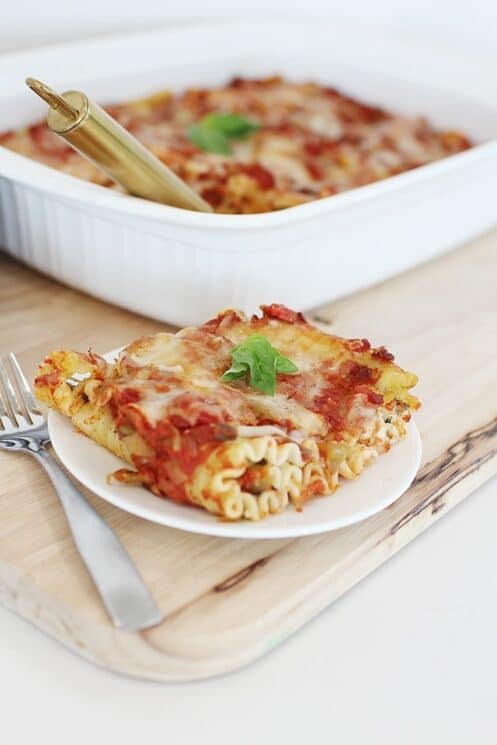 Can you make spinach lasagna with fresh or frozen spinach?
And finally, the best and healthiest component of this lasagna is the spinach! I've made this lasagna with both frozen spinach and fresh spinach. My family prefers the fresh spinach,but you can test them both and decide for yourself.
Frozen spinach
Frozen spinach has a stronger flavor because it's been cooked and the flavors are more concentrated.
You get more spinach in a single cup of frozen than fresh.
While frozen spinach and fresh are equally nutritious, by quantity, there is a lot more spinach per cup of frozen spinach. This makes it easier to get a lot more nutrition per cup.
1 pound of fresh spinach, concentrates down to 1 1/2 cups of cooked or frozen.
For the spinach in this recipe, we mixed the frozen and cooked spinach into the cheese mixture.
Fresh spinach
Fresh spinach has a milder flavor. It's usually quite pleasing to kids, because the taste is not very strong and takes on the flavors of the food it's served with.
You use less spinach in recipes that call for fresh, than recipes that call for frozen.
If your recipe calls for 1 cup of frozen spinach, you can use 1 pound of fresh.
If you are making spinach lasagna with fresh spinach, I like to layer the spinach leaves between the layers of the lasagna, rather than mix it into anything.
Gram for gram, fresh spinach has more folate than frozen or cooked spinach if eaten right at harvest. The longer the fresh spinach sits in a truck, the more the nutrient degrades, actually making frozen the better source! (source)
So, give the kids a dinner you know they'll love, and take some of our advice to make it healthier by adding spinach to the lasagna tonight!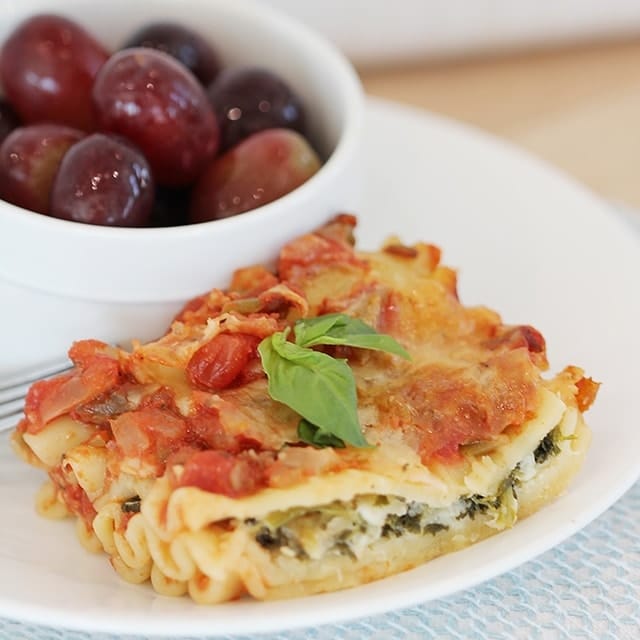 For more lasagna recipes, check out these!
Spinach Lasagna
Everyone needs a good basic lasagna recipe, adding fresh or frozen spinach is just a nutritious bonus! 
Ingredients
1

package (10 oz)

spinach, frozen

8

ounce

lasagna noodles, dry
Nutrition
Calories:
239
kcal
|
Carbohydrates:
34
g
|
Protein:
15
g
|
Fat:
5
g
|
Saturated Fat:
3
g
|
Cholesterol:
35
mg
|
Sodium:
495
mg
|
Fiber:
4
g
|
Sugar:
12
g
www.superhealthykids.com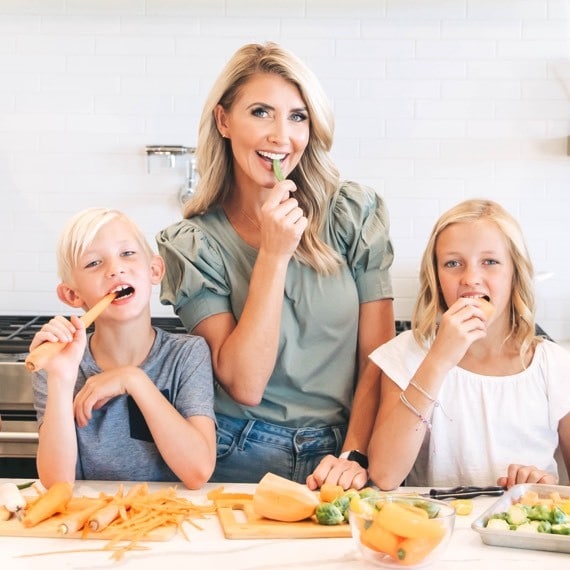 Natalie Monson
I'm a registered dietitian, mom of 4, avid lover of food and strong promoter of healthy habits. Here you will find lots of delicious recipes full of fruits and veggies, tips for getting your kids to eat better and become intuitive eaters and lots of resources for feeding your family.
Learn More about Natalie