Before zoodles came the zucchini lasagna. The same cheesy, flavorful casserole without all the carbs. There's no need for noodles in this classic, comforting dish when you can substitute a veggie and hardly notice!
Several years ago I came across the idea of zucchini lasagna and I knew I had to try it! Lasagna is all about the cheese anyway. My family responded with both support and skepticism. Wouldn't substituting veggies for noodles be too good to be true? So I set out to try.
My first undertaking turned out flavorful but soupy. Of course, zucchini lets out moisture rather than soaking it up like traditional noodles. But I was determined to make it work. With an idea so promising, you can't give up.
Tips for zucchini lasagna that isn't soup
Through some reading and experimentation, I discovered a few tips on making zucchini lasagna that isn't totally soupy:
Slice your zucchini strips very thin. I've used knives, cheese cutters, and peelers and found success with all. Your noodles don't have to look uniform so don't stress if they come off imperfectly.
"Sweat" your zucchini noodles for 30 minutes before using them. To do this, place some paper towels at the bottom of a colander and set your slices on top. Sprinkle liberally with salt and allow to sit for 30 minutes. The salt helps pull moisture out of the zucchini. When your time is up, wipe your slices off really well with a clean towel to remove any excess moisture and too much salt.

OR – If you don't feel like using the sweat method, broil your strips in the oven for a few minutes, until slightly brown. This should dry them out nicely.

Reduce liquid in sauces. Use a tomato sauce that is thick rather than runny. Try to spoon any excess liquid out of your cottage or ricotta cheese before mixing with the egg and parmesan.
Once the lasagna has cooked for 20 minutes, turn the oven to broil and open the door so that it's just cracked. Allow the zucchini to cook until bubbly and brown, maybe 2 minutes. Watch carefully to make sure it does not burn.
Allow the lasagna to cool for 20-30 minutes once it's out of the oven before cutting into it. This gives it time to set and let some of the liquid evaporate.
Using these techniques I have found success at making zucchini lasagna that doesn't feel like a total mess. Mine still had a fair amount of moisture, but not really any more than regular lasagna. And the next day, it was even better!
Making the sauce
I love this sauce because it is simple, tasty, and adds a few extra veggies.
Begin by browning your ground beef in a large skillet over medium-high heat. Try and break up the beef into really small pieces so that it spreads well in the casserole. Once cooked, remove the meat onto a plate with a paper towel on it to absorb any dripping fat. Drain most of the fat from the skillet, and then place it back on the heat. Saute the onions, peppers, carrots, and garlic until the onions are going translucent.
Now add the meat back in, as well as the can of tomato sauce, seasonings, and Worcestershire sauce (I know it sounds strange, but I really like the depth of flavor that it adds!). If you're out of Worcestershire sauce, don't worry – you can omit it and still have a tasty sauce. Allow this all to simmer uncovered for 10 minutes, or until the vegetables are cooked well and the sauce has thickened a bit.
And that's it! Feel free to use a pre-made sauce for this lasagna, but be sure that it's thick! Reducing moisture in any way is key to zucchini lasagna.
There you have it – healthy, gluten-free and low-carb lasagna! Enjoy!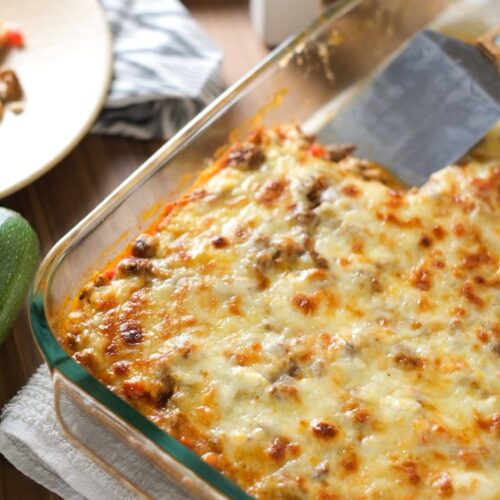 Ingredients
2

medium

zucchini

1

pound

beef, ground, 95% lean

1/2

medium

onion

1/2

medium

bell pepper, red

2

medium

carrot

3

clove

garlic

15

ounce

tomato sauce

1

tablespoon

Worcestershire sauce

1

teaspoon

oregano, dried

1

teaspoon

basil, dried

1/8

teaspoon

salt

1/8

teaspoon

black pepper, ground

2

cup

cottage cheese

1

large

egg

1/4

cup

Parmesan cheese, grated

2

cup

mozzarella cheese, shredded
Optional
1/4

cup chopped

parsley, fresh
Instructions
Wash and cut zucchini into very thin strips. Line a colander with paper towels and place it in the sink. Place zucchini into the colander and salt generously. Allow zucchini strips to sweat for 30 minutes.

Dice onion and red bell pepper (enough for 1/2 cup), grate carrots (enough for 1/2 cup), and mince garlic.

Pre-heat oven to 350* F and grease a 9×13 inch pan.

In a large skillet over medium-high heat, brown ground beef until cooked completely, making sure to chop into small pieces as you go. Remove beef onto a paper towel-lined plate and set aside.

Remove most of the remaining fat from the skillet, place back on the stove, and saute the onion, pepper, carrot, and garlic until the onion is translucent.

Add tomato sauce, Worcestershire sauce, spices, and the cooked ground beef back into the skillet. Bring to a simmer, and allow to simmer for 10 minutes.

Meanwhile, mix cottage cheese, egg, and parmesan in a small bowl.

Once the zucchini have sweat for 30 minutes, wipe clean and dry with a clean cloth. Place one layer of zucchini strips on the bottom of the greased pan.

On top of the zucchini, spread half of the tomato-beef sauce. Then spread a layer of half of the cottage cheese mixture. Then sprinkle half of the mozzarella cheese. Repeat layers once more: zucchini, sauce, cottage cheese, mozzarella.

Place in the oven for 20 minutes at 350* F, then turn the oven to broil and crack the oven door. Allow the top of the lasagna to bubble and brown, watching carefully. Should take 2 minutes or less.

Remove from the oven and allow to set for 20-30 minutes before serving.