Savory Roasted Cauliflower Recipe
A common topic at Super Healthy Kids is picky eaters. It is definitely the issue we hear about most from our readers. My son/daughter refuses to eat _______. Insert your food of choice (vegetables, fruit, anything but plain noodles 🙂 There are a few common solutions we have found to these problems.
1) Kids need to be allowed to get hungry. We live in a snack ridden environment. It seems like there are limitless snack food choices now and an abundance of them. On the ends of every grocery store aisle, entire sections of the store, and on and on. While snacks can be a healthy and necessary part of a balanced diet for children, if they are constantly grazing or snacking then they don't have an opportunity to actually get hungry. When kids sit down to eat a meal and they are actually really hungry, they are much more likely to try new things, and eat the food that has been prepared. Try it out for yourself! I have experimented with my own children using this principle and it works every time! In fact, the other night I served balsamic roasted brussel sprouts and both of my girls asked for a second serving!
2) Make your veggies (and fruits) taste good! We have all heard that in order for your child to accept a food, they have to try it 7-10 times. If you serve your child raw broccoli 10 times, they STILL might not like it! Children are developing an acceptance for different tastes which is why it is important for them to try a variety of foods. As parents, the more we can make those variety of foods taste good by using different preparation methods, the more likely it is our children will accept and eat them. One of our goals at Super Healthy Kids is to help parents do this. We try to provide recipes that include fruits and veggies prepared in a variety of ways, with a variety of presentations.
Enter this recipe. Last summer I was in charge of preparing all of the food at a Youth Camp for my church. I quickly learned that bacon is a food loved by all and that if you put bacon in pretty much anything, people will eat it. We had a cook-off challenge and one of the foods they had to prepare was a broccoli salad. One of the ingredients was bacon. Did everyone eat the broccoli salad? Yes they sure did.
I rarely buy bacon, and buy rarely I mean pretty much never. When I came home with a package of bacon and starting cooking it with this recipe you would have thought it was Christmas morning around our house. My whole family could not stop picking at this dish, and I had to keep them away so that I could get a picture of it! My 3 and 4 year old literally ate half of the tray of the cauliflower by themselves! I personally don't love the taste of raw cauliflower. But roast it up, and now we are talking. Add some savory bacon flavor and sprinkle it with tangy, sweet pomegranates and you bet I could also eat half the tray!
Savory Roasted Cauliflower Recipe
The first step is to rinse and chop your cauliflower. Toss it in a bowl with some olive oil and salt and pepper.
Lay it out on a baking sheet.
Cut up a few pieces of bacon and sprinkle them around the tray with the cauliflower. Roast in your oven at 400 degrees for 15-20 minutes. Give it a toss about half way through. The bacon that is touching the pan will crisp up better, which is what you want. Also by tossing it, you are mixing the flavors and allowing everything to get that savory smokey bacon taste.
While your cauliflower is cooking, de-seed your pomegranate using either the wooden spoon method, or this method.
When your cauliflower is nice and browned and bacon is crispy, remove from the oven and sprinkle with your pomegranate. Serve it up hot. This is a great dish to serve at your Thanksgiving meal, or any meal really!
Instructions
Preheat oven to 400 degrees.

Trim and rinse cauliflower, break into bite-size pieces.

In a large bowl, toss with olive oil, salt and pepper. Transfer to a baking sheet.

Cut bacon into small pieces and sprinkle on the baking sheet with the cauliflower.

Bake for 15-20 minutes, tossing halfway through.

De-seed the pomegranate, using either the wooden spoon method, or

this method.

When your cauliflower is nice and browned and bacon is crispy, remove from the oven and sprinkle with your pomegranate.  Serve it hot.
Nutrition
Calories:
142
kcal
|
Carbohydrates:
14
g
|
Protein:
8
g
|
Fat:
7
g
|
Saturated Fat:
2
g
|
Cholesterol:
14
mg
|
Sodium:
354
mg
|
Fiber:
5
g
|
Sugar:
8
g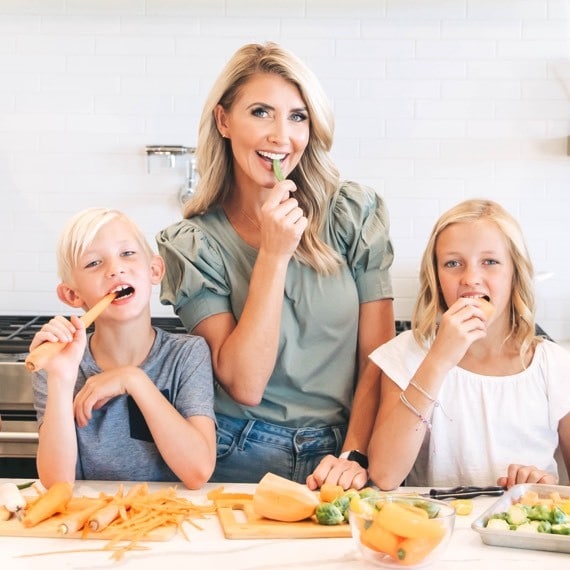 Natalie Monson
I'm a registered dietitian, mom of 4, avid lover of food and strong promoter of healthy habits. Here you will find lots of delicious recipes full of fruits and veggies, tips for getting your kids to eat better and become intuitive eaters and lots of resources for feeding your family.
Learn More about Natalie