How to Cut Cauliflower the Easy Way
Learn the easiest way to cut cauliflower… without losing a finger! Plus, what makes cauliflower so nutritious, and what to do about those black spots you sometimes see on this fresh veggie.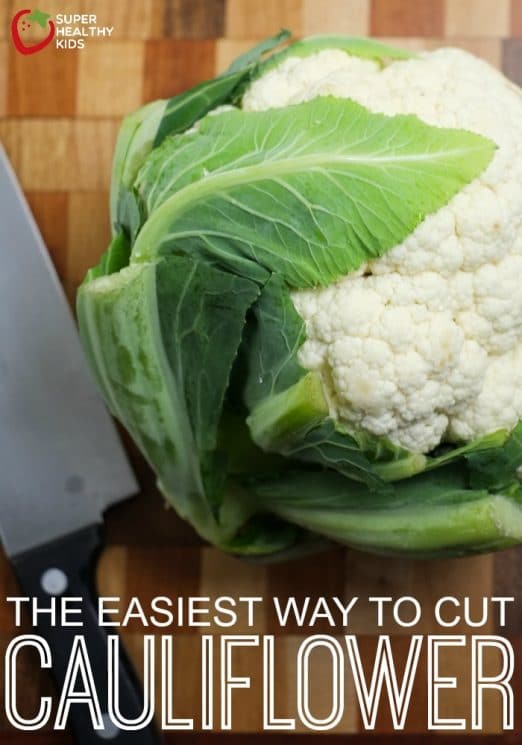 Have you ever stayed away from cauliflower just because you don't want to deal with cutting it? I know I have, and I love cauliflower! It seems like it shouldn't be hard to cut, but I always dread it. So I wanted to find a better way. And folks, I've found it! Maybe this is old news to some, but it has sure been liberating for me to have a sure method for cutting cauliflower rather than haphazardly chopping pieces off.
How to Cut Cauliflower
Get set up by either bringing your garbage can closer or using an extra bowl to discard the leaves and stem as you cut. It helps so much to have a place to move your trash to rather than having it clutter your cutting surface!
Begin by removing any leaves that are easy to get to and covering up lots of the cauliflower head. Don't worry about getting everything, but do remove the easy stuff so that you can get to the cauliflower head easier.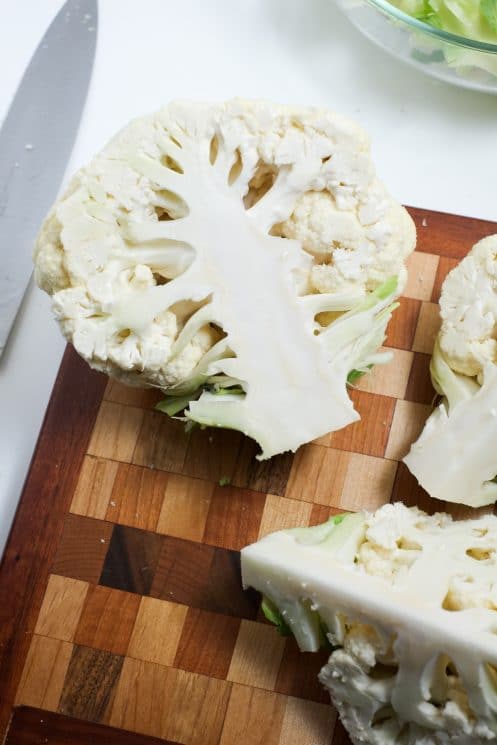 Now, if desired, use a paring knife to remove any unseemly spots. You can either just scrape it off with the back of the knife or shave off little bits.
Grab a chef's knife and slice the cauliflower head in half, from top to bottom. Now chop the halves in half so you have four quarters. Doing this makes everything easier! Rather than trying to chop the florets off from the outside, you can do it from the inside! Also, this is a great time to wash the cauliflower since you can rinse inside and out a little easier.
Note: If making cauliflower rice with a box grater, stop cutting here! The stem makes a great handle for grating the cauliflower with without worrying about your fingers at the end.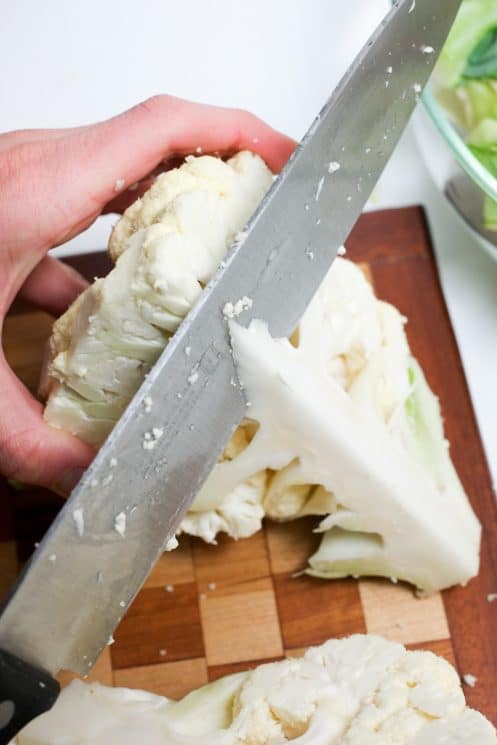 Now you want to slice the florets from the center stalk of the cauliflower from the inside. Depending on the size of your cauliflower and what you're comfortable with, take the tip of the chef's knife or a paring knife and slice between the stalk and florets. It should just take one simple cut per quarter.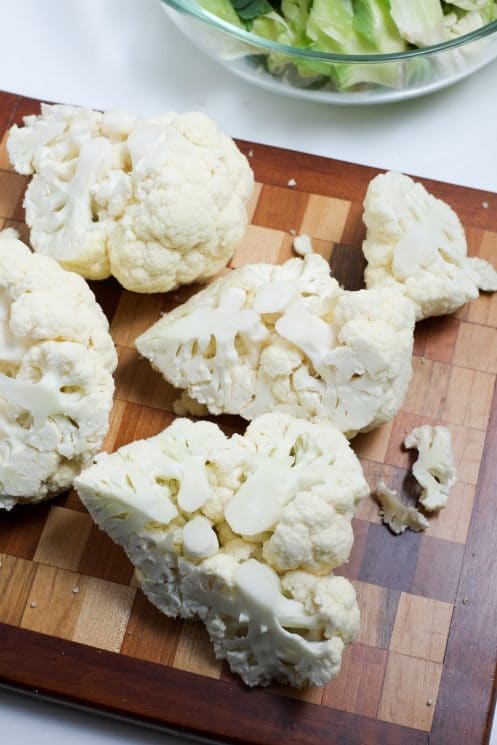 Finally, chop the cauliflower into desired size. If you need bigger pieces, like for a veggie tray, you may be able to break them up with your fingers (and if so, that's only 6 chops to get here!). Otherwise, chop until you're happy with the size. For cauliflower alfredo sauce or mashed potatoes, you'll use a blender or food processor at this point.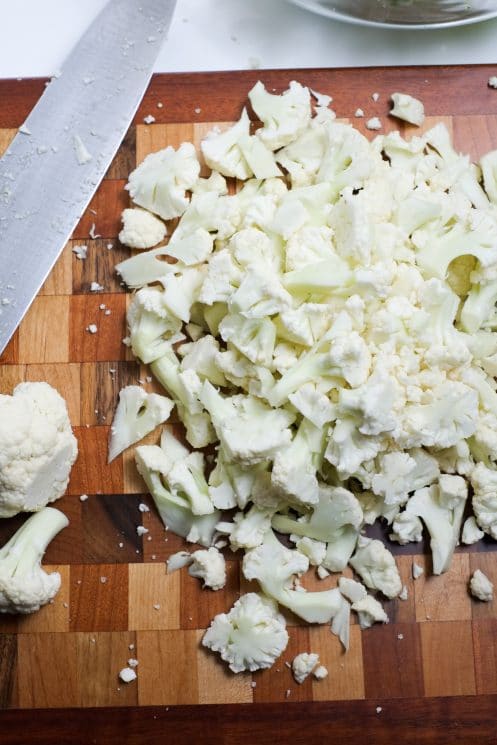 We hope this how-to helps your family enjoy cauliflower more often!
Can I Still Eat Cauliflower if it has Black Stuff On It?
Before we get started, you may be wondering if your cauliflower is even good still. The answer is probably yes! Little black spots are just the result of oxidation. And any yellowing is normal, even good, because it means the cauliflower has seen the sun. Just remove the little black or brown spots and the rest of the head is just fine! (And thank goodness because I feel like mine always have a couple).
Why We Love Cauliflower
Cauliflower is a super food! One cup of cauliflower contains about 75% of your vitamin C for the day, 20% vitamin K, and 15% folate. This doesn't even touch on the manganese, vitamin B-6, and Omega-3s it's also packing. Plus, it's high in fiber so it promotes healthy digestion!
Not only is cauliflower healthy, it's incredibly versatile. It can be steamed, sautéed, roasted (my favorite), or even turned into healthy mashed potatoes (just to name a few).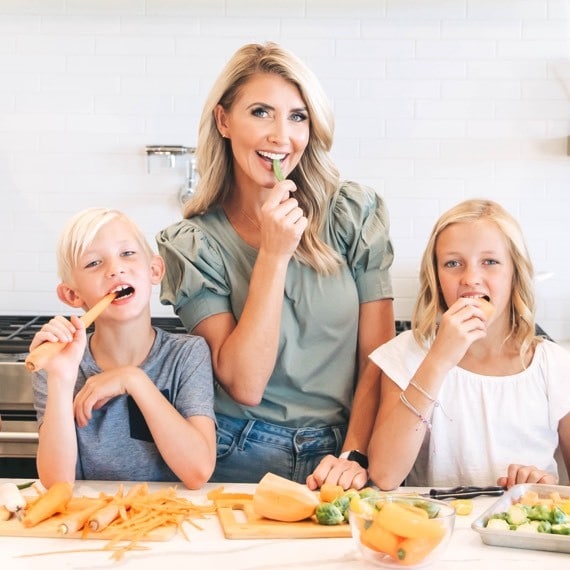 Natalie Monson
I'm a registered dietitian, mom of 4, avid lover of food and strong promoter of healthy habits. Here you will find lots of delicious recipes full of fruits and veggies, tips for getting your kids to eat better and become intuitive eaters and lots of resources for feeding your family.
Learn More about Natalie