Healthy eating comes down to being prepared!  Prep these salad jars on Sunday, and eat them all week!
Hi! I'm Hadassah! I am a rising high school senior and I live in Maryland with my parents and three siblings.  In school, my favorite subjects are American Sign Language and math. In my spare time, I enjoy running, basketball, tennis and cooking.  My love of cooking began when I was 8 years old; my favorite recipe to make is gnocchi from scratch with an Alfredo sauce. I am so excited to be a part of the team and to be blogging about cooking and nutrition for Super Healthy Kids!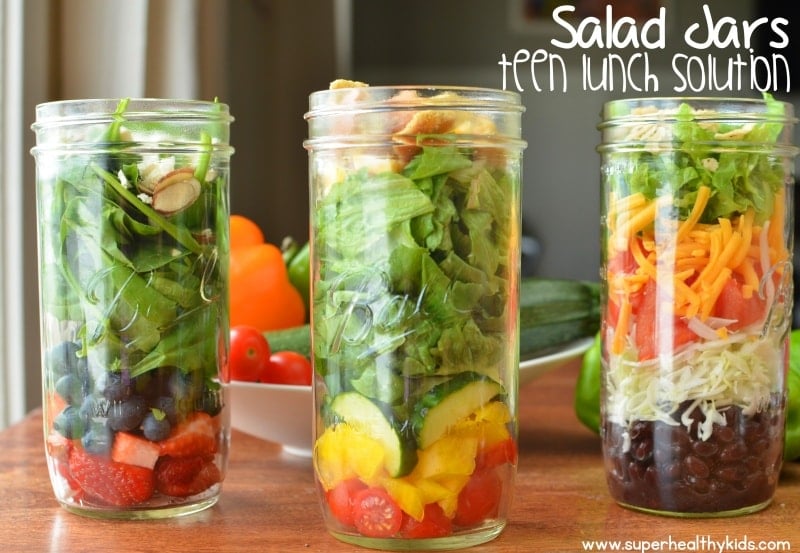 Greens are a super food that is important to start including in your families' meals every single day!
Whole romaine lettuce leaves can serve as the base for an appetizer, as well as add some crunch to a sandwich or be made into a salad. Spinach can be made into a quiche, a salad or even a shake. Therefore the possibilities are endless.  Leafy greens are not just versatile, they are also very healthy.
Spinach, Kale and salad greens all contain vitamins A, B, C, E, and K.  They have fiber which helps regulate the digestive system, they contain antioxidants that help prevent cancer, and they supply folate which is not only good for your heart, but also helps to prevent birth defects.  The vitamin K found in leafy greens protects your bones.  Leafy greens also contain iron and calcium.  A simple reason to eat more lettuce is that a salad will fill you up without all the calories, carbohydrates and fats that many other foods contain.  The health benefits go on and on! source 1, source 2.
So whether you have always loved salads, or are starting to eat them for the first time, this recipe for salad in a jar is a great way to take your salads to go. Another great thing about salads in a jar is that you can involve your kids in making them too – and kids are more likely to eat veggies when they choose them!  To involve them, you can lay out a variety of dressings, cut up vegetables and proteins along with lettuce and have them choose their favorites to put in their salads.
When you start to get bored, change up the vegetables or the shape in which you cut them. Cut your peppers into rings instead of slices. Let your kids cut shapes out of thinly sliced cucumbers using cookie cutters.  Make sure to change lettuce and vegetable types every so often to keep the salads exciting.
The assembly instructions are simple, but a great way to involve the kids:
Step 1: Pour in dressing
Step 2: Choose vegetables and add them to your jar. The heavier/harder vegetables (carrots, peppers, broccoli etc.) should go in first.
Step 3: If you want to add a protein like chicken or fish, add them after the vegetables
Step 4: Add your leafy greens and seal tightly
Step 5: To maximize freshness, I like to take any "toppings" (nuts, raisins, croutons) in a bag with me and add them to my salad when I am ready to eat it.
I have found that putting the dressing at the bottom only works well in mason jars, but you can also use regular containers and bring the dressing in a separate, small container.
Turn the jar over approximately five minutes before you are ready to eat  to allow the  dressing can mix in. Enjoy!
 (Print)
Some of my favorite combinations include:
Romaine lettuce, grilled or broiled  chicken, cucumber, red cabbage, slivered almonds, scallions, red peppers, Caesar dressing
Mixed greens, chickpeas, red pepper,  red cabbage, feta cheese, avocado, hearts of palm, pecans, Italian dressing
Romaine lettuce, tuna (canned or fresh) cucumber, green olives , peas,  tomatoes, red  onions, cheddar cheese, croutons, walnuts, as well as Italian dressing
The three below, from left to right include:
Spinach Salad= Strawberries, blueberries, spinach, feta cheese, sliced almonds and poppyseed dressing! (FAVORITE!)
Vegetable Salad: Cherry tomatoes, peppers, green leaf lettuce, cheese, croutons, and ranch.
Taco Salad: Black beans, shredded lettuce, tomatoes, cheese, green leaf lettuce, tortilla chips and ranch.
What combinations do you like?