I think at some point, every parent has been in a crunch. This leads them to pull out something from the freezer for a quick meal or snack.  Sometimes all you have is a few minutes! It's a lifesaver to have something already prepared that you only have to pop in the oven.  Here's a recipe for an even better version of what you can buy in the freezer section at the grocery store. However you won't find all of the preservatives, extra fat, and lack of veggies!!  You can customize these depending on what your kids like. You can even have them help you put the toppings in!
I like to double the recipe and make a bunch at a time to have in my freezer for whenever we need them.  I love the tool used to make these because it comes in different sizes and so you can make small 'bites' for the kids, and then bigger sizes for adults all at the same time!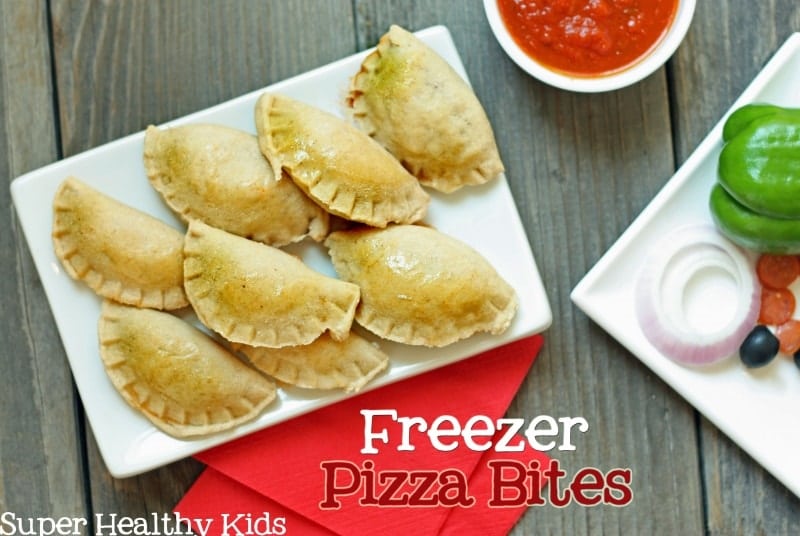 To make these, we used our favorite whole wheat pizza dough recipe.
Step 1: Let the dough rise until double in size.
Step 2: Roll out very thin – about 1/4″ thick.
Step 3: Use the circle part on the back of the press to then cut out circles.
Step 4: Stretch the circle on top of the press.
Step 5: Use about 1 tsp of pizza sauce on the small circle.
Step 6: Fill with your favorite toppings
Step 7: Then press the dough and place on a pizza stone or baking sheet.  If you use a baking sheet, spray with cooking spray or a bit of oil first.
Step 8: Bake at 400 degrees F for 10-11 minutes or until golden.
You can serve these with more sauce for dipping, or even by themselves.
To Freeze: Cool completely, and then place in an airtight container for up to 3 months.
To Reheat: Remove desired number of pizza bites from the freezer and warm them individually in the microwave for about two minutes or until heated through. To bake, place on a baking sheet in a 350-degree F oven for 20 minutes, or until heated through.
Yummm!!!