Warm Banana Roll-Ups Recipe
Creamy on the inside, crispy on the outside: BANANA ROLL UPS!
Bananas are a naturally sweet fruit and combined with a warm tortilla, smooth cream cheese and a little honey and cinnamon make a delicious breakfast, snack or dessert! This Warm Banana Roll Up Recipe has the roll-ups crunchy on the outside, sweet and creamy on the inside. A yummy way to serve bananas to your family! If you love bananas, we have 19 ways to use ripe bananas here. The sweetness of the banana is what makes these yummy recipes!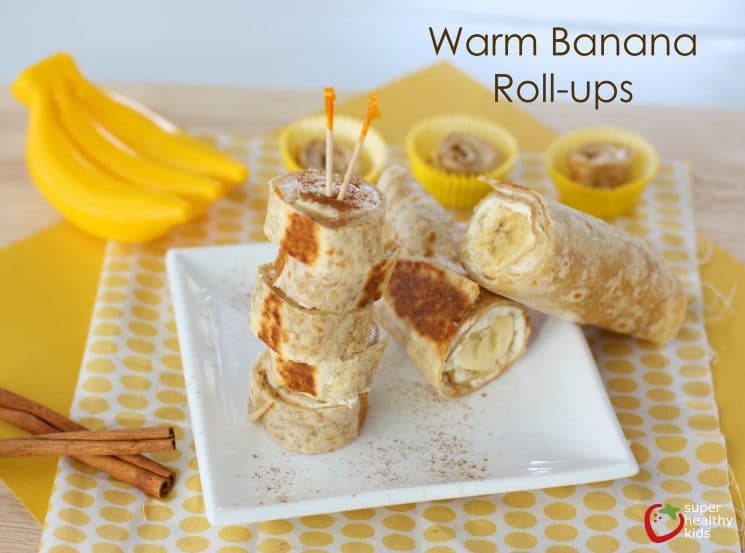 This recipe is super simple and can be whipped up in just a few minutes. Mix cream cheese, honey, and cinnamon in small bowl. Another twist is to add 1 tablespoon of peanut butter. If you like the peanut butter flavor it is delicious!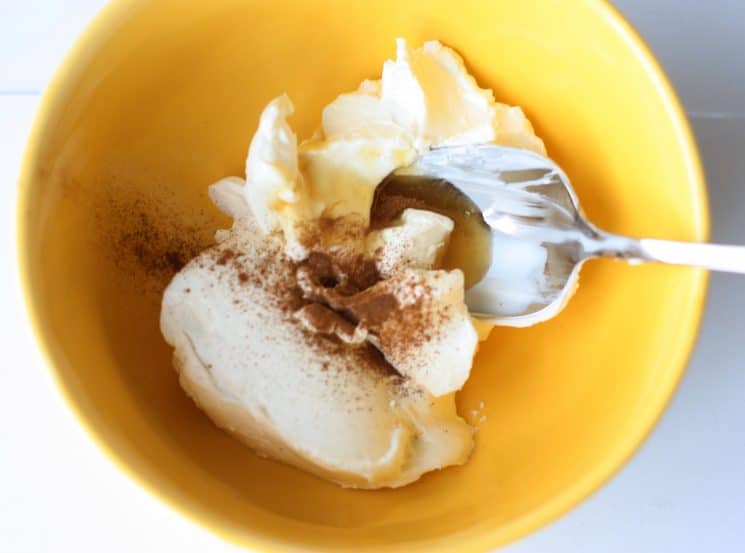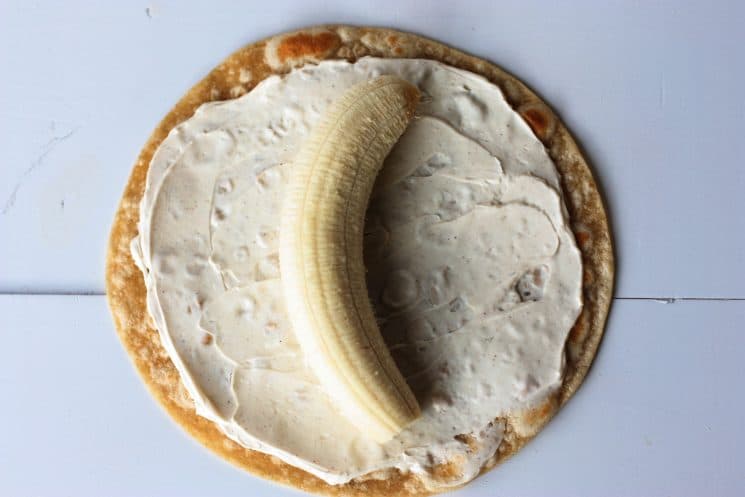 Grill on both sides until golden brown. You want to grill it long enough to make the outside a little crispy and warm and gooey on the inside.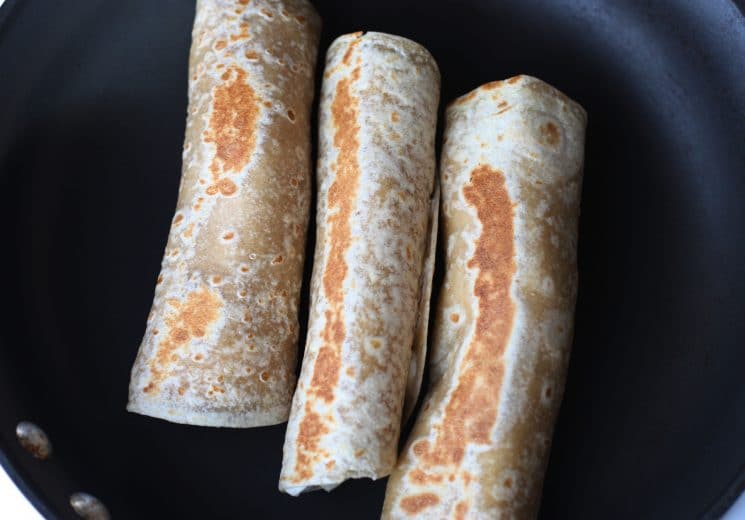 It definitely tastes like dessert. Warm, crispy and sweet – but you can serve this for breakfast! It is perfect for those on the go mornings. Just wrap in foil to keep warm and send it with your kids! You can also put some cute and fun toothpicks in them! Because bananas have healthy carbs, it is a great food to feed your kids for breakfast before school mornings so they will have plenty of energy at school. Kids brains need glucose to help them focus and learn at school, and we love that bananas help provide that for them!
We love making this recipe with our kids, because it is a perfect way to get them into the kitchen with a recipe that is simple and doesn't have very many steps. And for your older kids, this is a good one for them to practice 'griddle skills'. Sometimes it is hard for kids to flip pancakes, or eggs in a griddle. Since these stay together nicely, it is a good food to practice your flipping skills.
Try them out today!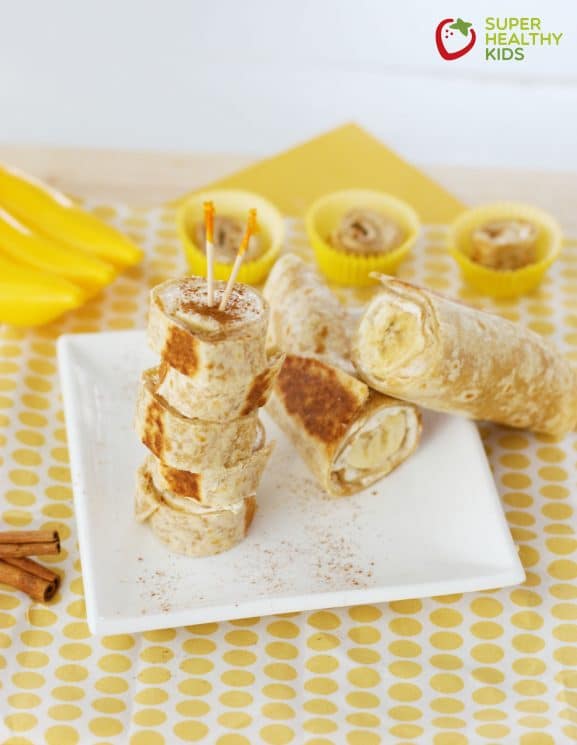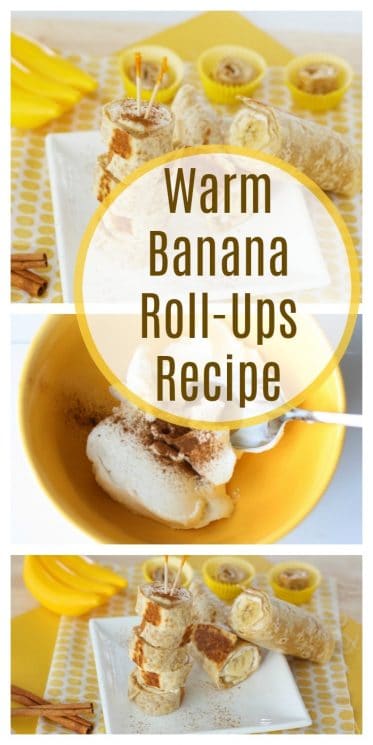 LOVE BANANAS? HERE ARE A FEW MORE OF OUR FAVORITE BANANA RECIPES: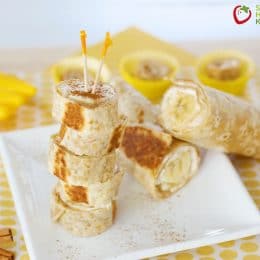 Ingredients
1/2

cup

cream cheese, low fat

2

teaspoon

honey

1/4

teaspoon

cinnamon

3

medium

banana

3

medium

tortilla, whole wheat
Instructions
Mix cream cheese, honey and cinnamon in a small bowl.

Spread on the tortilla.

Place a whole banana on the tortilla and roll up.

Place on a hot griddle or pan.  Grill until golden on both sides.

Slice into small rounds and serve with toothpicks.  You can also slice in half and eat it like a burrito.
Nutrition
Calories:
123
kcal
|
Carbohydrates:
20
g
|
Protein:
3
g
|
Fat:
4
g
|
Saturated Fat:
2
g
|
Cholesterol:
8
mg
|
Sodium:
133
mg
|
Fiber:
3
g
|
Sugar:
8
g