Just like chicken nuggets, veggie nuggets are the perfect finger food for little hands. We love the Veggie Nuggets Recipe, because it's just one extra way to get those veggies in. You can eat these plain like nuggets for lunch, or use them in place of meatballs (which is what we did for our meal plan a few weeks ago!)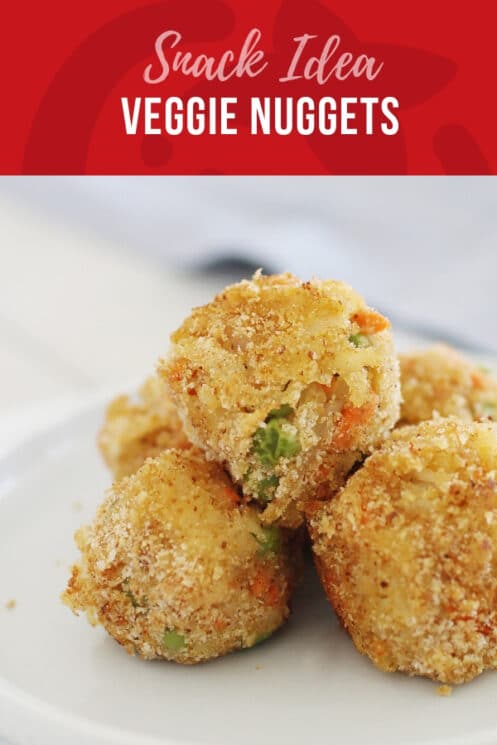 The veggies we used in these nuggets are generally acceptable to most kids. But we cooked them first to make them soft and bring out the flavor. The veggies included:
Potatoes – Potatoes are a great source of vitamin C, and they help bind all the ingredients together in these nuggets.
Carrots – Carrots are a good source of Vitamin A. Most kids like them raw, but this is a good way to introduce cooked carrots as well.
Peas – A good source of Vitamin K and Maganese. We always have peas on hand in the freezer, and they are a great addition to any meal.
Onions– These are a great way to get quercetin, an antioxidant good for kids. Onions also provide flavor to these nuggets as well.
Garlic – More flavor from garlic, but garlic is also a good source of the antioxidant Allicin.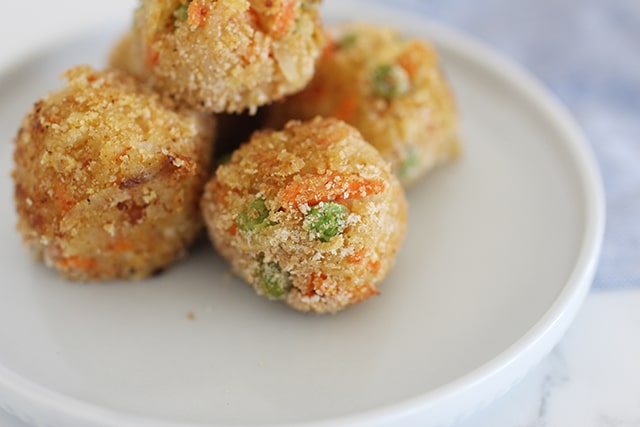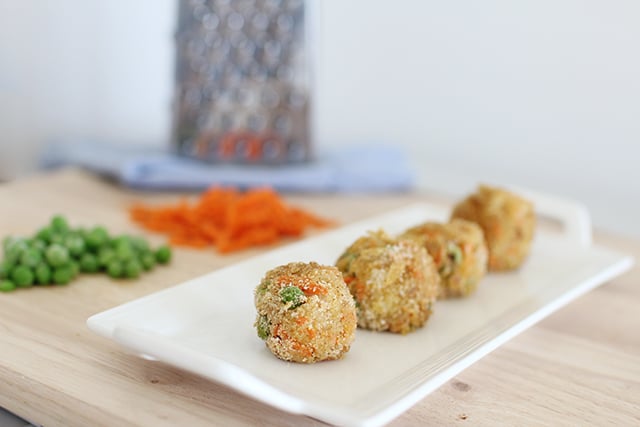 The basic steps of making these nuggets include:
1) Start with shredding potatoes, carrots, chopping onions, and defrosting peas.
The kids can help with shredding or pealing the potatoes. Shredding the carrots for kids who are a little bit older, and chopping onions for the oldest kids.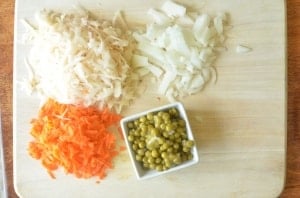 2) Cook veggies in a skillet until they are soft and tender.
These cook quickly if they are shredded with a cheese grater! Let the kids stir the veggies in the skillet.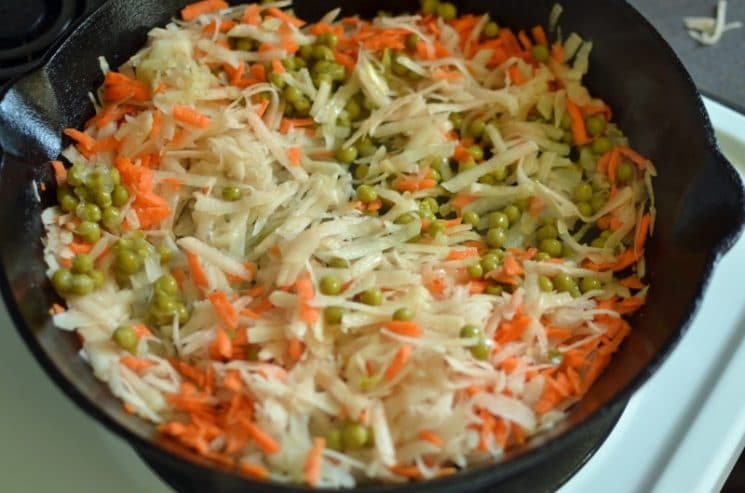 3) Add bread crumbs to veggie mix.
Dump in the bread crumbs. The kids can do this task. The bread crumbs can be substituted with gluten free products or even oats.
4) Chill in fridge until easy to handle.
Chilling is great because you can mix this up in the morning, and it will be ready to make into nuggets at lunch time or dinner. Store for several days if you need to!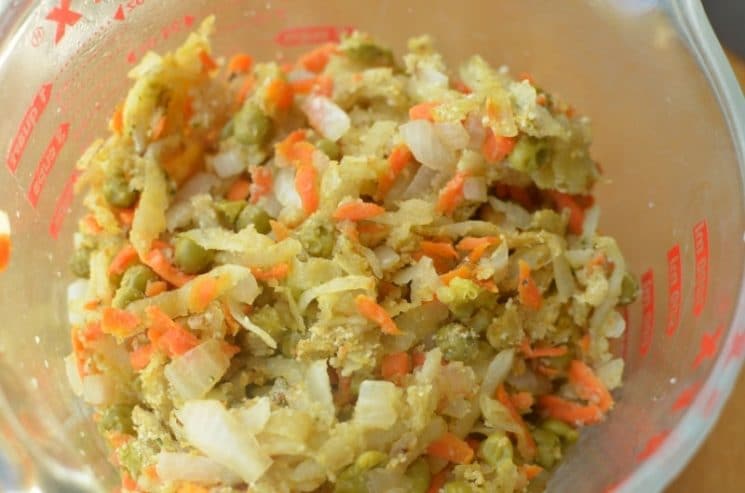 5) Form nuggets.
You can also make fun shapes from the nuggets using cookie cutters. We've made stars before and even hearts.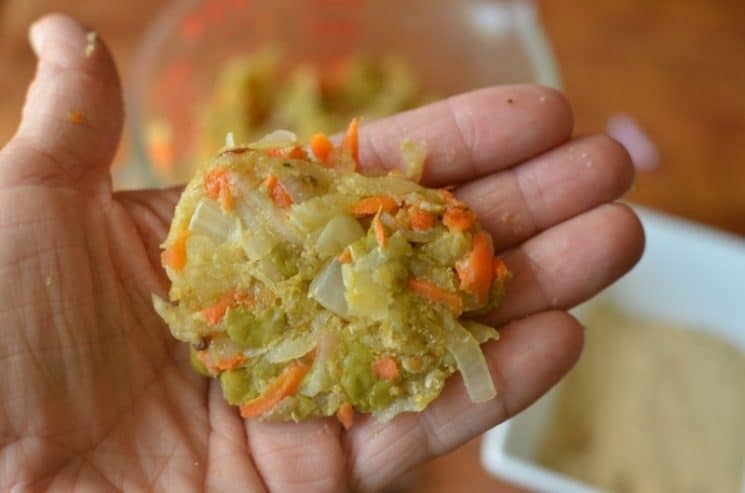 6) Roll in breading and cook.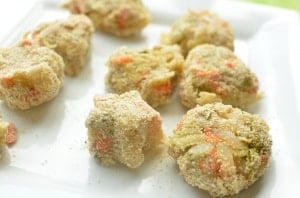 That's it! We love these hot and right off the griddle, but you can chill them and reheat for another day.
Let us know if you try these and how your kids like them!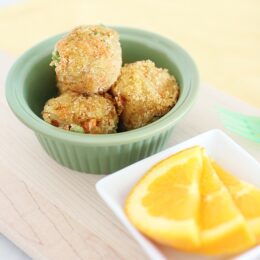 Ingredients
1

medium

onion

2

medium

russet potato

3

medium

carrot

2

clove

garlic

2 1/2

tablespoon

olive oil

1/2

cup

green peas, frozen

1/4

teaspoon

salt

1/4

teaspoon

black pepper, ground

1

medium

lemon

3/4

cup

bread crumbs, plain
Instructions
Dice onion, shred potatoes and carrots, and mince garlic.

Heat 2 tablespoons olive oil in a medium skillet, then add diced onion; cook for 2 minutes or until softened.

Add potatoes and carrots; continue to cook for 5 minutes, stirring frequently.

Mix in garlic, peas, salt, and pepper; continue to cook for 3 minutes more.

Remove from heat, stir in juice from the lemon and 1/4 cup breadcrumbs; set aside until mixture is cool enough to handle.

Shape veggie mixture into 15 to 20 balls; refrigerate for at least 30 minutes.

Place remaining breadcrumbs in a shallow dish. Heat remaining olive oil in a skillet over medium-high.

Roll the balls into the breadcrumbs until coated on all sides.

Add 4 to 5 nuggets at a time to the hot skillet and cook for 2-3 minutes on each side until nicely browned. Drain on paper towels and repeat the process with the remaining veggie balls until all have been cooked, adding more oil as necessary.