Today's Lunch: Assembly Required
We have LOVED reading your lunch ideas on our big lunch giveaway! Your ideas are what inspired today's post, 100%! So many of your kids like the lunchable, assemble at school style lunches, so my kids and I put together 4 of them that they said they'd be excited to take to school!
Today's Lunch: Assembly Required
Lunch 1) The Taco Salad Bar
We love this for dinner, so why not for lunch? The best part of this is keeping the ingredients separate makes sure that your chips don't get soggy. We also like saving the dressing for right before eating. So, we included: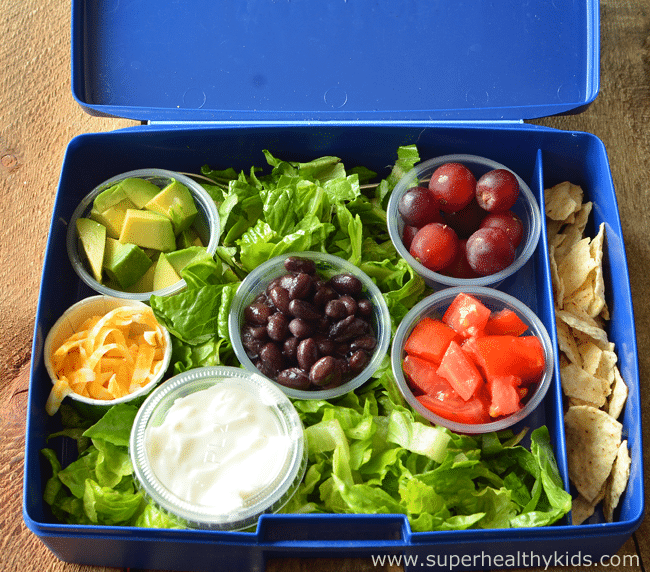 Lots of greens (romaine lettuce)
Black Beans
Chopped tomato
Chopped avocado (with a squirt of lemon juice to protect it from browning)
Chips on the side
and grapes for dessert
Lunch 2) The Original Lunchable
One thing we learned from our Japanese exchange students, is that true Bento boxes are stuffed with veggies to eat, as well as protect the cups of other foods from jostling around in the box.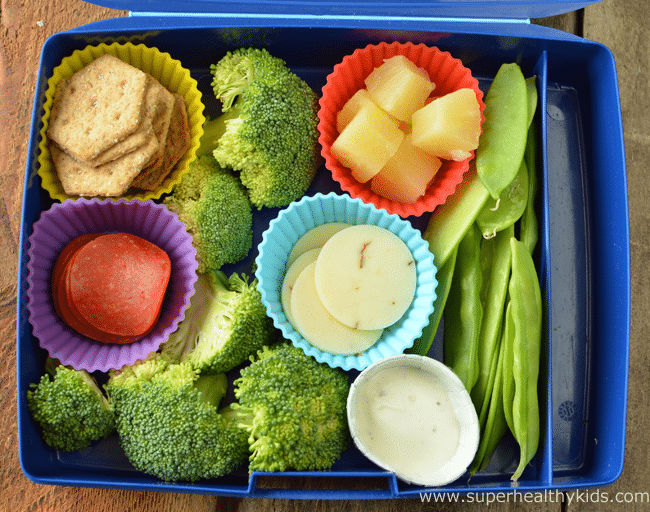 We included:
Broccoli and Snow peas, with ranch for dipping
Multi-grain crackers
Turkey pepperoni
Sliced cheese
and Pineapple for dessert
Lunch #3 Breakfast for Lunch
I had a friend post to facebook the other day:
Literally, right after she wrote that, we had someone leave a comment on the giveaway saying they send granola, fruit, and yogurt with their kids to school because their kids don't like sandwiches! Why not? It's delicious. So, we made this one: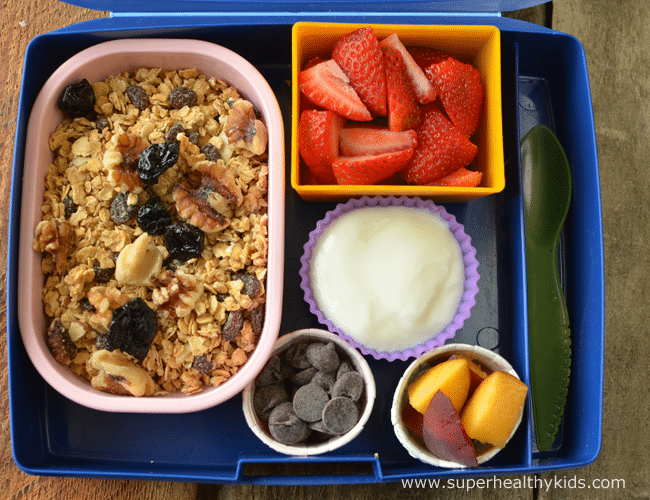 We added:
Granola (homemade if you like it!)
Extra nuts (walnuts)
Extra dried fruit (dried cherries)
Peaches
Strawberries
Greek yogurt
and chocolate chips for dessert
Lunch #4 The Stinky Tuna Sandwich
I saw this lunch that a girl brought on a field trip last year with the 4th graders. Her mom had packed the tuna in a separate bag. Once lunchtime hit, she made her own sandwich. She told me she loved tuna sandwiches, but that she thought it got kind of soggy if the sandwich were made in the morning, so she takes it to school separately.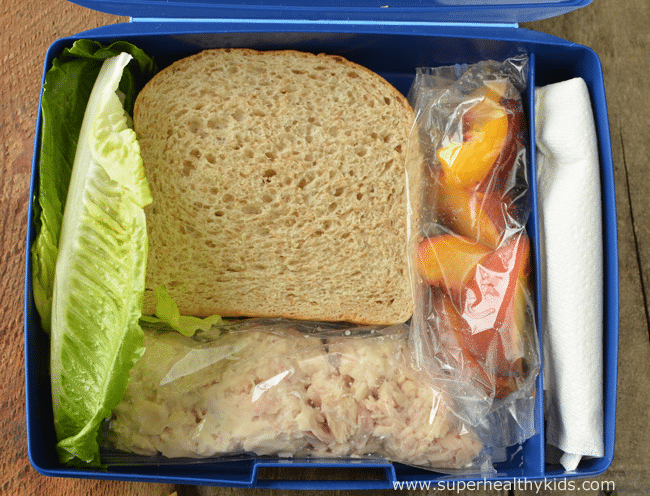 For this one we used:
Two slices whole wheat bread
A bag of premade tuna salad
Lettuce leaves
and Peaches
So, there you go!! It's fun to let your kids put their lunch together when lunchtime comes. Each of these lunches took us less than 5 minutes to get together, and all of them are delicious!
Have a great weekend! Don't miss a thing! Did you know that we send out an email every Saturday with updates of or blog posts, a recipe idea, and free meal plan ideas! sign up here.
---