Homemade Wheat Thins For Lunch
Good morning! Cooking has been a little difficult at my house the last week. We decided to put in new floors- we had some ugly vinyl linoleum that had some major sun damage. The floor in front of our back door had literally burned and turned purple from the heat/sun. It's been that way for several years, and we finally saw a good price on some Hickory flooring, so we bought it! However, when we started pulling up the floor we decided, we need to pull up the baseboards as well. Then, because we were pulling up baseboards and the floor was gone, we figured we better paint "while we're at it".. then, because we were painting, we figured, we needed to paint our cupboards, "while we were at it…", and you get the idea- one project suddenly turned into 10! Now we're knee deep into it, and we can't exactly back out! Oh My! It's going to look great when it's done, but I've been living without window coverings or floors for a week now!
Anyway, regardless, we still had time to make some homemade crackers! As I try to come up with lunch ideas, or even snacks, I always consider grains as the perfect vehicle for fruits and vegetables! And these crackers did exactly that. A quick google search for homemade wheat thins will pull up many homemade wheat thin recipes, that all happen to be the same, so I figured, it must work if every blogger is posting the same recipe.
They were pretty simple. We mixed up the dough (full recipe below).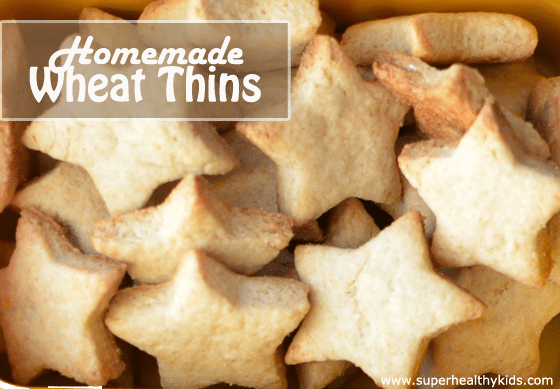 We rolled them out: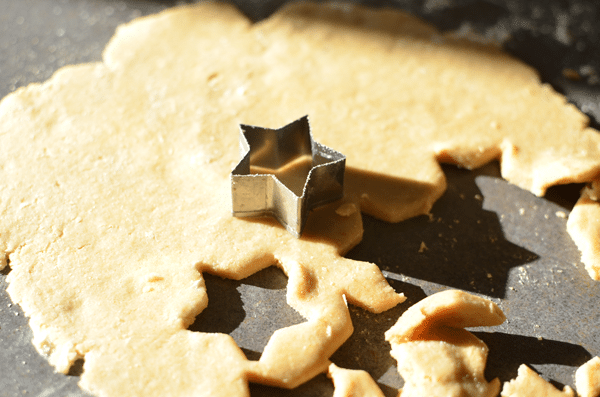 And we baked them! You can of course cut them into the traditional squares, but because my kids love using the mini cookie cutters, we decided to go with some stars!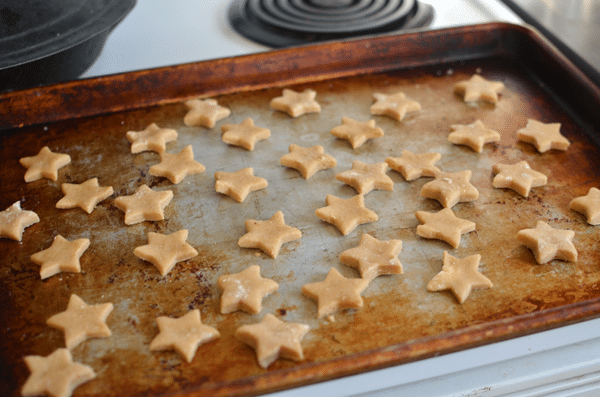 Then, the second thought you must have after making crackers, is "How can these crackers help us eat more fruits or veggies".. Well, you could totally stack sliced vegetables on top.. but we decided to go with a salsa style dip to add a bit of protein in the way of beans. Place them in the lunchbox and they're good to go.
So our dip to accompany the crackers included:
Avocado
Tomatoes
White beans
Basil
Olive oil
Vinegar
salt and pepper
What would you top your crackers with to get some fruits and vegetables in?
Ingredients
2 1/2

cup

flour, whole wheat

1

tablespoon

sugar

1

teaspoon

salt

1/2

teaspoon

paprika

8

tablespoon

butter, unsalted

1/2

cup

water

1/2

teaspoon

vanilla extract
Serve With
1

medium

avocado

2

medium

tomato, red

1/2

can

white beans

2

leaves

basil, fresh

2

tablespoon

olive oil

2

tablespoon

vinegar, distilled

1/8

teaspoon

salt

1/8

teaspoon

black pepper, ground
Instructions
Preheat oven to 400 degrees.

Whisk together dry ingredients.

Cut the butter in with a pastry cutter or fork.

Put the vanilla in the water, and slowly add the water and stir until you form a dough. If it's still too dry, add up to 3-4 tablespoons more of water. Cut your dough in half, and roll out half at a time. Cut the dough into desired shapes and arrange on a cookie sheet.

Bake in preheated oven for 10 minutes. Watch carefully, if your oven runs hotter it will be done quicker!

For salsa dip: Chop avocado and tomatoes, drain and rinse white beans; add to a mixing bowl. Whisk together the olive oil and vinegar until cloudy. Add salt and pepper to taste. Pour over salsa. Serve with crackers.
Nutrition
Calories:
183
kcal
|
Carbohydrates:
20
g
|
Protein:
4
g
|
Fat:
10
g
|
Saturated Fat:
4
g
|
Cholesterol:
16
mg
|
Sodium:
228
mg
|
Fiber:
4
g
|
Sugar:
1
g