This Winter I feel like it has been unusually sunny.  I realized that I don't mind the cold as much as I mind the dark, cloudy gray of Winter.  When I wake up in the morning and the sun is out, my soul is happy!  But on those dark, gray days is when I need something fun and happy.  Usually this is food related, but sometimes I can crank some fun tunes and it fills my need.  On this particular day I felt like a little citrus was the key to brighten the day.  Maybe that is why citrus is in season during our Winter – bright, refreshing, rejuvenating.
On another note, isn't it interesting that fruit snacks are called fruit snacks?  If you look at the ingredients, they are really just candy!  Even the fruit snacks that claim to be healthier are loaded with high fructose corn syrup.  Sneaky way to get kids to love them and adults to approve 🙂  My little 5 year old happens to be obsessed with fruit snacks.  Not sure what it is about fruit snacks in particular, but she would choose those over pretty much any candy.  I decided to take a crack at making my own.  They definitely are not like store-bought fruit snacks, but they also are just fruit! No sugar added.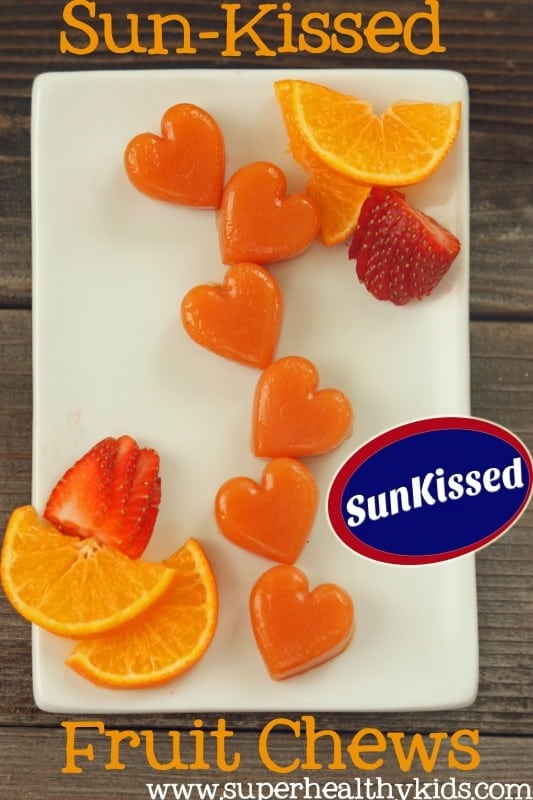 My favorite thing about our Sun-Kissed Fruit Chews Recipe is that it is actual fruit.  I started with whole fruits, blended them up and turned them into fruit chews.  Now tell me that doesn't brighten your day!
Super Healthy Kids Fruit Chews

Store Bought Fruit Snacks

Fresh squeezed orange juice,

strawberries, pear, pineapple, unflavored gelatin

Fruit Juice from Concentrates (Apple, Pear), 

Corn Syrup

, 

Sugar

, Modified Corn Starch.Contains 2% or Less of: Pectin,
Citric Acid, Vitamin C (Ascorbic Acid),Dextrose,Sodium Citrate,
Malic Acid, Mineral Oil (adds a Trivial Amount of Fat).
Potassium Citrate, Natural and Artificial Flavor, Carnauba Wax, Sulfiting Agents,
Color (Red 40, Yellows 5 & 6, Blue 1), Beeswax. Gluten free.
The first step is to juice your fruit.  For these fruit chews we used fresh squeeze orange juice, fresh strawberries, ripe pears, and canned pineapple. You can use any fruit combination you want.  You will just need 2 cups of juice total.  We juiced our oranges and the rest we blended in our Blendtec.  If you have a juicer, then go for it! If not, a high powered blender is a must so blend the fruit fine enough for these chews.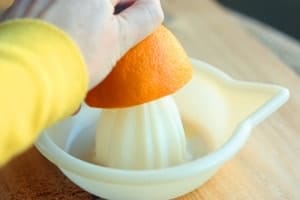 If you go the blender method, pour your fruit mixture through a fine mesh sieve so you don't have any chunks, or seeds, or a lot of pulp.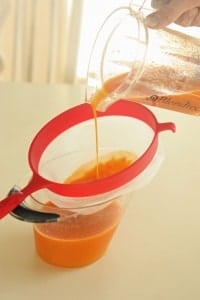 Next put half of the juice in bowl and add your gelatin.  Let it soak in for a minute, and then stir it up really good to make a paste. Your kids will love watching it as it soaks in – it forms a bubbly 'brain' looking type mixture.  It is really cool and my kids were loving it!  Put the other half of your juice in a pot and heat on medium heat until steaming.  Whisk in the paste one spoonful at a time until the mixtures are completely combined and smooth.  The paste should be dissolved by the time you stop whisking.
Pour the mixture into silicone molds using a funnel.  I think silicone molds work the best because they pop out really easy after they are set and cooled.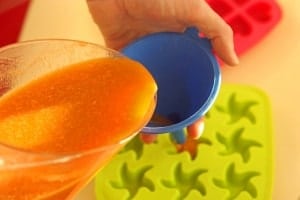 Refrigerate for at least 30 minutes, but 1 hour for the best results before removing.  Keep in an airtight container in the fridge for up to a week.  These make a great snack for your kids and are a refreshing treat any time!