Homemade Strawberry Creamsicle Recipe
You know it is summer when after being outside all day, your kids take a playing break to sit and enjoy a popsicle! It's too bad most of the popsicles you can buy in the store are loaded with sugars, artificial flavors and modified chemicals. The secret all the popsicle makers don't want you to know is that making your own popsicles is so easy and fast that you won't ever want to buy popsicles again! Strawberries are so sweet and juicy in the summer they are the perfect fruit to make popsicles with. These Strawberry Creamsicle Recipe have only 2 ingredients and will be a summer favorite for sure!
First we start out with beautiful red strawberries. The great thing about this recipe is that you can use strawberries that might be on their way out. If they are too mushy to eat, use them to make these popsicles!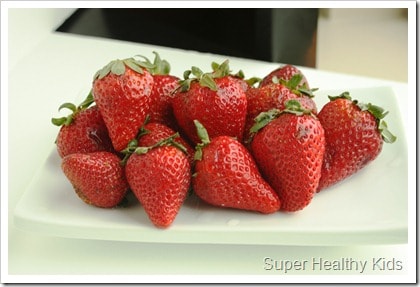 Rinse well, and cut the greens off.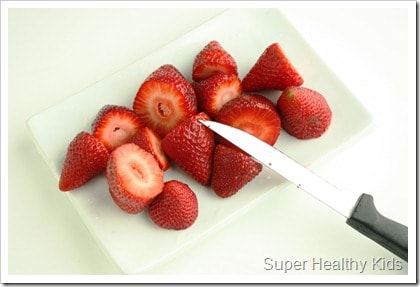 Blend. I didn't add water or juice, or anything. I love my Blendtec for that reason. It really does blend anything. If your blender isn't quite as powerful, you could add a little water/juice if you want. I know of some recipes that just mash their strawberries, but my girls are weary of 'chunks' and so I like to make these popsicles to be smooth.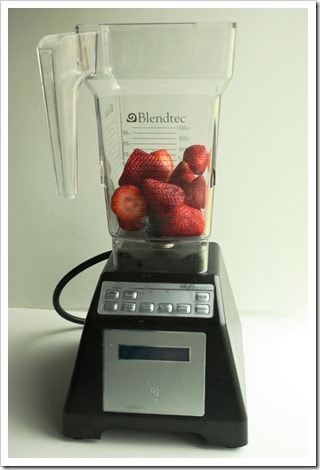 The strawberries blend into a beautiful puree which you can add right to your popsicle molds. Spoon some of the puree into the bottom of the mold, and then alternate with yogurt and puree until the mold is full. This will give you the pretty swirled look.
Voila!
You could blend the yogurt with the strawberries, but I liked the swirled look. My 3 year old says it was the best popsicle she ever ate. Really. Word for word. I was curious and a bit nervous to see how my girls would react because they aren't super sweet. I was pleasantly surprised that they licked them down to the stick! I felt good knowing they were getting a fruit serving as well as protein, fiber and calcium! Store bought popsicles are basically sugar and water and won't keep you full for 5 minutes. These creamsicles however definitely have substance and are actually a balanced snack.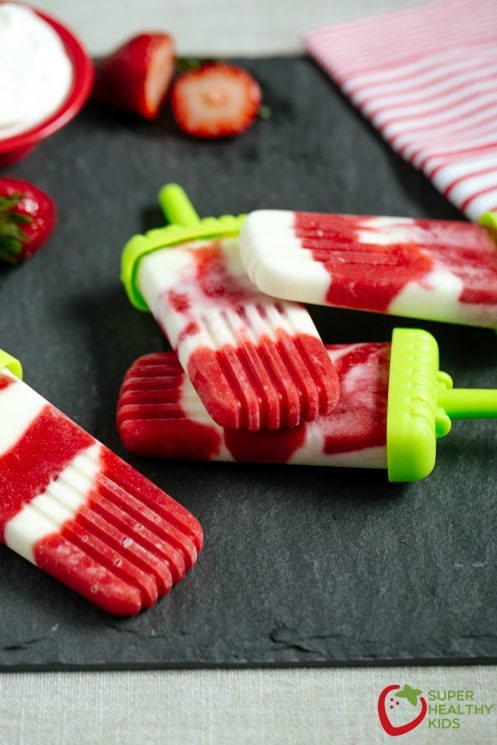 Ingredients
12

medium

strawberries

1

cup

Greek yogurt, plain
Instructions
In a blender, blend strawberries into a puree.

Layer yogurt and strawberry puree into popsicle molds.

Freeze until hard.   Enjoy!
Nutrition
Calories:
38
kcal
|
Carbohydrates:
4
g
|
Protein:
4
g
|
Fat:
1
g
|
Saturated Fat:
1
g
|
Cholesterol:
4
mg
|
Sodium:
14
mg
|
Fiber:
1
g
|
Sugar:
3
g