Frozen Watermelon Pops Recipe
Looking for an easy, healthy, and delicious frozen snack for your kids this summer? These Frozen Watermelon Pops are a delicious treat to serve a crowd!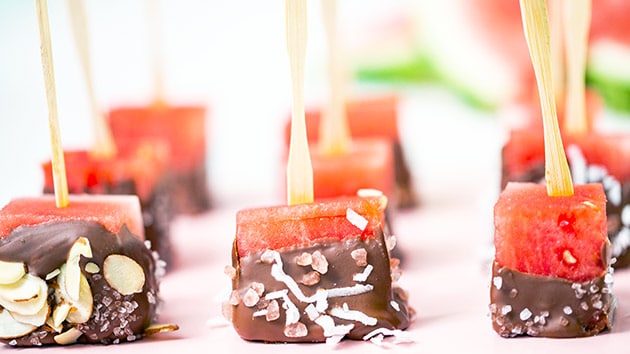 Is Watermelon Good After Being Frozen?
The short answer is yes. You can freeze watermelon and eat it frozen and it is still delicious! Once frozen watermelon thaws, it will get mushy. But there are lots of things you can do with frozen watermelon, so don't throw out your old watermelon!
Ways to Use Frozen Watermelon
Turn it into popsicles
Make watermelon slushies, granita or sorbet
Blend it in a smoothie
Blend watermelon and other fruit of your choice and make popsicles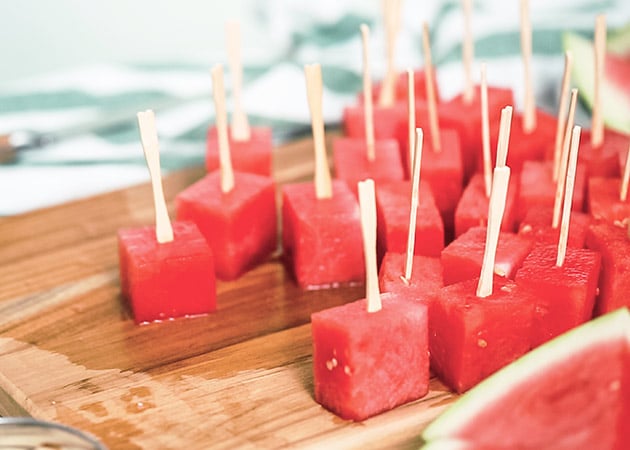 How To Cut Watermelon For Kids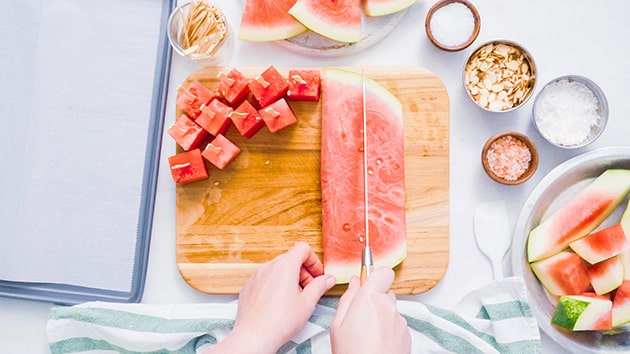 To start, slice your watermelon into discs.
Cut the discs into 'strips' and then cut those into smaller cubes for a smaller size pop.  Basically you just want pieces that would make good popsicle shapes.  
To see how we like to cut watermelon, see this post.
Place a popsicle stick in the center of each piece.
How to Make Watermelon Pops
Once your watermelon is cut and the popsicle sticks are in, you can start the dipping!
Melt your chocolate in microwave safe bowl in 30 second increments. Stir between each 30 seconds.
Let the chocolate cool for just a few minutes before dipping.
Take each watermelon cube and dip into the chocolate so that the chocolate comes about half way up. You can use a spoon to help spread the chocolate on the watermelon.
If you want to add toppings, sprinkle them on now while the chocolate is still a bit melted.
Place on a baking sheet lined with a piece of parchment paper.
Place the baking sheet in the freezer for 2 hours or until they are frozen.
After a couple of hours you will have yummy fresh watermelon pops!  You can whip up a huge batch of these in about 10 minutes.  And not only are they fast, but they are inexpensive!  You can make one of these pops for about 10 cents depending on how much you get your watermelon for.  And you can feel good about letting your kids eat more than one because they are packed with nutrients.
Frozen Watermelon Pops
A delicious way to serve watermelon as a treat for a crowd!
Instructions
Cut watermelon into discs, and then into large cubes.

Place a popsicle stick into each watermelon cube.

Melt chocolate in the microwave in a microwave safe bowl in 30 second increments. Stir in between in 30 seconds.

Dip each watermelon cube into chocolate and sprinkle toppings on. Place on a baking sheet covered in parchment paper.

Freeze for 2 hours or until each watermelon pop is frozen.

Serve and enjoy or place in an airtight container for up to 2 months in the freezer.
www.superhealthykids.com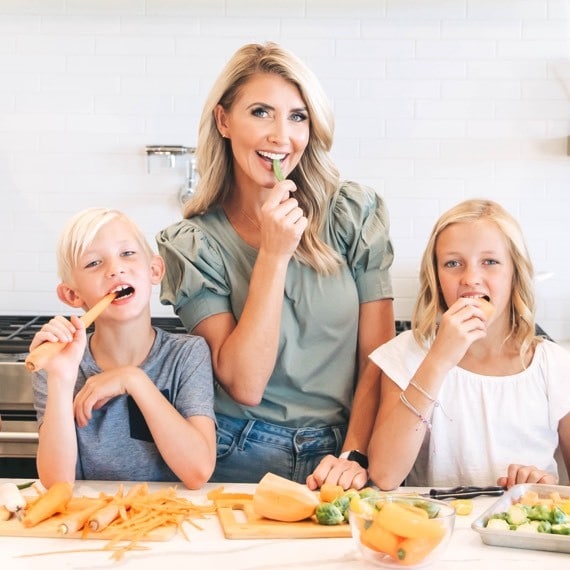 Natalie Monson
I'm a registered dietitian, mom of 4, avid lover of food and strong promoter of healthy habits. Here you will find lots of delicious recipes full of fruits and veggies, tips for getting your kids to eat better and become intuitive eaters and lots of resources for feeding your family.
Learn More about Natalie