Blueberry Lemon Pudding Pops Recipe
This week is frozen treat week! Summer is in full swing here in Northern America, and we're celebrating with our favorite healthy frozen treats! You can follow the hashtag #healthyfrozentreats on Facebook, instagram, or pinterest.
Remember pudding pops? Do they even sell those anymore? I remember them being super creamy and delicious. So, for today's recipe, we decided to make some pudding for our popsicles!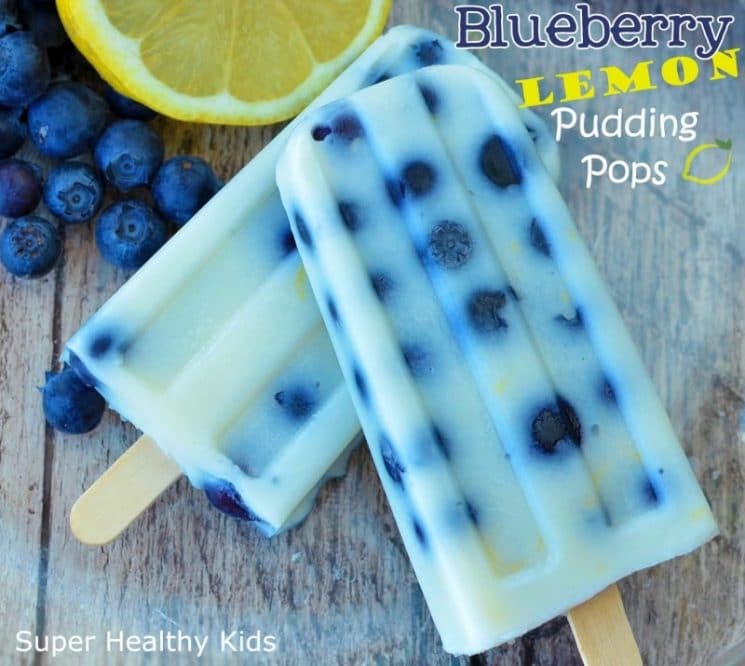 Blueberries are definitely a super food! They are so good for you! They are:
High in antioxidants that fight inflammation
High in Vitamin C to help kids build better immunity
A good source of Vitamin K- Great for bone health
Shown to improve brain function!
And this dessert is such a tasty way to include them in your families day.
Blueberry Lemon Pudding Pops Recipe
We first made some pudding- This wasn't as hard as you might think. We've made homemade banana pudding before here, but this time, instead of bananas we added some lemon zest and lemon extract.
In a saucepan, combine 2 cups cold milk with 2 tablespoons corn starch. Whisk together until there are no lumps from the corn starch.
Then add 2 tablespoons honey, 1 teaspoon lemon extract and 2-4 tablespoons lemon zest.
Bring milk mixture to a slow boil on the stove over medium heat. Once it begins to boil, stir until mixture begins to slightly thicken on your spoon (about 4-5 minutes).
Pour into a bowl and let it cool slightly.
Fill a popsicle mold with blueberries. Using a funnel (otherwise it gets messy), pour the pudding onto the blueberries. Natalie and I apparently both love this popsicle mold, because we happened to buy the exact same one on the exact same day from Amazon- not even knowing the other was getting it! LOL
Once your pour the pudding over, and stick your popsicle sticks in, place in the freezer for 6+ hours.
Because we literally stuffed the mold full of blueberries, we were able to get 8 pudding pops from it!
The results- LOVED THEM! They are perfect for small kids as the pudding softens up enough so it's easy to eat.
Related Links:
Frozen Yogurt Blueberry Lemon Pie
Ingredients
2

cup

milk

2

tablespoon

cornstarch

2

tablespoon

honey

1

tsp

lemon extract

3

tsp

lemon peel, raw

3

cup

blueberries
Instructions
In a sauce pan, combine milk and corn starch. Whisk together until no lumps appear. Place the saucepan on the stove top and turn on to medium heat. Add honey, lemon extract and lemon zest. Slowly bring mixture to a boil. Once it begins to boil, stir until mixture begins to thicken (about 4-5 minutes- not too long, as you'll freeze it any way). Once thickened, place as many blueberries into a Popsicle mold as you can. Pour pudding over the top. Place Popsicle mold in the freezer for 6 or more hours.
Nutrition
Calories:
124
kcal
|
Carbohydrates:
23
g
|
Protein:
3
g
|
Fat:
3
g
|
Saturated Fat:
2
g
|
Cholesterol:
8
mg
|
Sodium:
36
mg
|
Fiber:
2
g
|
Sugar:
17
g