Fruit & Veggie Sheet Pan Pancakes Recipe
Love pancakes but hate standing over the griddle while the family eats? We have a solution: sheet pan pancakes! Plus, these include fruits AND veggies (and they're whole wheat)! An easy, wholesome family breakfast that also tastes great.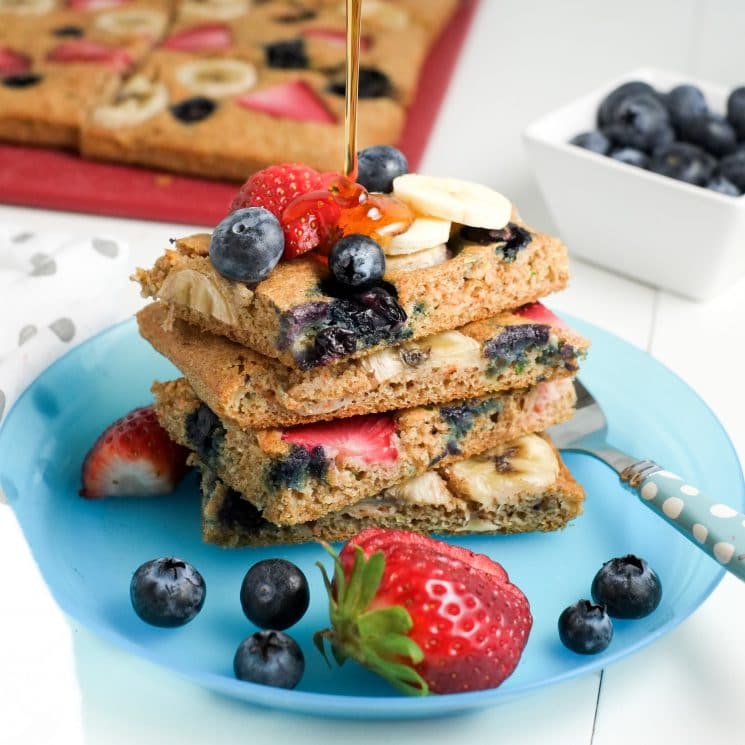 Pancakes are so classic. But as much as I love them, I dislike the hassle of them. Someone always has to man the griddle while the others get theirs while they're hot.
Those days are over now! That is, if you use this sheet pan pancake method. Just whip up a batch of batter, pour into a high-brimmed baking sheet, and step away. Once they're done, just cut and serve. Everyone eats together!!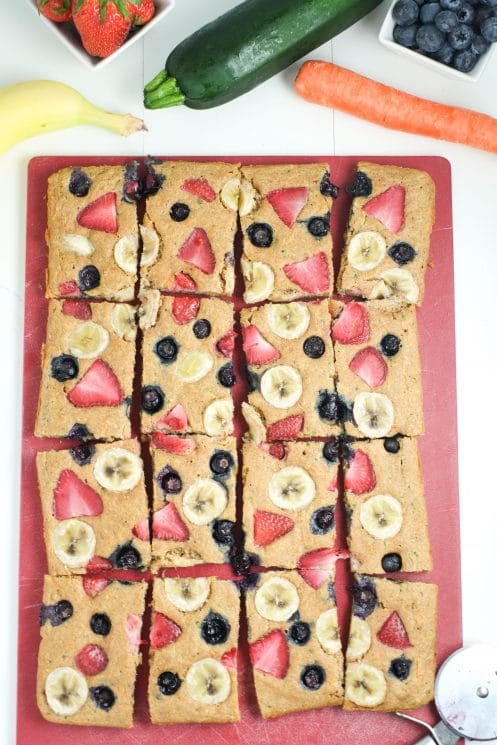 Why we love these sheet pan pancakes
This method is so easy, and nice for something a little different. You can use any pancake recipe you like, really. But this recipe is calculated to fit perfectly into a 10×15 inch rimmed baking sheet.
We love that these pancakes are made of whole wheat. Lots of fiber and more protein than white flour make them better for you and more filling.
And count on us to add veggies! Veggies at breakfast are such a good idea – we want veggies at every meal whenever possible! It may not seem normal at first, but there are lots of ways to do this.
For this recipe, we used grated zucchini and carrot. While it's not a full serving per person, it's still getting some in. And every little bit counts!
And of course, the fruit. Applesauce is used in the batter, and then fresh fruit is sprinkled on top right before baking. You can get creative and use whatever fruit you like in pancakes. We used blueberries, strawberries, and bananas – yum!
How to make fruit and veggie sheet pan pancakes
Let's get baking!
Begin by preheating an oven to 425* F and melting 1/4 cup of butter in a microwave safe bowl. Use half to brush onto a 10 x 15 inch sheet pan with sides, greasing thoroughly. For the easiest removal of pancakes, first line the baking sheet with foil and just butter the foil. This helps you lift the giant pancake out in the end.
Pour the other half of the butter into a medium-sized bowl. Grate carrots and zucchini until you have a half cup of each. Pour these into the bowl with the butter.
Into the same bowl, add 1/2 cup of applesauce, 2 eggs, 2/3 cup of milk, and 1 teaspoon of vanilla. Whisk until combined.
In a small bowl, add 1 1/2 cups of whole wheat flour, 1 teaspoon of baking powder, 1/2 teaspoon of baking soda, 1/2 teaspoon of cinnamon, and 1/4 teaspoon of salt. Whisk together and then pour into the bowl with the wet ingredients. Mix until combined.
Pour the batter into the prepared baking sheet and make sure it spreads evenly. Place fruit on top – blueberries, banana and strawberry slices.
TIP: If you use a different pancake batter recipe, you'll want to fill the baking sheet about halfway to the top, leaving room for the pancake to rise.
Bake for 13-14 minutes, until the middle is cooked through and the pancake has risen a bit.
When cooked, remove from the sheet by lifting the foil (if used) or cutting into fourths and lifting them carefully out onto a cutting board. Use a pizza cutter to cut into desired shapes and sizes. 
Serve with fresh fruit dipping sauce or covered in pure maple syrup. And topped with extra fruit, of course!
Ingredients
1/4

cup

butter, unsalted

1/2

cup

zucchini

1/2

cup grated

carrot

2/3

cup

milk

1/2

cup

applesauce, unsweetened

2

large

egg

1

teaspoon

vanilla extract

1 1/2

cup

flour, whole wheat

1

teaspoon

baking powder

1/2

teaspoon

baking soda

1/2

teaspoon

cinnamon

1/4

teaspoon

salt
Toppings
1/2

medium

banana

1/2

cup

strawberries

1/2

cup

blueberries
Instructions
Preheat oven to 425* F. Cover a 10×15 inch sheet pan in foil. Melt 1/4 cup butter in a microwave safe dish and brush half of it over the foil, coating evenly.

In a medium bowl, pour the remaining half of the melted butter (2 tablespoons). Grate half a cup each of zucchini and carrot and add to the butter. Also add milk, applesauce, eggs, and vanilla. Whisk until combined.

In a separate bowl, whisk together whole wheat flour, baking powder, baking soda, cinnamon, and salt. Add this mixture to the wet mixture and mix just until combined.

Pour the pancake batter into the prepared sheet pan and even the batter out. Top with half a banana, cut into thin slices, as well as 1 total cup of berries (we used half strawberry, cut into slices, and half blueberry).

Bake for 13-14 minutes in the preheated oven, until slightly risen and cooked through.