Crackers can be a great snack for kids– especially, crackers that are homemade, full of nutrients, and tastes great.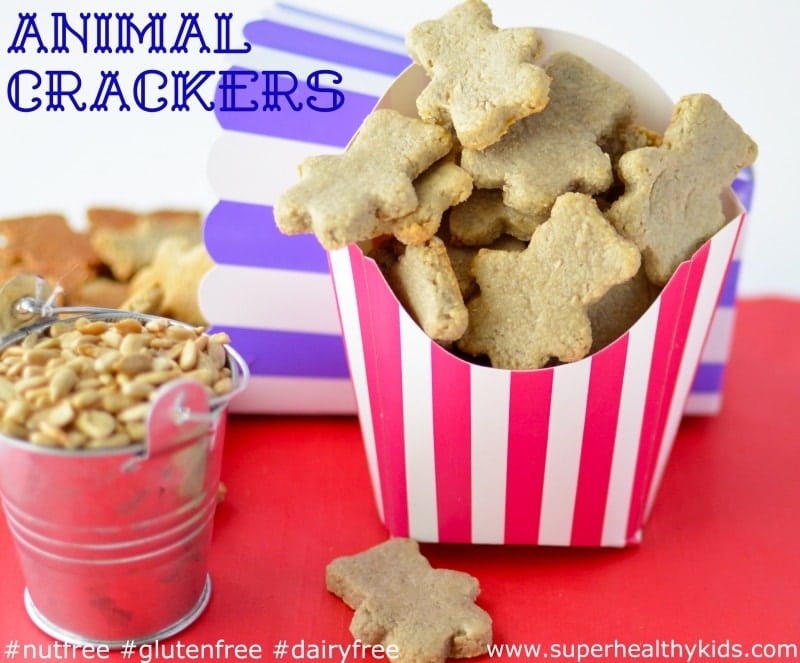 We set out to make some healthy crackers when we saw this recipe in a super old book, from 1981 Book by Lendon Smith, Foods for Healthy Kids.  Awesome things about this Animal Crackers Recipe (as opposed to store bought) is that it is gluten free, dairy free, without HFCS or Trans-fats!
The main ingredient in this cracker is sunflower seeds, and that's what makes them a nutrition powerhouse! 1/4 cup of Sunflower seeds provides
OUR LATEST VIDEOS
90% of the Daily value for Vitamin E (providing anti inflammatory benefits.)
54% of the DV for Vitamin B1
Also a good source of manganese, magnesium, copper, and tryptophan.
Contains 7 grams of protein!
To make these crackers, grind up sunflower seeds in a food processor.   Once the sunflower seeds are ground into a course meal, add the rest of the ingredients and chill.
Roll dough out between two pieces of parchment paper and then cut into desired shapes using mini cookie cutters.  Bake at 300 degrees for 15 minutes or less- watch carefully to not burn them.
WARNING:  These crackers are not sweet! Even with the honey and coconut, they are not sweet. If your kids are used to having store bought animal crackers, and use those as a comparison- this will be a total disappointment.  You can do a few things:
Use them as a dipping vehicle- hummus or flavored yogurt would taste great here!
You could add more honey.
If you really want them to be sweet, you can add some chocolate like my daughter did here:
Otherwise, give them a try the way they are.  Especially if you have super young kids (over 1 years old), that haven't been desensitized to the super sweet crackers found in the store yet.
And that is what we did! Let us know if you try them!