Flax Carrot Apple Muffin Recipe
Your next picky eater success is here! Flax Carrot Apple Muffins load up kids on nutritious ingredients like whole grains (two of 'em!), fruits, veggies and seeds. Make these muffins ahead for a quick weekday morning breakfast or school-safe packed lunch option.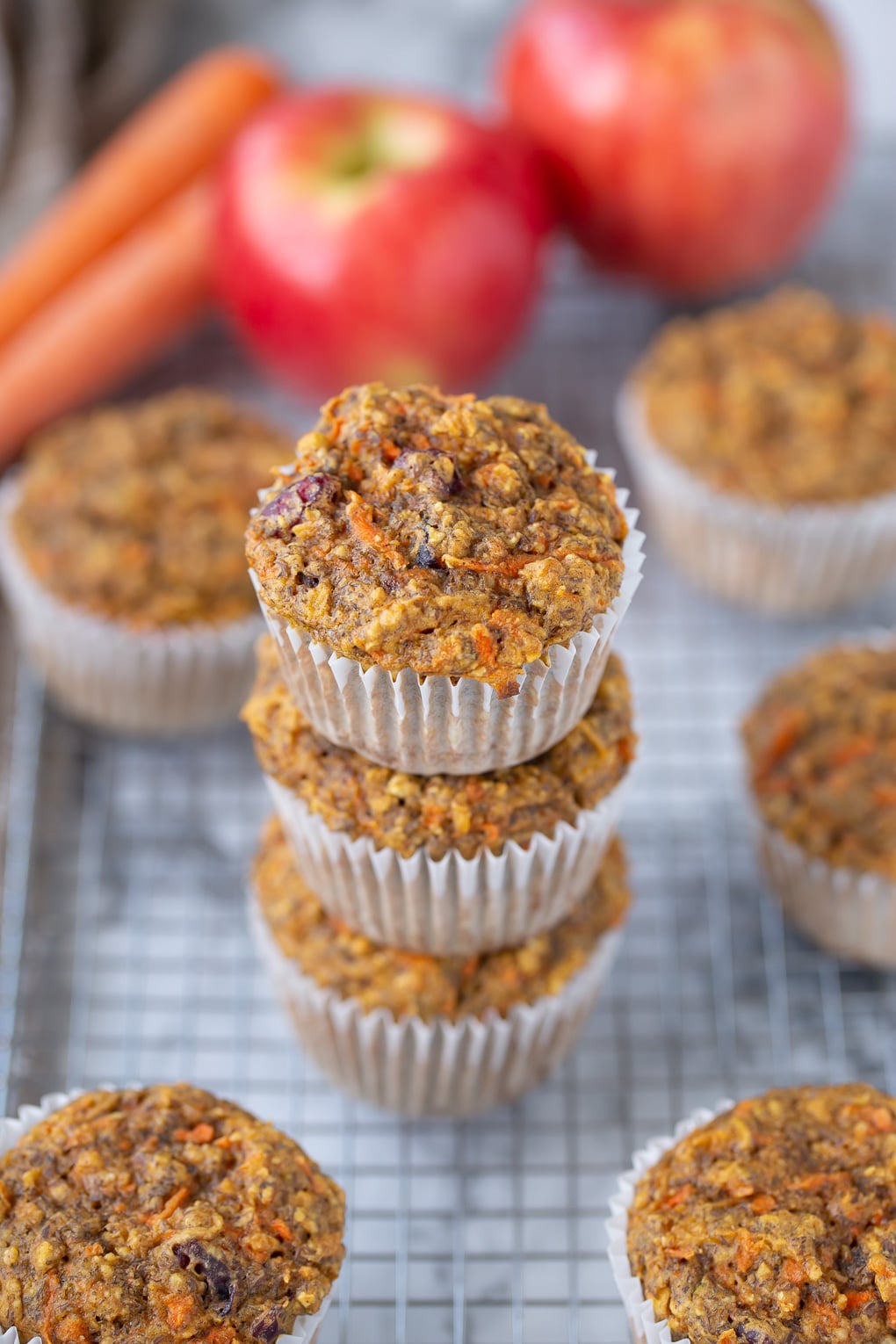 Classic muffins like blueberry are fabulous. But isn't it fun to have something a little surprising in your recipe box?
Here's a muffin to spice up your repertoire that's bursting with apples, carrots, cranberries, and the goodness of whole oats and flax seeds. It's a moist, wholesome muffin that still appeals to kids who might be short on their daily servings fruits and veggies.
Five Reasons to Love This Recipe
There's SO much nutritional variety in these tasty muffins, they can serve as a complete meal. We pack in fruits, veggies, two different whole grains, AND flax seeds for a balanced, nutritious muffin.
Picky eaters love them. If you're struggling to get healthy ingredients into your kids, this recipe is nearly a sure bet. Nothing is quite so approachable as a delicious muffin.
You can bring them with you. Hand one to your kiddo on your way to school. Pack them in lunchboxes. Bring them to the park. These muffins are a clean, handheld snack.
You can freeze them. Double the batch and put some in the freezer for quick breakfasts or snacks down the line.
They taste hearty, delicious, and sweet. Enough said. 😉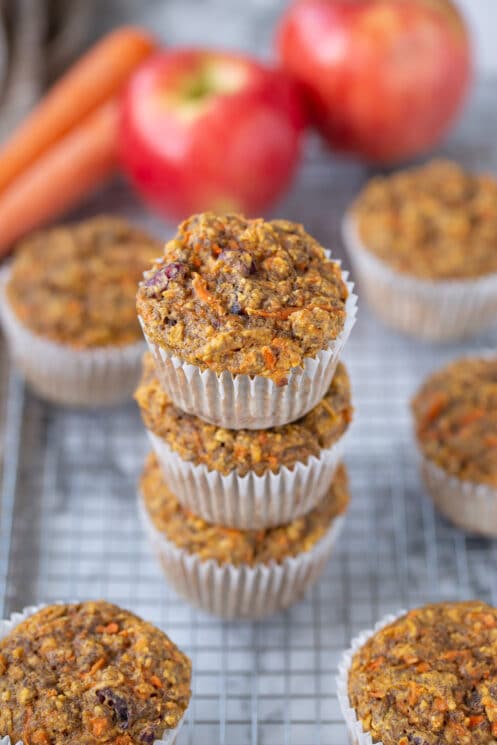 Humble Flax is Super Good for Kids
Flax seeds are rich in nutrients kids' bodies need to thrive. One tablespoon contains around 2 grams of fiber and almost 1,600mg of omega-3 fatty acids.
Omega-3-fatty acids, famously found in fish, benefit heart health by lowering cholesterol and reducing inflammation in the arteries. We might not be thinking about our kids' cardiovascular health when they're small, but teaching them to love flax now can have lifelong benefits.
The fiber in flax can help regulate digestion and help kids stay satiated after a meal. (That means they're less likely to come begging for another snack 30 minutes after eating. Always welcome!)
These muffins don't pay lip service to flax seeds: there's 3/4 a cup in this recipe! That's more flax seeds than sugar. So you can feel confident you're packing in the nutrition.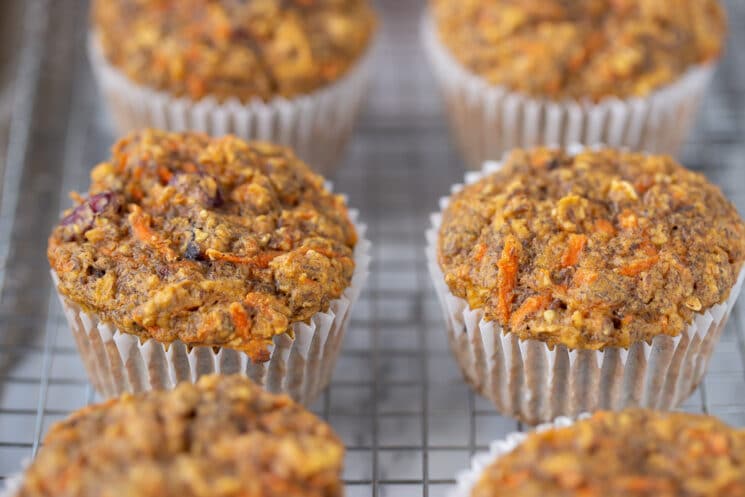 Why Use Ground Flax Seeds? (+ Two Ways to Grind it Yourself)
You'll want to use ground flax seeds in this recipe for two reasons. First, grinding the flax helps these mighty little seeds incorporate with the flour for a smoother, picky-eater-friendly texture.
Second, grinding the flax seeds releases the beneficial omega-3 fatty acids from the tough shell. This lets our bodies better absorb the nutrients in flax. (In general, using whole flax seeds in a recipe adds a nutty crunch, but our digestive tracks can't easily break them down. Left un-ground, they can pass right through us intact. If you know what I mean.)
If you only have whole flax on hand, you can easily grind it right in your kitchen.
One way to do this is to toss your flax seeds into a high-speed blender and buzz them up. (You can even do this before you add the oats. Then add the oats right on top of the flax meal. Boom! Now they're mixed together.)
You can also grind flax in a spice or coffee grinder, though be aware you can sometimes pick up the flavors of spices or coffee this way.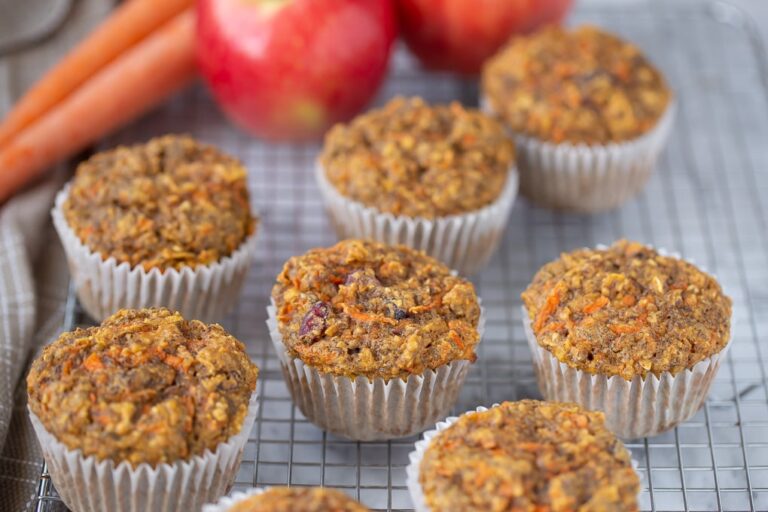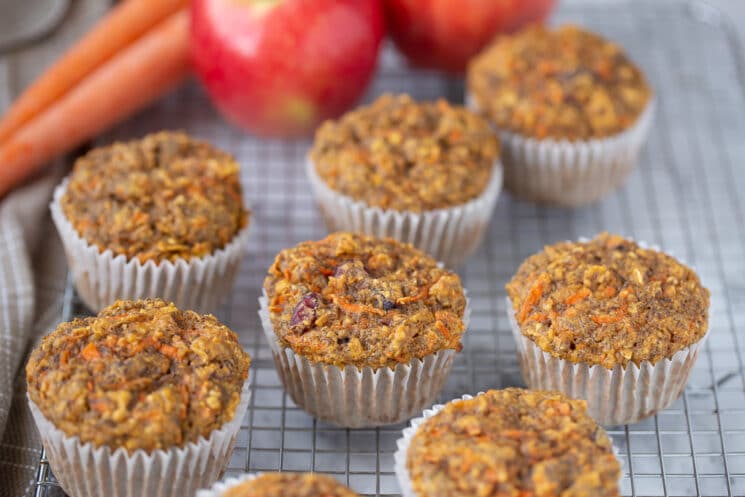 Tips for Making and Storing Flax Carrot Apple Muffins
This recipe is simple to make because it follows the basic principals of muffin-making made famous by almost all muffins everywhere.
What that means is: mix up your dry ingredients in one bowl. Mix your wet ingredients in another. Gently fold them together, then voila. You're ready to spoon them into a muffin pan and bake.
If you love to save yourself dish duty, feel free to use your blender cup as the "bowl" to mix your dry ingredients together. You're already using it to grind your oats into flour, and maybe also your flax seeds (see above.) Just dump the grains, sugar, and leaveners into the blender cup and pulse a few times to mix.
When these muffins are cooked and cooled, you can toss some in a zip-top bag and store them in the freezer. Move frozen muffins from the freezer tot he fridge the night before you plan to eat them, so they're defrosted by morning.
More Recipes Featuring Flax
Flax Carrot Apple Muffin
Your next picky eater success is here! Flax Carrot Apple Muffins load up kids on nutritious ingredients like whole grains (two of 'em!), fruits, veggies and seeds. Make these muffins ahead for a quick weekday morning breakfast or school-safe packed lunch option.
Instructions
Make oat flour by grinding oats in blender. Grate or puree carrots (will need two cups.) Grate apples.

Combine dry ingredients.

In a separate bowl, mix milk, eggs, vanilla.  Stir in carrots and apples. Add to dry ingredients just until moistened.

Stir in cranberries.

Fill muffin papers.

Bake at 350 for 10 minutes (mini muffins) or 15 minutes, large muffins.
Nutrition
Calories:
211
kcal
|
Carbohydrates:
37
g
|
Protein:
6
g
|
Fat:
5
g
|
Saturated Fat:
1
g
|
Cholesterol:
33
mg
|
Sodium:
244
mg
|
Fiber:
6
g
|
Sugar:
17
g
www.superhealthykids.com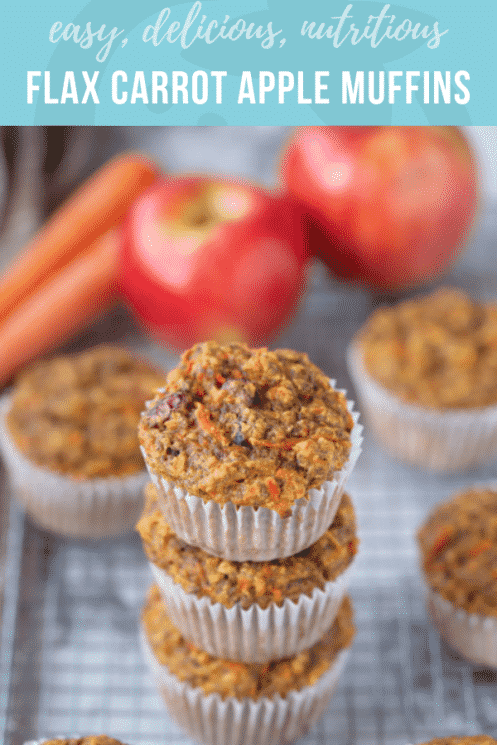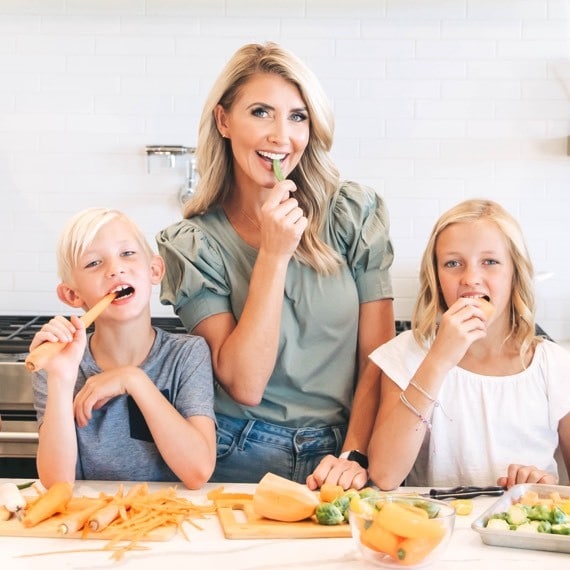 Natalie Monson
I'm a registered dietitian, mom of 4, avid lover of food and strong promoter of healthy habits. Here you will find lots of delicious recipes full of fruits and veggies, tips for getting your kids to eat better and become intuitive eaters and lots of resources for feeding your family.
Learn More about Natalie