Christmas Bean Cookies with Homemade and Natural Food Dyes
Christmas time can be brutal for kids with sensitivities to artificial food dyes. I've never noticed any behavior changes in my own kids when they eat food dyes, so I often dismissed reports speculating food dyes might be to blame for behavior problems in other kids. However, my opinion of them has changed drastically over the last few years (and especially the last few months)
Our Story:
My niece is 8 years old. The girl has been hyperactive most of her little life. She is super smart, and wanted desperately to behave well at school, but she literally couldn't keep her emotions under control or her hands to herself. She would come home almost daily in Kindergarten and first grade with bad marks in her "behavior notebook". When I suggested to my sister that some people have had success with eliminating food dyes from a child's diet, she told her daughter Maddie about it. Well, because Maddie wanted to be good in school so desperately, she was the one who decided to take on the challenge to the fullest. And she has. She now questions everyone and everything offered to her! "Does this have artificial dyes?" is her new slogan.
The result: Her behavior has literally taken a 180! Her behavior notebook at school went from daily bad marks to good behavior marks (They call it "Ready to Learn") for 3 straight months in a row. This is quite significant, and literally something my sister would not have believed if she didn't see it with her own eyes. In fact, there was one day when her husband, unknowingly gave her a marshmallow. You wouldn't think white marshmallow's had food dye, would you? But they do! And the next day- Bad behavior marks at school (for the first time in 3 months)! She was so upset by this, but it confirmed to them that they are doing the right thing!
Now, because I love Christmas decorated cookies, and because I love my niece, I wanted to make some that she could eat. So, I purchased those natural food dyes I had seen advertised (India Tree) from Amazon. Then, you all told me on Facebook that they might not be as bright as we were hoping. That's when I decided to do a comparison- homemade food dye vs. store bought natural dyes.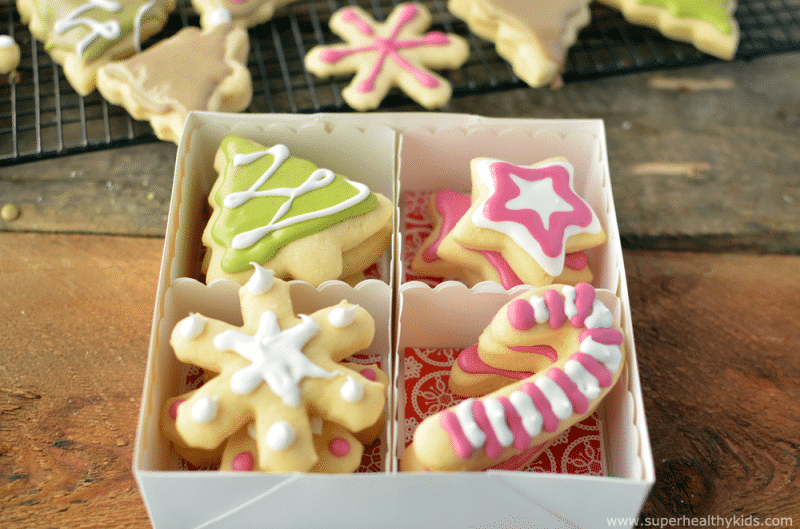 The results:
I made some homemade red coloring by juicing 3 beets. I did not pre-cook them, just placed the raw beets in a juicer, and saved the juice.
Then, to get the green color, I used spinach. I was a little nervous that both of these would have a taste to them, but was willing to take that chance. The spinach (about 3 handfuls worth of baby spinach), gave me a teeny tiny bit of juice. Maybe only 1/8 of a cup. I left the juice out on the counter overnight, which I was glad I did, because by the next day, the spinach juice had evaporated a bit, leaving me with some concentrated green paste. Perfect!
Then, I mixed the beets with our frosting. I could never get it red enough, just very pink. However, the India Tree color gave me the exact same pink color. It wasn't any redder than my homemade beets.
Then I mixed the spinach. I LOVED the green color I got from my spinach! It was perfect for our Christmas tree cookies. The India Tree- Blah! The more blue and yellow I added, the browner it got! I had to check and recheck google to make sure that blue and yellow actually made green, because I was NOT getting any green out of it. So sad.
Then, we made some cookies (recipe below).
We frosted all the cookies, and invited my niece Maddie over for cookies!
Of course when she asked if the cookies were made with artificial dyes, I told her- NO!! These are safe for you. She was sooooo happy!
And, did she like them? She loved them! All the kids did. None of the kids tasted any beets or spinach, and I actually didn't tell them that's what was in them. (This is her brother Michael getting caught snatching a cookie) 🙂
So, what do I think about India Tree? Well, if I could get a green out of it, I'd be happier. But for the price- $17, it's probably a no-go for us to ever buy them again. If it's important for you to have some shelf stable colors to use in a pinch (If you want some pink for Valentines day), sure. But I thought it was just as easy to make our own, and much cheaper! And of course, there is always that problem with blue/green that doesn't exactly do what you want it to.
This is Maddie, who approved of the cookies!
---
Part 2- Bean Cookies
My sister in law sent over this recipe last summer, and I've been hanging onto it this long!! So sorry.
Written by Beth
The difference between my recipe and the original is half of the butter or coconut oil is replaced by white bean puree. The important thing to maintain in a pastry like a sugar cookie is the texture. These are still soft and the frosting is to die for. My sister, when she'd frosted hers and taken a bite, said "Man, these are good!"
Everyone at my daughter's party ate them up! Bean puree holds moisture well so that the cookie stays soft. Notice, too, that the frosting is half coconut oil (it gives the frosting a really great flavor) and half bean puree. Do you dare to try? Here's how it works:
Once again, cooking my own beans
Pureeing the beans in my blender (if it's too thick, I slowly add enough water for beans to mix to a paste)
Here's the consistency you want – thick enough to stay on the spatula
Half of my beans are pureed, half of them are not. This is extra, so it's ready for the freezer.
I mixed my dough the regular way, then rolled it out on a well-floured tea towel.
Mmm! These cookies are ready for the oven.
While the cookies are baking, I mix up the frosting ingredients. The bean frosting is not the frosting in the photos. It's a soft frosting, if you like that. In order for the frosting to harden up, I used a traditional royal icing.
And now these babies are ready to eat!
So, I'm curious now- have you had an experience with eliminating food dyes from your kids life? Please share your stories!
*Frosting tips- for sugar cookie frosting that hardens up and becomes stackable, follow a traditional royal icing recipe like this one. You can still add your veggie puree's. This is the frosting in the photos. My sister in law Beth uses the bean and coconut oil frosting which the kids loved, and will still give you delicious frosting, but won't get firm like royal icing. Chilling it though, does help it to firm up a bit.
Ingredients
1/2

cup

butter, unsalted

1/2

cup

white beans, canned

1

cup

sugar

2

large

egg

1/2

teaspoon

vanilla extract

1/4

teaspoon

almond extract

3 1/2

cup

flour, all-purpose

1

teaspoon

baking powder

1

teaspoon

salt
Frosting
1/2

cup

coconut oil

1/2

cup

white beans, canned

1

teaspoon

vanilla extract

2

cup unsifted

powdered sugar
Add ins
3

medium

beet

3

cup

spinach
Instructions
Rinse and puree beans. You will need 1/2 cup of puree. (You can cook your own white beans if you don't prefer canned.)

Cream cold butter,  cold bean puree, and sugar together until well mixed. Add eggs and mix until well incorporated. Add vanilla and almond extract.

Add dry ingredients and mix just until dough comes together.

Place a large tea towel on counter and generously dust with additional flour. Turn dough out of bowl onto tea towel and turn dough over a few times, until it is coated with flour on all sides.

Using a rolling pin, roll dough out until it is uniformly about 1/3" thick. Cut out cookies using cookie cutters and place on large baking sheet.

Bake cookies in a 400 degree oven for 6 min. or until undersides of cookies start to turn golden.

Allow cookies to cool on baking sheet and frost with frosting (recipe follows). Serve.

Beat all ingredients together with a handheld mixer on low until sugar is well incorporated.

Then, turn mixer to high and beat until fluffy.

Red:  Juice 3 beets.  No need to pre-cook them, just place the raw beets in a juicer, and save the juice.

Green:  Juice about 3 cups of baby spinach.  It will produce about 1/8 cup of juice.