These no-bake, healthy Coconut Snowballs are easy and delicious! A great holiday dessert to share with friends.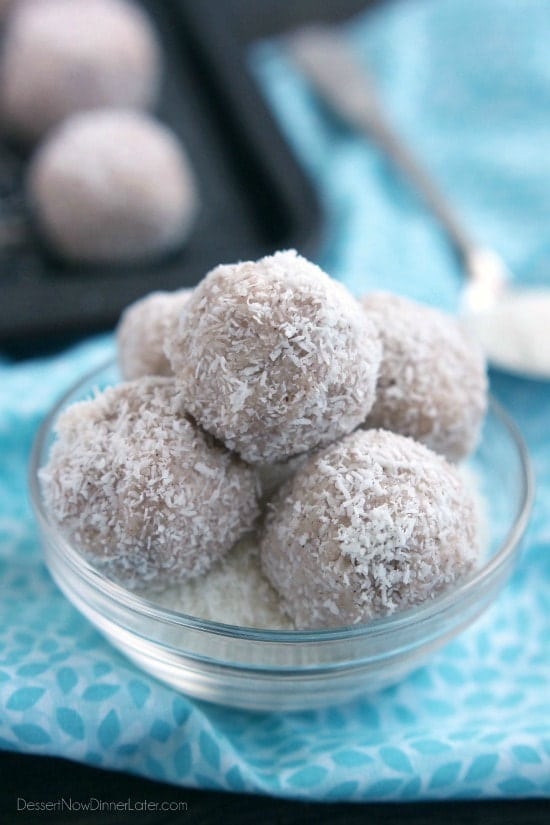 Hello friends! It's Amber from Dessert Now, Dinner Later! The holidays can be pretty frightening for someone whose motto is to eat dessert first, but thankfully, today's dessert is much, MUCH healthier than some of the indulgent desserts I typically make.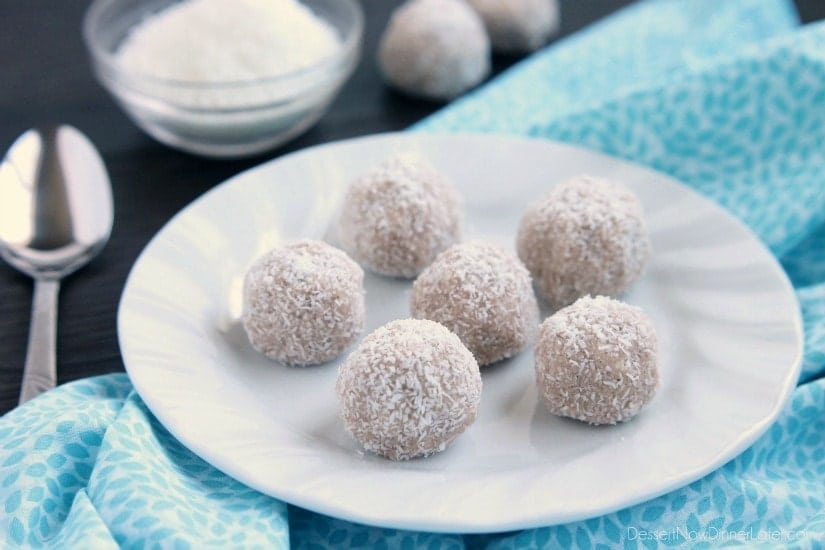 Another good thing for me, is that I committed to eating healthier the week before Thanksgiving (Sounds like the worst time right?!), and I've actually done really well, believe it or not. I lost 3lbs by Thanksgiving and I'm on my way towards my pre-pregnancy weight, so I'm pretty proud of myself. So proud, that I'm not about to go and mess it all up on Christmas treats.
Luckily I made these coconut snowballs. I'm a HUGE coconut fan! If you were to search "coconut" on my website, you would come up with at least 20 recipes using coconut flakes, cream of coconut, and coconut milk. Since we are going healthy for today's dessert, I went with unsweetened coconut flakes and a little bit of organic raw honey to help sweeten these just a bit. You can substitute the honey for pure maple syrup to make these vegan.
OUR LATEST VIDEOS
The best part? These coconut snowballs are no-bake, so they are easy to make, and they are thick and chewy, which makes them super pleasing to your palate. I definitely feel satisfied eating only one. It's a great treat without getting too indulgent.
Extra bonus! My kids loved to help make these coconut snowballs. Rolling them in their hands and dipping them in the coconut flakes was so much fun!
If you're looking for another healthy alternative for the holidays, you should try some apples dipped in my Dark Chocolate Honey Almond Butter (which has coconut butter in it — see?! I told you I love coconut!) HAPPY HOLIDAYS!