Creamy sweet inside with a chocolate shell all perfectly safe for those with common food allergies!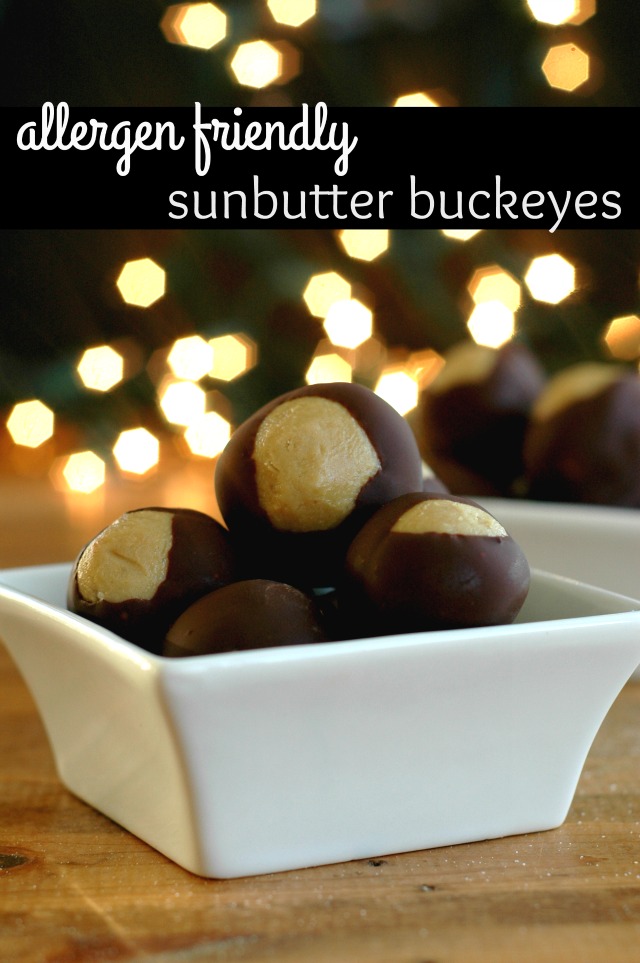 Coming from experience, the holidays can be a bit of a challenge for those with food allergies.
After years of working through some of my own food allergies, I have come to learn that you really can enjoy some traditional holiday meals with allergy friendly spins, including occasional holiday treats like allergen friendly gingerbread cookies and gluten free thumbprint cookies!
Peanut allergies are significantly on the rise, and while there are many speculations as to why that is, the truth is these kids are dealing with it *now*. Which means we really do need to be sensitive to the food served at school classroom parties and family holiday gatherings.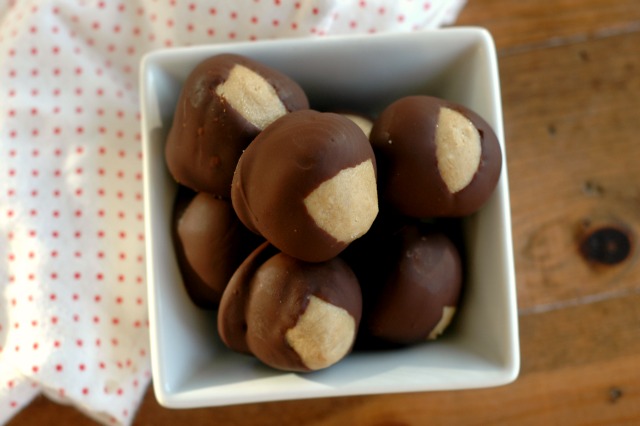 Since peanut, gluten/celiac disease, dairy, and egg allergies are among some of the most common seen in many kids today, this treat was created to be safe for all! I grew up eating peanut butter buckeyes (some call them peanut butter balls) at Christmastime every year. They were usually made with karo syrup, soy oil filled peanut butter, and high fructose corn syrup loaded chocolate. Yikes!
These super delicious, real food holiday treats can be make with much more natural and allergen safe ingredients – and they are so good!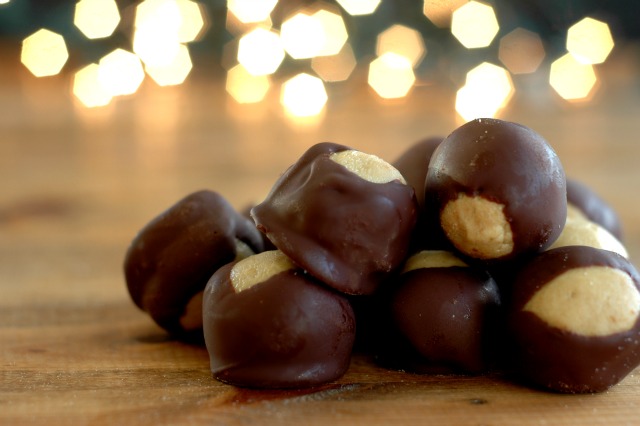 A quick note on the sunbutter brand choice, I prefer to use the Maranatha brand sunbutter as it is the most natural. It is just sunflower seeds and a little sea salt. No extra oils, stabilizers, or sugar added. If you decided to use something that has more than just sunflower seeds and salt such as sugar, or oils added you will have to play around with the salt, sugar, and flour amounts in this recipe for the right taste and consistency. It will still work, just taste as you go along and you are looking for a stiff cookie dough consistency.
The chocolate choice is also keeping in mind our kids with allergies. For those with true nut, gluten, and eggs allergies, even being in the same factory line as a different product being made with a peanut can send a child with severe peanut allergy into anaphylactic shock. The chocolates from the Enjoy Life brand are in dedicated allergen friendly buildings – and that is so comforting to families with loved ones with life threatening food allergies.
Renee blogs at Raising Generation Nourished, and with 3 girls ages 6 and under, she is passionate about raising the next generation of kids with a better understanding where their food comes from and how food affects their bodies.