Healthy Road Trip Meal Ideas
BREAKFAST: Fruit and Yogurt Parfaits (our McDonalds Copycat meal)
The night before our trip, I spent a good amount of time washing and slicing strawberries.
You could make your own, but we bought Chobani Greek Yogurt and Granola.
We left at 4am for the drive, and around 8 we took the yogurt and berries out of the cooler and made ourselves Fruit and Yogurt Parfaits.
We ate this for breakfast ALL WEEK! I had to buy more berries at the grocery store during the week, otherwise, we had enough. I made sure our hotel had a fridge too!
LUNCH- (Sandwiches- Our Subway Copycat)
I bought shredded lettuce
Sliced provolone
Sliced deli meat
mini thing of mustard
Different breads- we had whole wheat hoagie bread, bagels, and one day Asiago Hoagies. We had to keep buying this during the week, because we didn't want to bring all the bread and have it go bad. The sandwiches we made on the road were on bagels because they hold up so well for traveling.
and I cut and pre bagged carrots and cherry tomatoes- 3 for each kid. One for the drive, and two more for the week.
We ate this all week! Disneyland, the beach, AND on the road!
SNACKS- Fruit and Nuts-
I chose grapes and almonds. The grapes were super refreshing.
DINNER- To-go Salad (Fast Food Copycat)
I boiled eggs, chopped veggies, bought shredded lettuce, and pre-assembled 5 of these for the drive down. We didn't eat this all week, just on the road.
We brought a small bottle of dressing.
I think we did pretty well!! We went out to eat only about 3 times the entire trip. One dinner in Disneyland, one dinner at the end of the week, and dinner on the drive home. The meals we prepared on our own were way better than what we would have bought at any Fast food restaurant!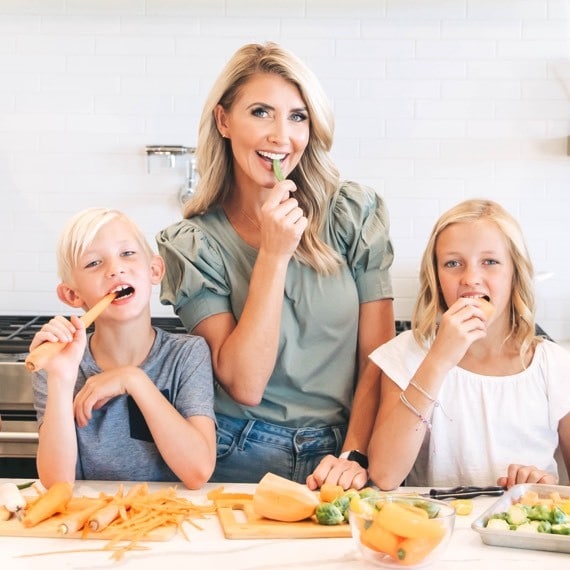 Natalie Monson
I'm a registered dietitian, mom of 4, avid lover of food and strong promoter of healthy habits. Here you will find lots of delicious recipes full of fruits and veggies, tips for getting your kids to eat better and become intuitive eaters and lots of resources for feeding your family.
Learn More about Natalie