Quick and Easy Freezer Fries
This week it's all about healthy shortcuts! We know you want to feed your family homemade meals, but sometimes there just is no time! That's why we want to share some of our favorite shortcuts in the kitchen that will make it easy for you to feed your family. Follow us on our social pages by using the hashtag #healthyshortcuts .
My favorite shortcut is batch cooking (or in this case, batch cutting/prepping). When I buy potatoes, it's usually 10-20lbs worth. Sometimes we get through all of them before they start sprouting or growing mold, but not always. One of the hangups I have that prevents me from using our potatoes more often is peeling and chopping. So, instead- when I decide to have french fries for dinner one night, I won't stop with the potatoes for that meal. I will keep peeling and chopping until I have at least 5-10 nights worth of potatoes. Not only does this make it super convenient for future nights, it only takes a few extra minutes and it's loads cheaper than purchasing a bag of premade frozen potatoes from the grocery store.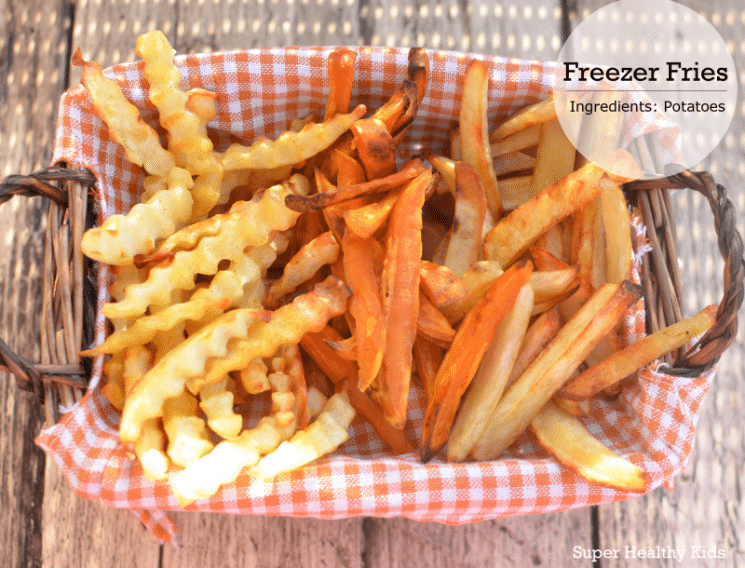 Potatoes are great to include in your family's healthy diet! 1 cup has:
26% of the DV for Vitamin C
21% of the DV for Vitamin B6
18% copper
14% potassium
14% Manganese
12.5% Tryptophan
So, to prepare our freezer french fries, we follow the steps below:
Step 1: Peel, rinse, and cut
This is a great place to get the kids involved. They've been peeling potatoes for as long as I can remember. The cutting part will take some time. My kids started with a crinkle cutter, because it's pretty easy to use and less likely to cut them. We sort into bowls with two potatoes worth of fries in each bowl. That's the perfect amount for fitting into quart size freezer bags.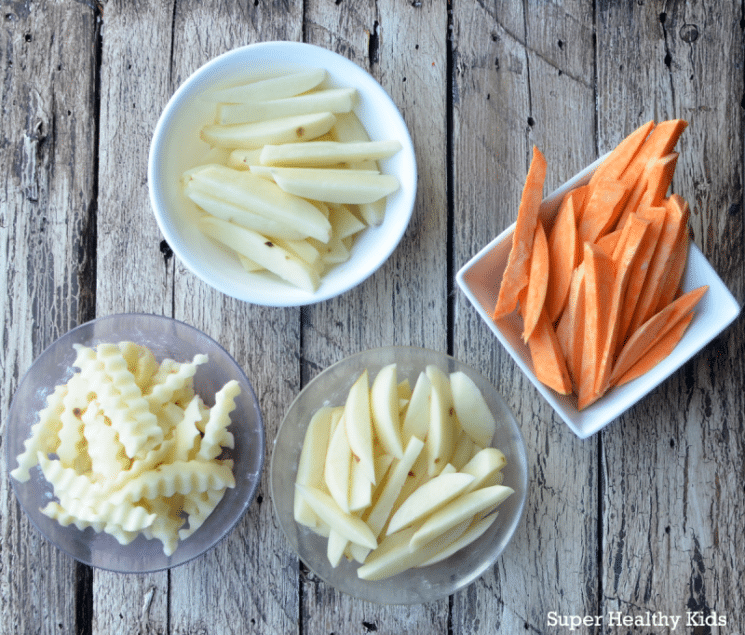 Step 2: Blanch
After the potatoes are rinsed and cut, we drop them by the bowlful into boiling water. We wait 2 minute, and then drop into ice water. Leave in the ice water for several minutes- the longer the better, up to 20 for the crispiest fries! Blanching is an important step. It makes the difference between "Crisp Tender" veggies and mushy veggies. It also slows down the enzyme reactions that cause foods to lose their flavor and color.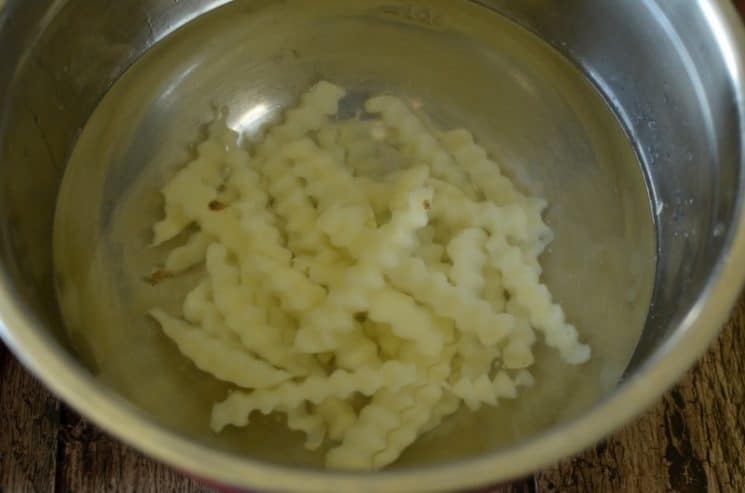 Step 3: Blot dry and arrange on a cookie sheet, lined with parchment paper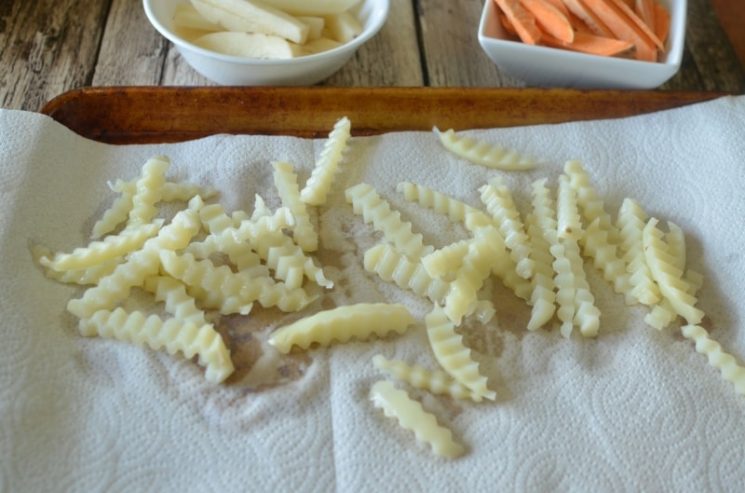 Step 4: Optional: Pre-season the french fries
This is totally optional, but sometimes we'll add garlic salt, seasoned salt, or nothing at all on this step.
Step 5: Freeze for 12-24 hours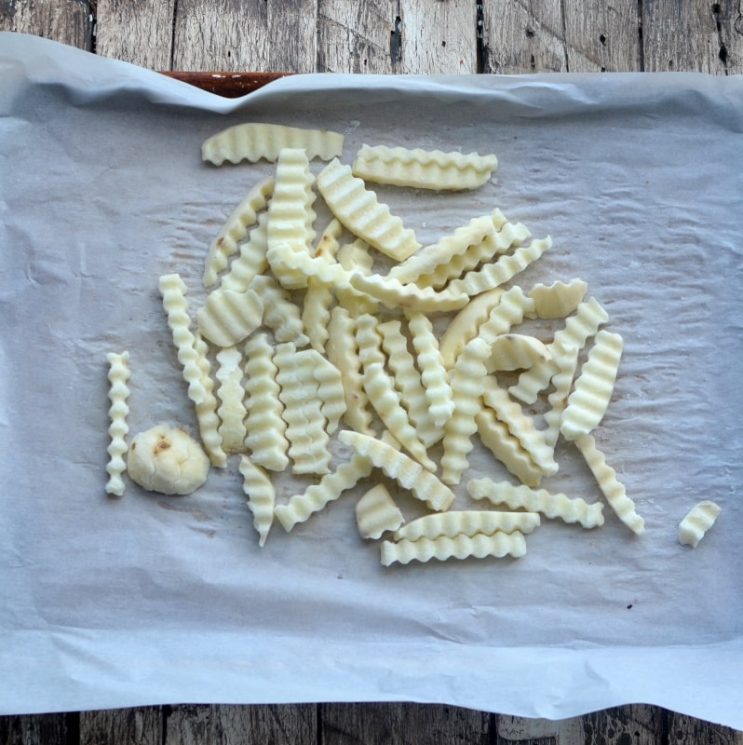 Step 6: Once frozen, arrange into freezer bags. We use 2 potatoes per quart size bags.
Return to the freezer and store up to 6 months!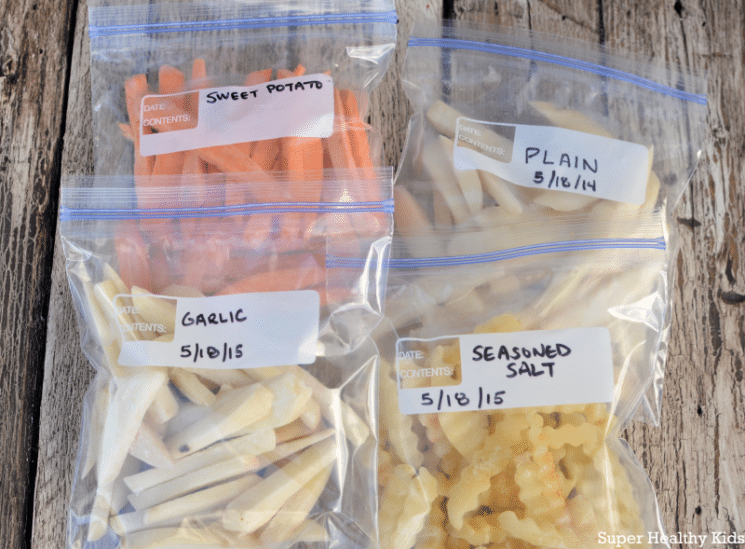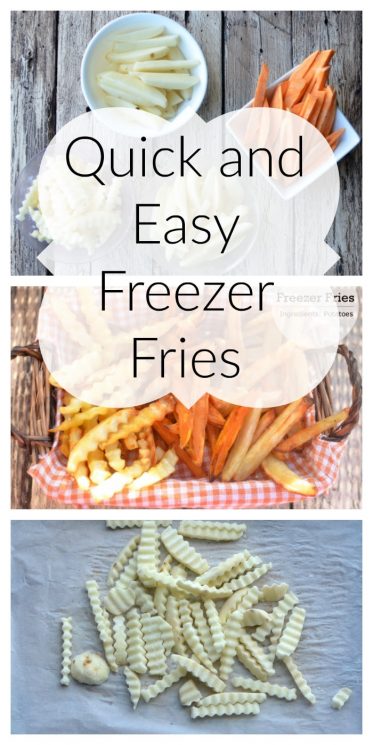 When it's time to eat, simply take one bag out of the freezer, and arrange on a parchment lined cookie sheet. We drizzle with olive oil (although this is optional as well), and bake at 425 for about 40-45 minutes. Watch carefully. You don't want to burn them, but you want them to brown up and be crispy. (Check out our crispy fries post for more details on cooking french fries)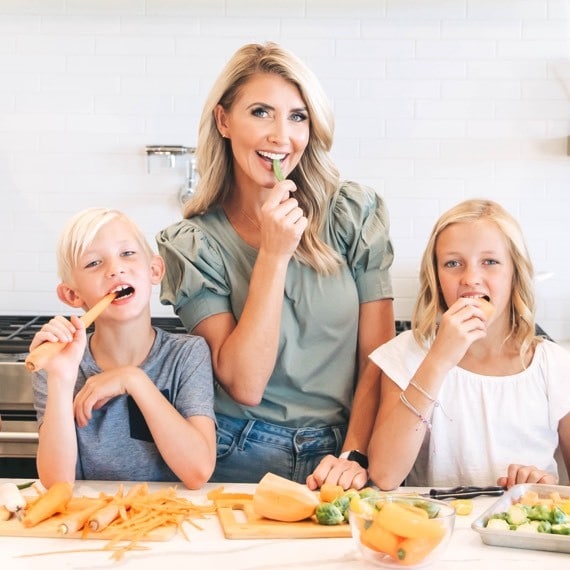 Natalie Monson
I'm a registered dietitian, mom of 4, avid lover of food and strong promoter of healthy habits. Here you will find lots of delicious recipes full of fruits and veggies, tips for getting your kids to eat better and become intuitive eaters and lots of resources for feeding your family.
Learn More about Natalie