With the return of spring comes color and new life. Add some of both to your meal with this bright and flavorful pistachio pea pesto.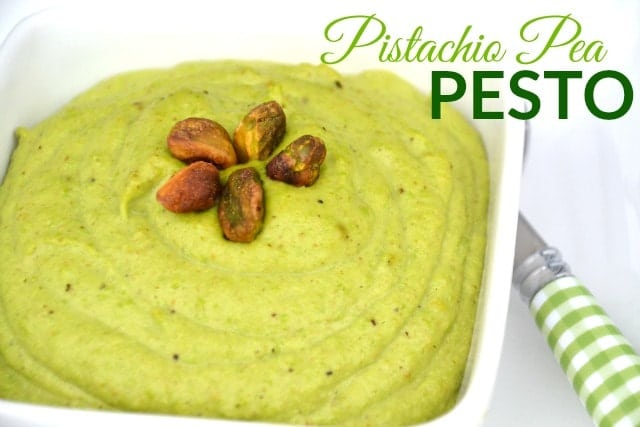 If there is an easy way to get your kids to eat vegetables it is in a sauce. Put the sauce on pasta or pizza. Instant hit!
This pistachio pea pesto is no exception. Parents love the loads of vegetables and healthy fat from nuts. Kids love the taste and color.
The really great thing about this pesto is how easy it is to make. Only six ingredients (and the cheese is even optional). Toss them all in the blender and it's done. No cooking. Just puree and serve. It is easy enough for kids to make themselves!
Mix pistachio pea pesto with your favorite variety of noodles for an easy weeknight meal that can even be made gluten or grain free. Add some extra peas and nuts into the pasta for texture and nutrition. Leftover cooked chicken also makes a great addition for a complete meal.
But the possibilities don't end there. Make pizza night a little more special with pesto pizza. Make or buy your favorite pizza crust. Top it with pistachio pea pesto and some fresh mozzarella. Bake and serve.
Whether you are vegetarian or just looking to save a little money on your grocery bill either of these would make a great meatless meal.
If you need another alternative to traditional tomato-based pizza sauce try this one made with squash!!
Spruce up your meat with pesto. Top chicken breasts or pork chops with pesto, cover and bake for an hour. Dinner prep only takes about ten minutes.
Pistachio pea pesto even makes a great veggie dip. Dipping vegetables in vegetables with some healthy fat and protein mixed in. What's not to love?! It's perfect for school lunches. So is a tortilla with pesto spread on top and rolled up!
Give your salad a burst of flavor by using pesto as the dressing.
Are you looking for something new, easy and healthy to serve for dinner? Take five minutes to whip up a batch of pistachio pea pesto. Then choose your favorite way to use it. Your kids will love the taste.
This pesto can be made up to a week in advance. The recipe can also be easily doubled or tripled for feeding a crowd. Or simply make a big batch and stock the freezer for really easy weeknight meals.
As spring brings color back to the outdoors bring some color back inside with this bright and flavorful pesto.
It is sure to be a family favorite.
Mary is a Christian, a wife and a mother of three young children. She has a passion for real food and will help you navigate the world of food allergies and feeding challenges such as picky eating, oral SPD and tongue ties. She blogs about meal planning, feeding tips and healthy food at Just Take A Bite.