Baked Ziti is a family favorite meal that can be thrown together quickly but tastes like you spent hours making it. This Bake Ziti with Ricotta recipe is creamy, warm, absolutely delicious and is made all in one pot and so cleanup is a breeze! If you love lasagna, you have got to give this Bake Ziti recipe a try!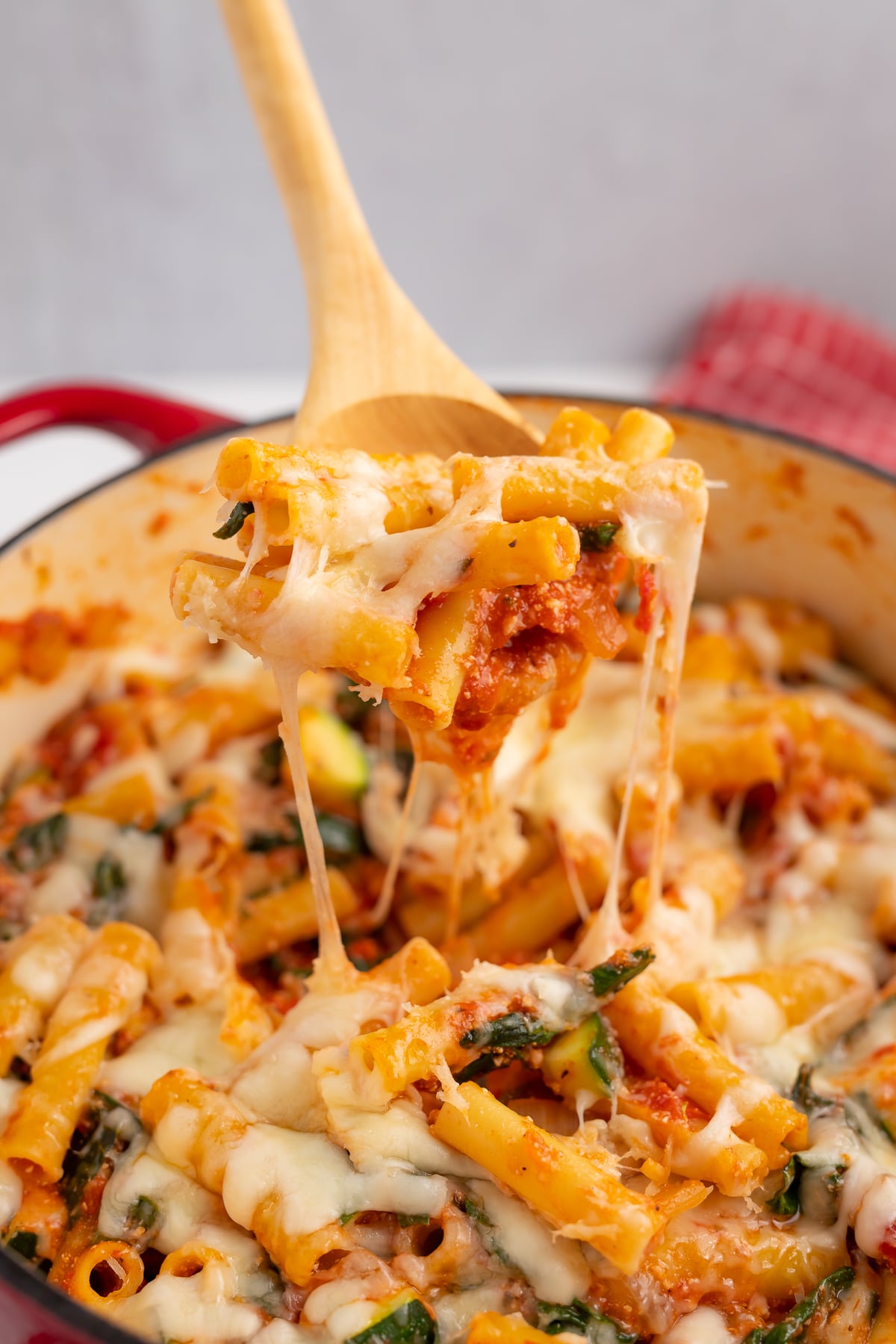 Baked Ziti Recipe with Ricotta
The flavors in this Baked Ziti are very similar to lasagna – a tangy tomato based sauce, Italian seasonings, fresh herbs, and of course fresh, creamy ricotta cheese all baked together with pasta for a flavorful, satisfying dinner.
My version of Baked Ziti adds in fresh veggies adding interesting flavors, texture and of course a boost of nutrition! This recipe is truly a complete meal with every food group (ok, ok, there isn't fruit in it – but extra veggies of course) and is all made in just one pot so you aren't doing dishes all night. If you have ever made homemade lasagna, you know that there is always a heaping mound of dishes!
You have GOT to give this Baked Ziti recipe a try – and trust me – you will be making it again and again, and again!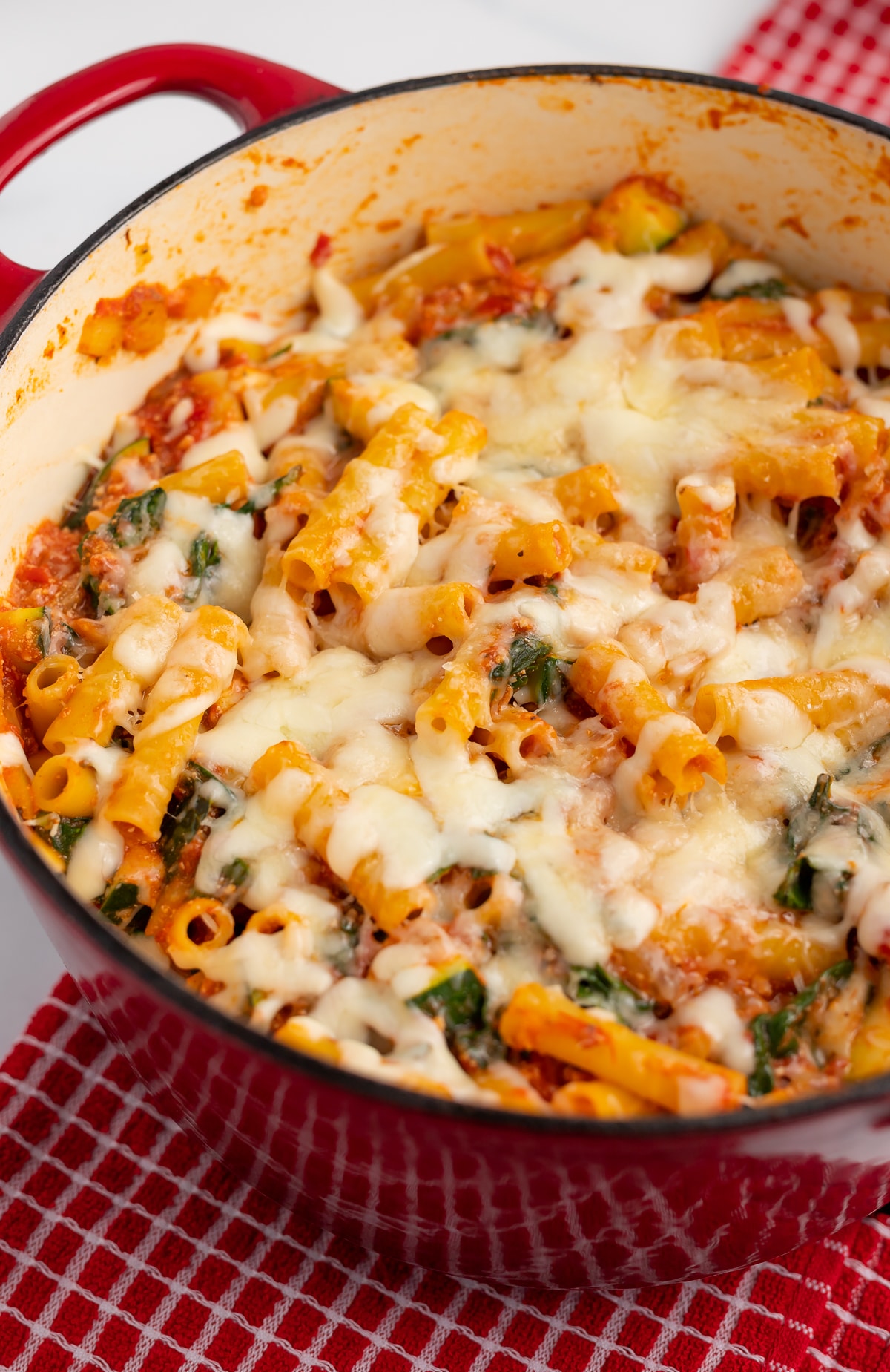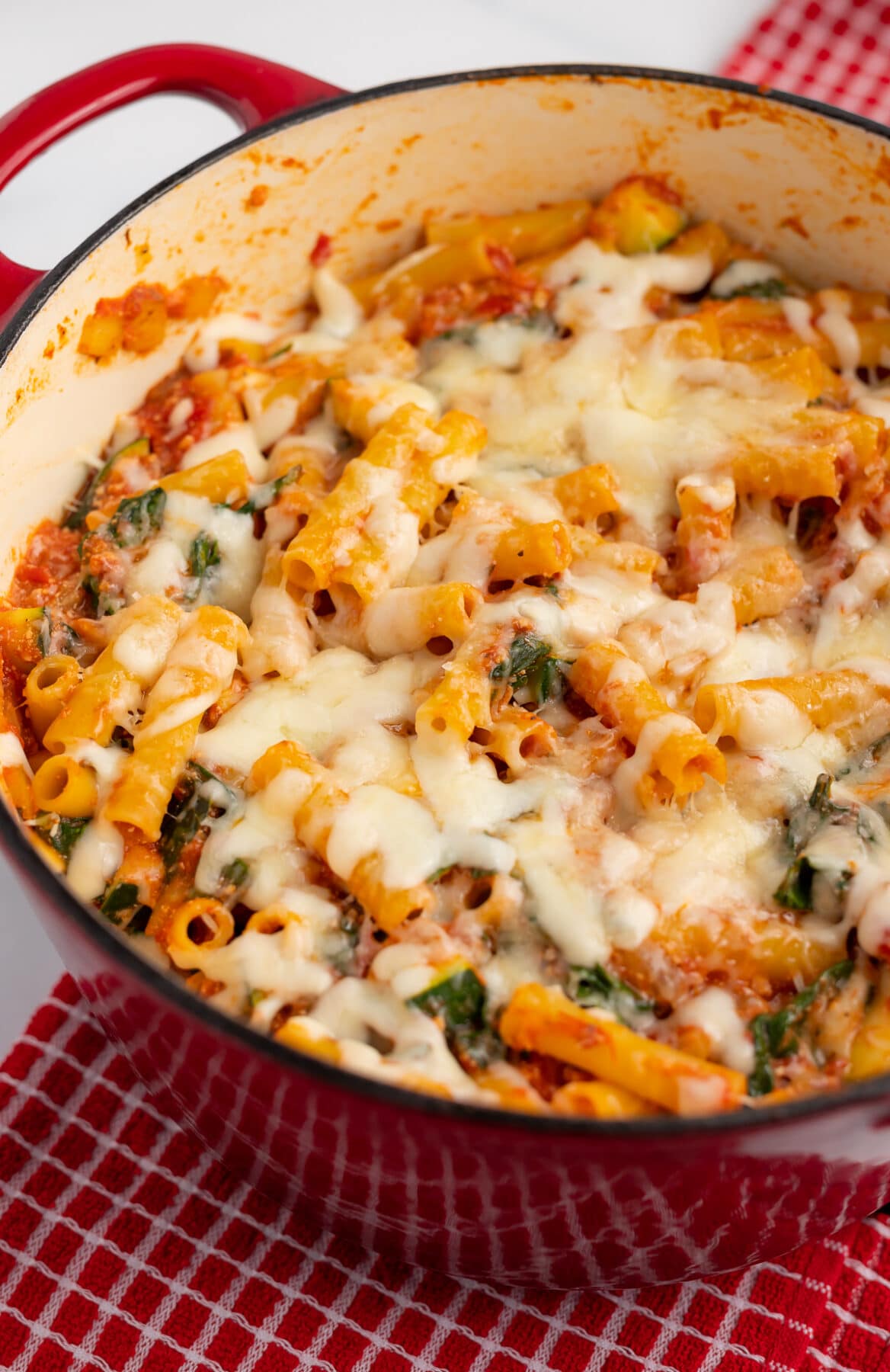 Ingredients for Baked Ziti Recipe with Ricotta
Ziti Pasta – Ziti pasta is very similar to penne, but it has a square-angle cut and a rectangular shape while penne has an angled cut that gives it more of a pointed shape. You can use either for this recipe;
Onion + Garlic – yellow onions have a higher amount of natural sugar and when cooked with garlic give your end dish a sweet aromatic flavor.
Zucchini – look for small bright green zucchinis when buying. The small zucchinis have a more tender texture.
Spinach – fresh baby spinach is best for this recipe.
Crushed tomatoes – crushed tomatoes are mixture of more finely diced tomatoes in a tomato puree. They have a smooth texture and add thickness that is ideal in baked ziti.
Tomato sauce – tomato sauce is. a tomato product that is not as thick as tomato puree but thicker than tomato juice.
Seasoning – Italian seasoning, fresh basil
Ricotta cheese – ricotta is a fresh, soft and mild cheese. It is perfect in baked ziti because it provides a delicious creamy base and delicious mild flavor.
Mozzarella cheese – mozarella has a high moisture content and is generally less salty than other cheeses. Shredded mozzarella pairs really well with shredded mozzarella has a gooey melted topping for baked ziti because it gives it a nice texture without being too salty.
Parmesan cheese – parmesan cheese is a semi-hard cheese that has a salty, buttery and unique flavor.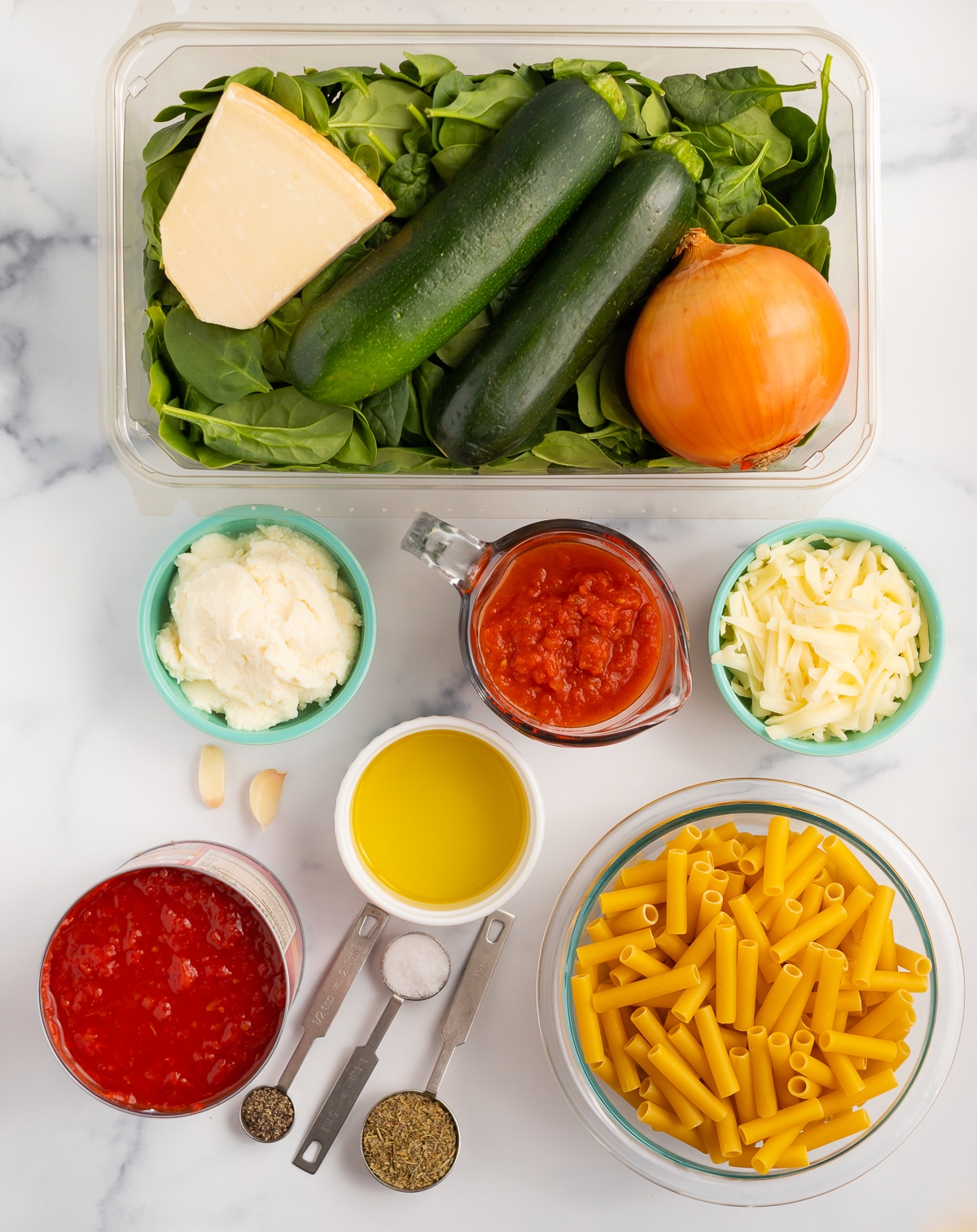 How to Make Baked Ziti with Ricotta
Start by boiling your noodles in the pot you intend to use for the finished recipe. Boil according to package directions until al dente (you want them on the less-cooked side because they'll soften more in the sauce). Drain, rinse, and leave in your colander until you're ready for them in ten minutes.
Next, saute onions in olive oil over medium-high heat until softened and going translucent. Add garlic and veggies, mixing over the heat until spinach wilts. It will totally fill your pot at first and seem like waaaaay too much, but it will shrink like magic. Think of all that spinach you're getting in! Score.
Pour in your sauce ingredients next – diced tomatoes, tomato sauce, Italian seasonings, Greek yogurt and sour cream. You can use all Greek yogurt if you want, but you'll get a sourer flavor that is a little harsher than when you add in sour cream. But the Greek yogurt is great because it adds some protein, so if you're game to use it, go for it!
Finally, add your pasta back in, as well as 1 1/2 cups of cheese. I prefer using Italian blend because it has an array of delicious cheeses, but I've used mozzarella with some Parmesan as well and it works splendidly. Again, most any shredded cheese you have on hand should work. Experiment and find out what combination your family likes best!
Mix the pot well and make sure the cheese is melted, then remove from the heat. Sprinkle with the remaining 1/2 cup of cheese and bake the pasta at 375 degrees F for 10 minutes until the cheese is melted and bubbly. (this is a great way to keep it warm if you aren't serving it right away)
Your family is sure to love this deliciously creamy pasta – and you're sure to love how easy it is to make and clean up!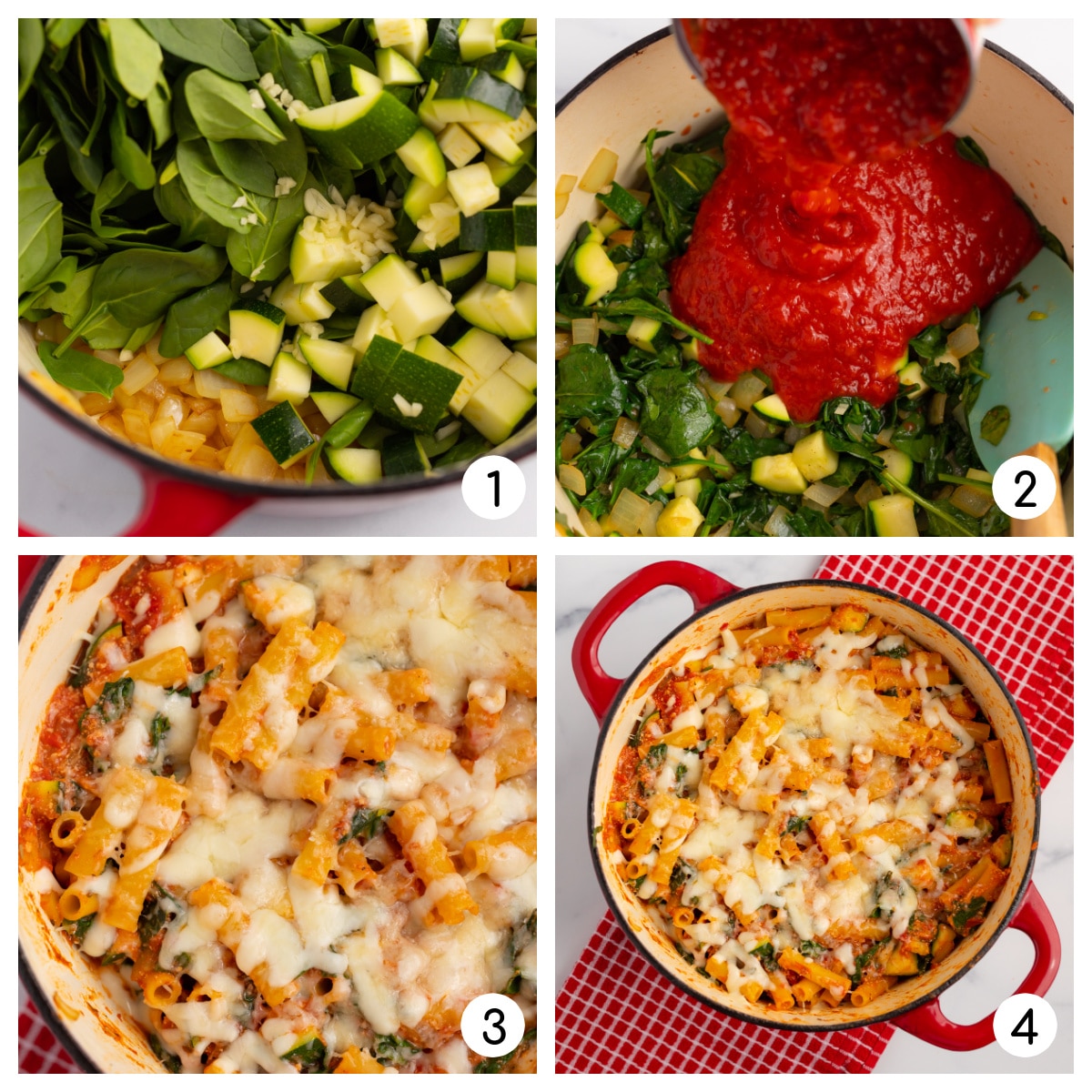 Frequently Asked Questions About Baked Ziti
Can I substitute cottage cheese for ricotta in baked ziti? You definitely can substitute cottage cheese for. ricotta, but your end result will be a little different. Ricotta cheese is more smooth and creamy while cottage cheese has more moisture and a more lumpy texture. Also, cottage cheese is most salty.
What can I use besides zucchini? You can definitely use other types of squash instead of zucchini. Yellow or crookneck squash is an easy substitute and cooks the same as zucchini. You can also use winter squash like butternut, but because it takes longer to cook you will probably want to precook it a bit.
Can I add meat to this recipe and what would be best? I would recommend adding italian sausage to this recipe. After you saute the onions and garlic, I would add the sausage and cook until browned. Then continue to follow the recipe.
Is it possible to half this recipe? Absolutely! This recipe makes a lot! (perfect for feeding a crowd) If you are just making dinner for your family and you don't have big eaters, half it for sure. Although this baked ziti. makes delicious leftovers. Just like lasagna, the flavors get better over time.
More Favorite Easy Family Dinners
Easy Weeknight Veggie Gnocchi – Soft pillowy gnocchi cooked in a sweet tangy tomato sauce loaded with veggies.
Healthy Turkey Stroganoff – Turkey Stroganoff takes a classic family favorite recipe and uses wholesome, real food ingredients that comes together in less than 30 minutes.
Easy Tostadas – Freshen up your dinner rotation with fast and easy tostadas made from whole grain flour tortillas and cheesy refried beans with a crunchy cabbage topping.
Baked Ziti with Ricotta
This Bake Ziti with Ricotta recipe is creamy, warm, absolutely delicious and is made all in one pot and so cleanup is a breeze! 
Instructions
Preheat oven to 375 degrees F.

In a large cast iron or oven safe pot, boil pasta according to package instructions until al dente. Drain and rinse and keep aside in colander.

Dice onion and mince garlic.  Chop zucchini. In the same cast iron pot, add olive oil and heat to medium-high heat. Saute diced onion for 5 minutes, until slightly translucent.

Add garlic, zucchini, and spinach and stir until spinach has wilted, about 5-7 minutes. Salt and pepper vegetables to your liking.

Add crushed tomatoes, tomato sauce, Italian seasonings, and ricotta cheese to the pot and bring to a simmer. Add noodles and half of the cheese (mix the mozzarella and parmesan cheese together) and mix well. Remove from heat.

Top with remaining cheese and place in the oven. Bake for about 10 minutes until the cheese on top is melted, and slightly golden brown. Serve hot.
Nutrition
Calories:
366
kcal
|
Carbohydrates:
49
g
|
Protein:
18
g
|
Fat:
12
g
|
Saturated Fat:
5
g
|
Polyunsaturated Fat:
1
g
|
Monounsaturated Fat:
4
g
|
Cholesterol:
28
mg
|
Sodium:
846
mg
|
Potassium:
895
mg
|
Fiber:
5
g
|
Sugar:
8
g
|
Vitamin A:
4946
IU
|
Vitamin C:
31
mg
|
Calcium:
333
mg
|
Iron:
4
mg
www.superhealthykids.com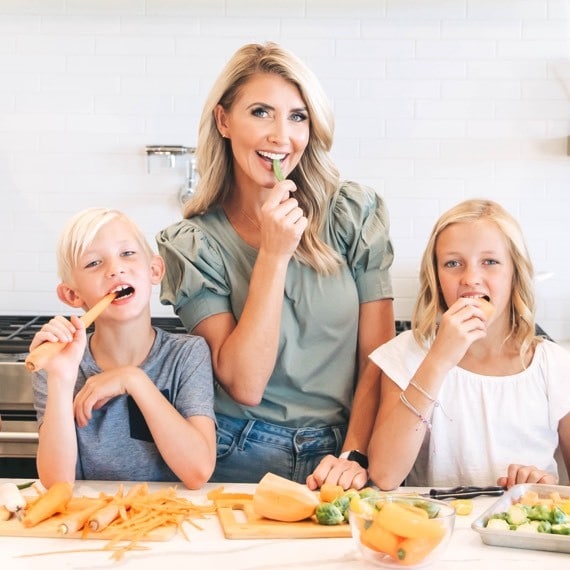 Natalie Monson
I'm a registered dietitian, mom of 4, avid lover of food and strong promoter of healthy habits. Here you will find lots of delicious recipes full of fruits and veggies, tips for getting your kids to eat better and become intuitive eaters and lots of resources for feeding your family.
Learn More about Natalie