Homemade Mac and Cheese (Stove Top)
The ultimate kid-favorite dinner doesn't have to come from a box! Make this easy, creamy homemade mac and cheese on your stove top using just simple, nutritious ingredients.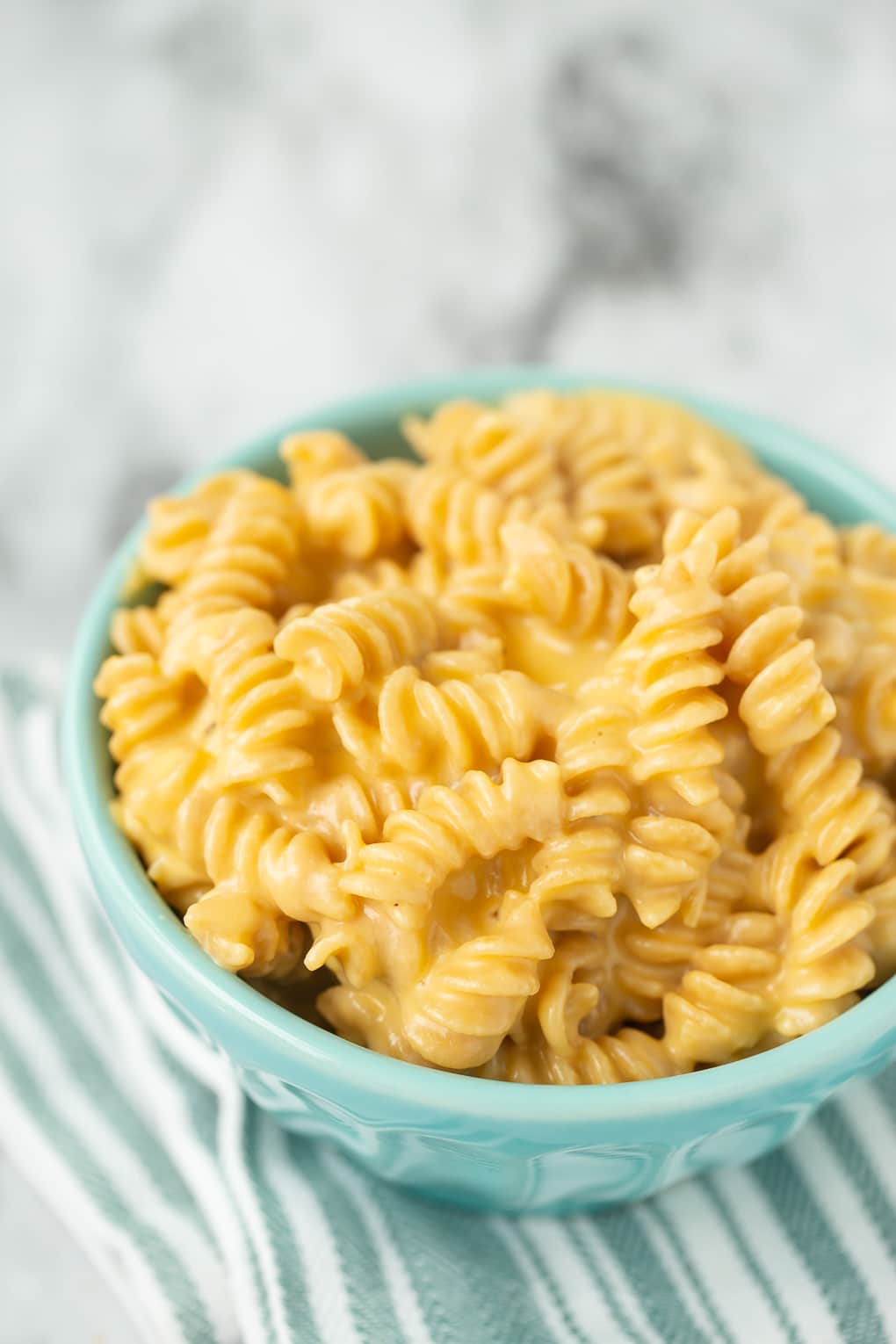 You're never too old to love macaroni and cheese. True, it may have been a long time ago that those chewy noodles in yellow creamy sauce first captured your heart but this… this is a love that lasts a lifetime. And now you can share all those good feels with your kids with this delicious, gooey, homemade mac and cheese recipe.
The big not-so-well-kept secret of homemade stove top mac and cheese is that you can make it SO EASILY, and in exactly the same amount of time that it takes to whip up the boxed stuff.
So if you thought homemade mac and cheese was super involved, or if the idea of making a roux has you running back to boxed mac and cheese, stick with us here. You'll be glad you did. Because once you have a solid homemade mac and cheese recipe in your back pocket, you'll always have a crowd-pleasing dinner idea for all ages.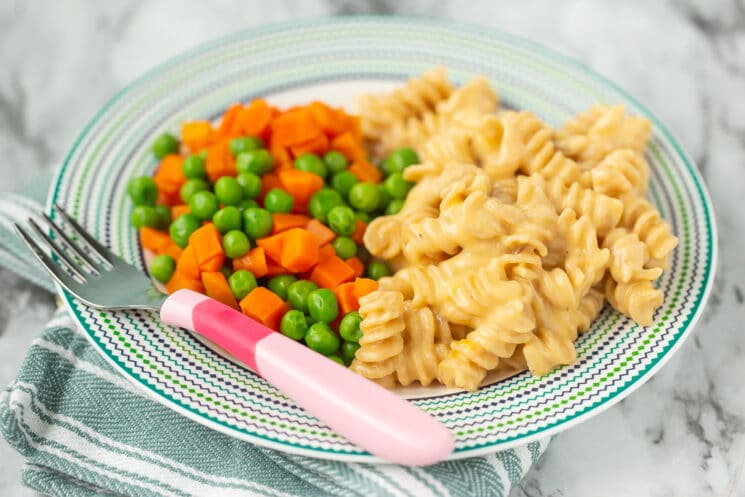 Why Homemade Mac and Cheese is Healthy
Homemade mac and cheese is healthy because you make it healthy! And the key to a healthy mac and cheese is to use simple, whole-food ingredients.
Here are the ingredients we trust for making nourishing mac and cheese we feel good about serving our kids:
Whole wheat noodles. Whole wheat pasta is more accessible now than ever, and kids tend to accept this high-fiber swap in place of regular white flour noodles. Dellalo makes an excellent whole wheat macaroni noodle you can buy at Walmart.
Real cheese. Even some homemade mac and cheese recipes call for highly-processed cheese-type foods (Velveeta, we're looking at you.) We prefer to stick with minimally-processed, whole milk cheeses. Shred your own for a creamier sauce.
Whole wheat flour. Flour thickens the creamy cheese sauce in this dish, and white whole wheat flour works perfectly.
Nutritious add-ins. Adding tiny, tender vegetables to homemade mac and cheese brings the nutrition in this dinner to the next level. We'll talk about some of our favorite add-ins further along in this post.
Here's another mac and cheese nutrition tip: think of this recipe as a main course, not a side dish. Mac and cheese provides plenty of complex carbs and protein for kids (really!), so you can focus on fresh produce sides instead. Serve roasted or steamed veggies, or simple green salad, or cut fruit for balance.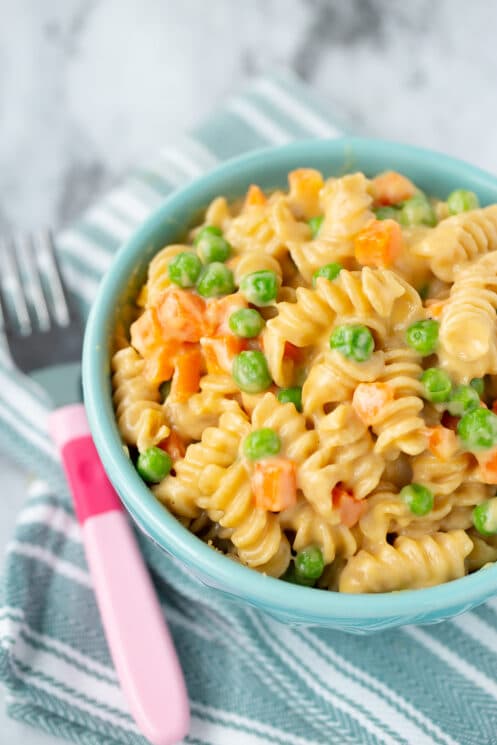 The Basics: How to Make Homemade Stove Top Mac and Cheese
We're going to give you the step-by step version of how to do this because trust us: once you get the basic technique down, you can add "homemade mac and cheese maker" to your list of life skills, and it will never let you down again.
Start with two pots. One pot is for boiling your pasta, plain and simple. You already know how to do this. So we're going to focus on the sauce pan. Go ahead and start heating your pasta water while you work on the sauce. With a little practice, you can get everything ready at the same time.
Add the butter to the bottom of your sauce pan and let it melt gently. Then sprinkle the flour over the butter, and use a whisk to turn the butter-flour mixture into a paste. Keep the heat on medium low and whisk. You'll notice small bubbles forming, and the paste starting to thicken. This only takes a couple of minutes. There! You've made a roux.
Next, add your milk to the pan, and use that whisk to mix it in with the roux really well. For one hot second, it's going to look like a mess. But before you know it, the thickening power of your roux is going to create a smooth, creamy-looking sauce.
At this stage, add a pinch of garlic powder and onion powder. Strictly speaking, this is optional. But it adds a nice extra dimension to the flavor of your sauce (and since you're using powdered spice, you don't have to worry about texture-sensitive kids reacting negatively to chunks of onion or garlic.) You may also add a half teaspoon of a good dijon mustard here to develop the flavor even more. Again, optional.
Now it's cheese time. The best time! Sprinkle your cheeses into the sauce one handful at a time, whisking gently to melt as you go. Keep your heat on low to prevent the sauce from sticking to the bottom of the pot.
Taste, and add some salt. If you're used to eating boxed mac and cheese, you might be surprised at how very UN-salty your cheese sauce tastes. Don't be afraid to add a generous pinch of salt.
Pour your sauce over cooked noodles. Stir well, and enjoy.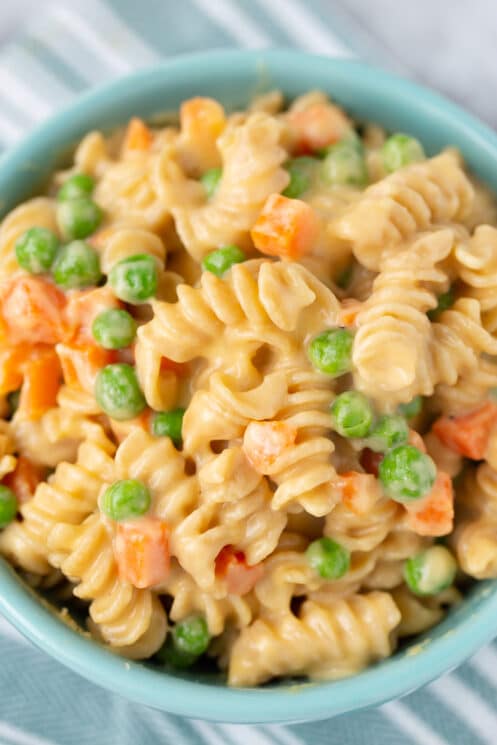 What Can I Add to Mac and Cheese?
You can use this base recipe as the starting point for so many different healthy and delicious variations. Here's just a partial list of add-ins, and how to get them into your dish without a fuss. (Most of the time, you don't need an extra pan. Cool!)
Spinach: Stir raw baby spinach into the pasta immediately after draining, until wilted.
Frozen peas: Pour frozen peas into the pasta cooking water just before you drain it.
Carrots: Add small diced carrots to the boiling water along with the dry pasta.
Mushrooms: Saute separately in a pan until tender, then stir into finished pasta.
Bell peppers: Saute separately in a pan until tender. Add a pinch of Cajun spice for a twist, then stir into finished pasta.
Cauliflower: Add small florets into the boiling water along with the dry pasta.
Broccoli: Add small florets to the pasta water during the last two minutes before draining.
Ham. Stir in cubed ham just before serving.
Bacon. Sprinkle cooked bacon on top of finished mac and cheese.
Tomato. Sprinkle raw chopped tomato on top of the finished dish.
Basil. Cut fresh basil into ribbons, and sprinkle it on top of the finished dish.
Chicken. Stir in hot cooked and cubed chicken to the finished dish for an Alfredo-like mac and cheese.
Apples. Yes, apples! Try sprinkling cubed green apples on top at serving time.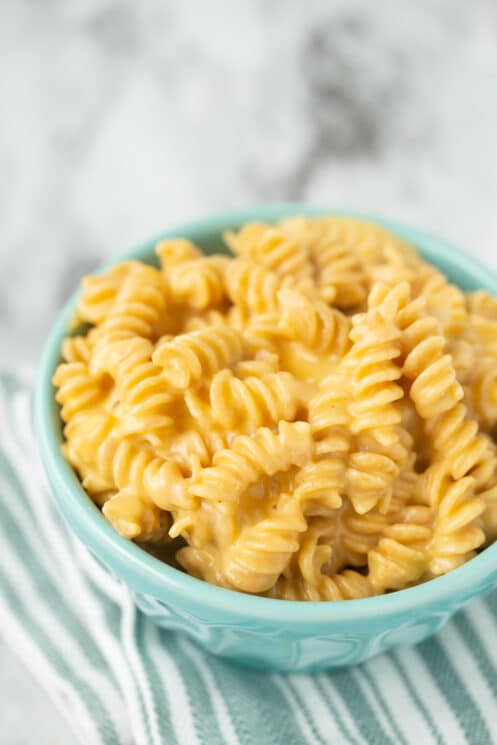 Can I Make Mac and Cheese without Flour?
Yes! Believe it or not, you can skip the roux phase altogether and still end up with serviceable mac and cheese. You even earn the added benefit of turning this recipe into a one-pot dish.
Here's how to tweak this recipe if you don't have flour on hand: boil your pasta, drain it, add it back to the pot, then simply stir in the shredded cheese and milk.
So you can totally do this. Here's the thing, though: the flour goes a LONG way to creating a creamy texture in your mac and cheese. If you leave it out, you can expect to have a slightly lumpier sauce, and it'll become more lumpy still as it cools. A dollop of cream cheese can help if you choose this option. Just stir it in with the cheeses.
Homemade Mac and Cheese (Stove Top)
The ultimate kid-favorite dinner doesn't have to come from a box! Make this easy, creamy homemade mac and cheese on your stove top using just simple, nutritious ingredients.
Instructions
Boil a large pot of water for the pasta and cook as directed. Grate cheese and set aside.

Meanwhile, in a large sauce pan, melt the butter over low heat. Add the flour and whisk constantly until bubbles form and the roux begins to thicken.

Add milk, garlic powder, onion powder, and salt, and continue whisking until the cream sauce starts to thicken. (You may need to turn the heat up slightly if your milk is cold.)

Add cheese by the handful and whisk between handfuls to melt. Taste and adjust seasonings.

Pour sauce over cooked, drained pasta and serve immediately.
Nutrition
Calories:
486
kcal
|
Carbohydrates:
64
g
|
Protein:
17
g
|
Fat:
18
g
|
Sodium:
354
mg
|
Fiber:
3
g
|
Sugar:
6
g
www.superhealthykids.com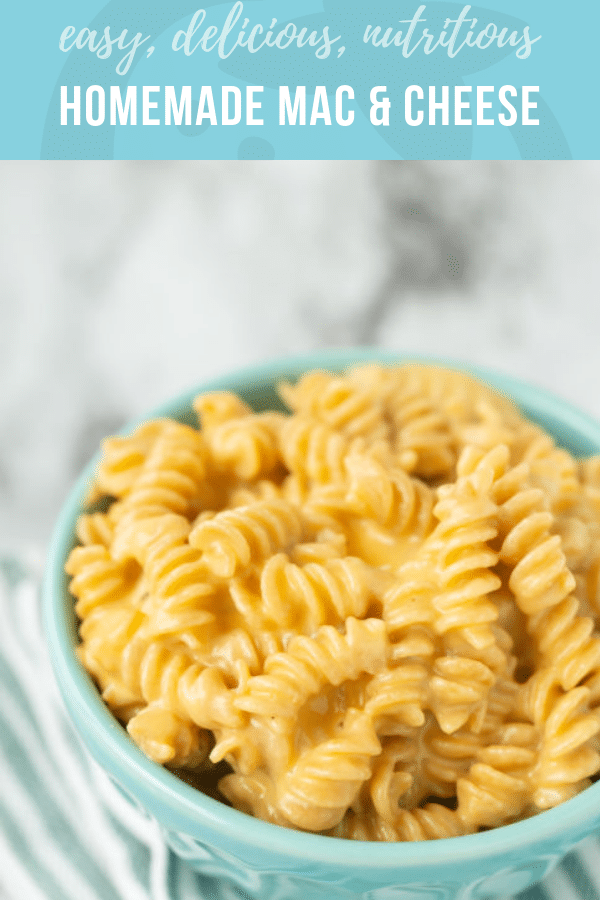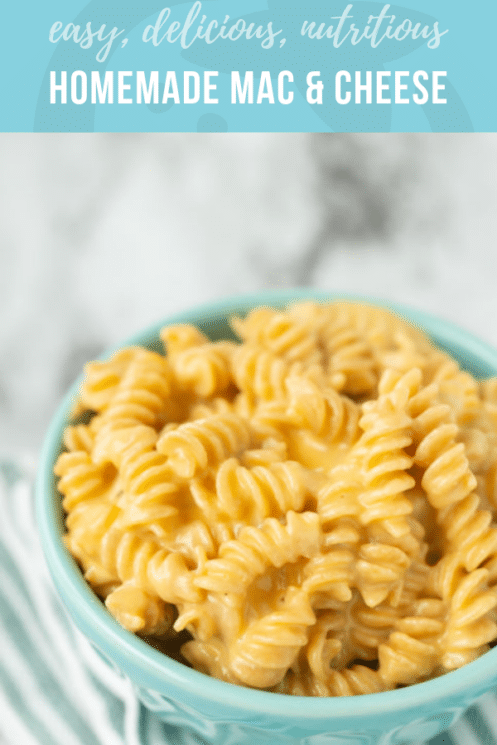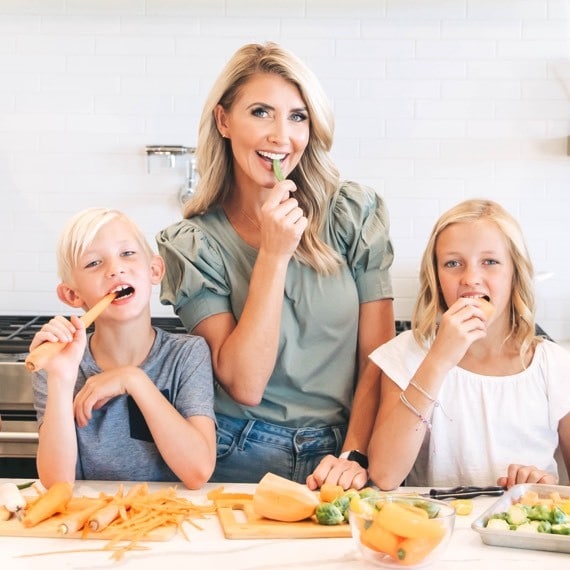 Natalie Monson
I'm a registered dietitian, mom of 4, avid lover of food and strong promoter of healthy habits. Here you will find lots of delicious recipes full of fruits and veggies, tips for getting your kids to eat better and become intuitive eaters and lots of resources for feeding your family.
Learn More about Natalie