Oven Roasted Sweets and Beets, so sweet and delicious! 
Our family loves sweet potatoes. They're super healthy and quite affordable. Sweet potatoes are one of the clean 15, but we still purchase them organic. Combine your sweet potatoes with fresh beets and you have a tasty treat! We love to cut both into bite size pieces and roast them in the oven. I do about 5-6 sweet potatoes and 2-3 beets on average per week. We use them as a side with dinner, to top our salad or even mash them up like mashed potatoes! I like them cold or warm. If you like them toasty just place them bake into the oven before enjoying.
There's many different varieties of sweet potatoes.. Read all about Sweet Potatoes and all about Beets on Know Your Produce
Beets are tons of fun when it comes to coloring food naturally. You can use it to make juices pink or even cakes red like red velvet cake. Our family gobbles up our beet potato salad with eggs, it's a pretty pink potato salad.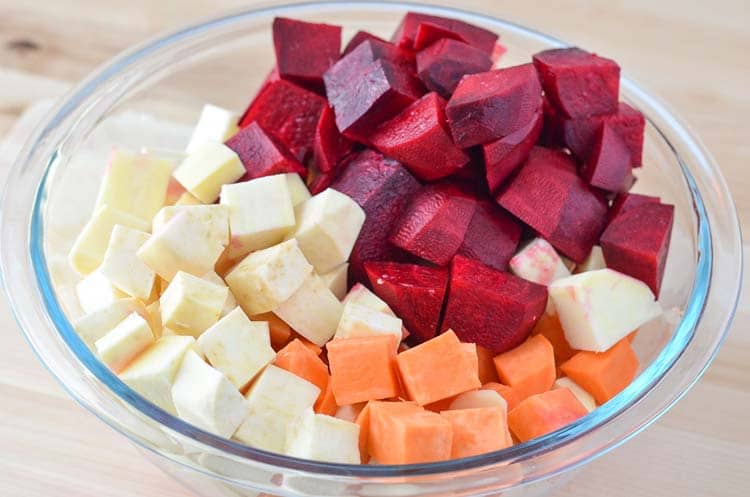 As soon as I start to cut up the beets you can smell their earthy smell. I LOVE that smell. My daughter is a big fan of beets. She loves them juiced with a little kale and orange juice. Super healthy and nutritious! When I make Oven Roasted Sweets and Beets she could eat a plate full of them!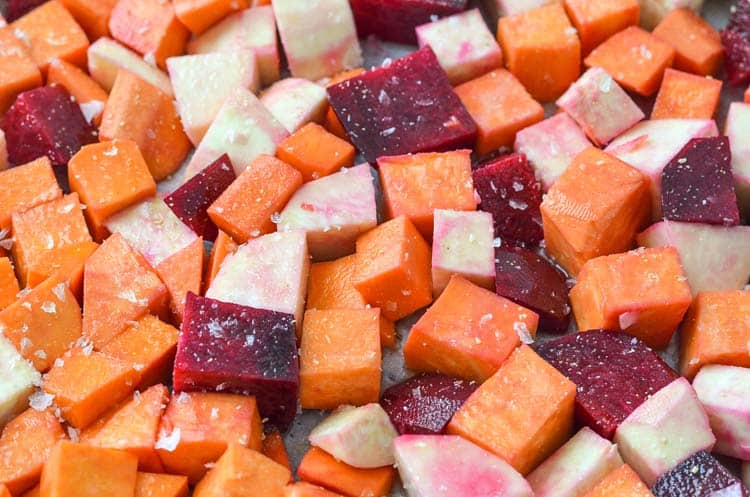 I like to serve them to her with some homemade chicken nuggets and broccoli. Believe it or not, it's one of her favorite meals! They're tasty on their own, but you could easily dip them into a bit of ketchup, just like you would with french fries. Speaking of fries, you could also cut these into french fries and enjoy them that way as well. There's no wrong way to enjoy your sweet potatoes and beets.