25 Creative Non-Treat Neighbor Christmas Gifts
Spread cheer this Christmas with these healthy, inexpensive, and creative gifts for your friends and neighbors!
Sometimes, the best gifts are simple, thoughtful, and clutter-free. We've compiled a list of some outside-the-box ideas for delighting the people you care about this season. Find the one that's just right for the people on your "nice list!"
(Image credit: Keeper of the Home)
Mix up a batch of taco, marinara, or ranch spice blend to share with a neighbor. If you have a favorite recipe using these blends, add it too.
---
Bowl of fruit
(Image credit: Delia Creates)
Do you have a mountain of mandarins or a gazillion grapefruit growing on your tree? Even if you don't, you can buy some in-season fruit to share and include a note wishing your neighbors a healthy and happy holiday.
---
Cookie ingredients, recipe, and cookie cutter
Using Super Healthy Kids whole wheat gingerbread cookie recipe as an example, into a gift bag, you can add a storage bag with the brown sugar, another storage bag with all of the other dry ingredients, a cookie cutter, and the recipe to lead to baking fun. Or you can make the cookies to hand out to your neighbors.
---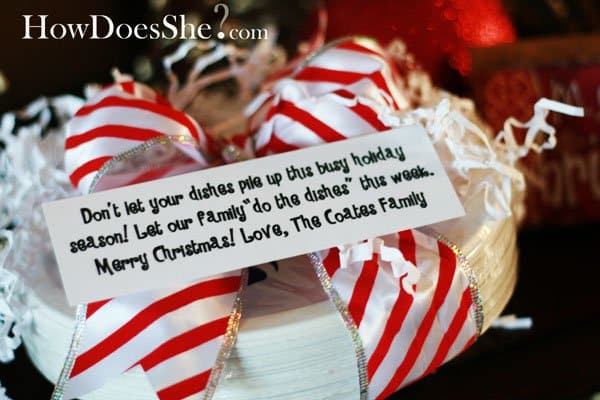 Yep, paper plates, along with a note saying, "Don't let your dishes pile up this busy holiday season. Let our family 'do the dishes' this week! Merry Christmas!" are a simple and thoughtful gift.
---
Replace half of the flour with whole wheat flour for healthier pancakes. Or you can use this homemade pancake mix recipe and include a note saying, "We're "pouring out" Christmas wishes and hoping you have a Christmas to "flip" over.
---
Make birdseed ornaments, put them in a mason jar or storage bag, and attach a cardinal gift tag to give your neighbor's lovely bird visitors.
---
Measuring cups or spoons. Most people can use a few more measuring cups or spoons, especially at holiday time. Attach a note saying, "Wishing you joy beyond measure."
---
Tape rolls constantly disappear at my house, especially during the holidays. Help your neighbor find his tape anytime he needs it with tape on a magnet. Adhere a magnet to a roll of tape with the message, "Christmas time is always a rush, with so much to do and no time to hush. We hope this tape on the fridge in full site will keep you from the store one more night."
---
Give the gift of a soothing bath over holiday break!
---
Mini carrots and veggie dip from How Does She
Give your neighbors baby carrots, along with veggie dip, with a note saying, "We know you are 24 "carrot" neighbors. What a treasure! Wishing you a happy and healthy holiday season."
---
Muffin mix from Super Healthy Kids
Give 2 1/3 cup master muffin mix as well as instructions for how to make the muffins with additional mix-ins, along with a note saying, "You're getting MUFFINS for Christmas." If you prefer, you can bake muffins instead and use the same note.
---
(Image credit: A Turtle's Life for Me)
---
Wrapping paper
(Image credit: A Girl and a Glue Gun)
Add in tape, gift tags, ribbons, et cetera if you want, and include a note saying, " "Wrap" yourself up in holiday cheer." It's Always Craft Time included the following poem with a gift of wrapping paper and tape: Since November you've been shopping, barely sleeping, hardly stopping. Now it's late and you're in a scrape, out of paper, out of tape. Hope this wrap helps save the day! Have a happy holiday!
---
Popcorn
Give a bag of microwave popcorn or a container of popcorn kernels with a note saying, "Just poppin' by to with you a Merry Christmas and a Happy New Year."
---
Bread
Make mini or regular sized loaves of your favorite bread to share Christmas joy. Eat Sleep Make has an adorable printable for you to attach, and Super Healthy Kids has several bread recipes to pick from, such as banana pecan bread, pumpkin cranberry bread, and more. Six Sister Stuff has two great gift tag suggestions. One is "Any way you "slice" it, you're sweet neighbors." Another is "You have always been there when you were "kneaded."
---
These sweet gingerbread sugar scrub cubes could be given with a note wishing your neighbors a relaxing holiday season.
---
This sugar scrub has a beautiful layered presentation, and again, it could be given with a note wishing your neighbors a relaxing holiday season.
---
Potted herb from Positively Splendid
Herbs smell amazing and are a practical gift that can be used in cooking. Attach a note saying, "Wishing you a flavorful holiday season."
---
Soap from Keeping It Simple Crafts
What a cute snowman made from a container of store brand liquid soap. Keeping It Simple Crafts used vinyl, but a sharpie would work too. And there is a free printable label that says, "We wash you a Merry Christmas."
---
Spatula from Fun Cheap or Free
How cute is this? Give your neighbors a spatula with a note saying, "We hopes this helps SPREAD a little holiday cheer."
---
Gum from Mud Pie Studio
Grab a few packs of Extra gum and attached a label that says, "Wishing you "Extra" special blessings this holiday season."
---
Batteries from Batteryheads.com
Who doesn't need batteries during the holidays? Give a batch of batteries to your neighbors with the following note: Hope you have enough ENERGY to last through the holidays.
---
Trail mix from Super Healthy Kids
Make a trail mix, and throw in some whole wheat Chex. Then add a label as follows: Santa "Chex" his list twice so be comforted that as a neighbor you have been extra nice!
---
Bananas
Here is another healthy treat to share with your neighbors. Give them a bunch of bananas with a note saying, "You are the best BUNCH of neighbors."
---
Ornament from Crafts by Amanda
Use extra scrabble letters to make a fun ornament for your neighbors. Spell out Let It Snow, Happy Holidays, or any other holiday cheer.
---
Help your neighbors have a house that smells of Christmas with this scent-sational Christmas gift.
Whether you choose one of the ideas listed above or a simple but meaningful note wishing your neighbors the happiest of holidays, taking the time to celebrate and bring joy to your neighbors and friends is a way to share and spread holiday cheer.