A healthy Easter dessert your kids will love to eat and help you make!  Decorate these No-Bake Easter Egg Fruit Tarts with your kids this holiday season.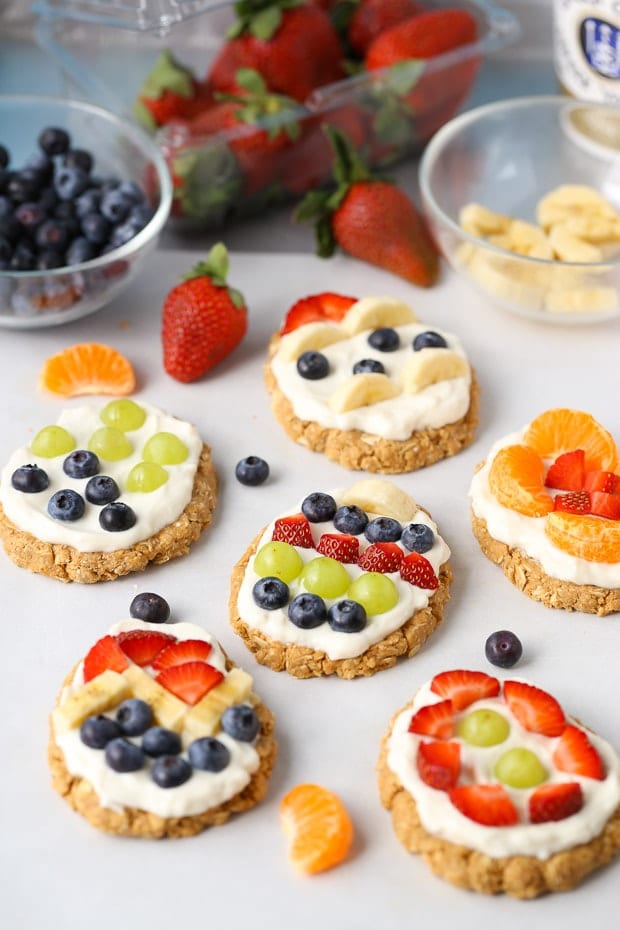 No-Bake Easter Egg Fruit Tarts
Spring has sprung!  Okay, okay there is still snow in the mountains but I'm out wearing florals and sandals!  Easter is coming up fast and that means it's time for the bunny to fill those baskets and to bring some Easter cheer to your home.  Start by making these adorable No-Bake Easter Egg Fruit Tarts!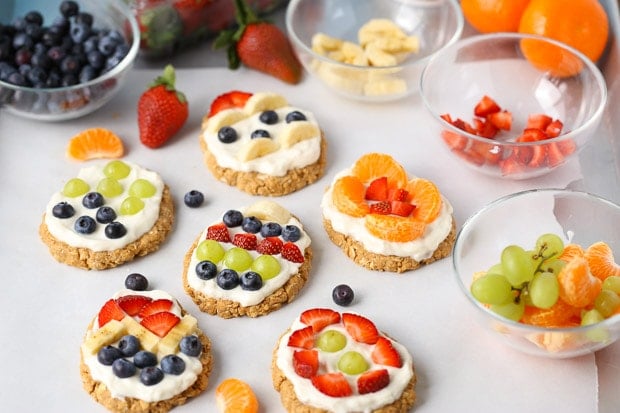 Healthy Easter Dessert Ideas
Easter candy seems to take over the holiday sometimes.  Take a nice long break from those chocolate peanut butter eggs and let the kids help you decorate these fruit tarts instead! The crust is made of mainly oatmeal and almond butter and the "frosting" is greek yogurt! We love using whole foods with natural sweetness 
If you're looking for another healthy Easter dessert/snack, these Easter Smoothies are crazy cute and delicious, this Lemon Bundt Cake, Healthy No-Bake Cheesecakes
How to Make Healthy Easter Fruit Tarts
Let's get started!  The crust is a combination of almond butter, honey, oats, homemade oat flour and a little vanilla!  Once the crust sticks together when you grab a fistful (and it doesn't actually stick to your hand) you're ready to go!  Form little Easter eggs!  You can do one big one, a bunch of tiny ones or a few medium sized.  Give your kids some crust and let them create whatever they want. I put mine on parchment paper to minimize the cleanup when I was done.
Next, spoon on a little greek yogurt and spread it around like you're frosting a cookie or spreading sauce on a pizza.
Chop up plenty of fruit so the kids can decorate their "eggs" with all sorts of colors and then let them decorate! You can even snack on the fruit as you go!
My favorite egg was this little patriotic one I made!  Remember, we formed the crust to look like Easter Eggs but you don't have to do that!  If it's Christmas time you could make a tree shape and decorate it with green and red fruit!  Or even just press this into a tart pan and bring it to a potluck this summer! This recipe is so wonderful because you can make it perfect for any occasion!
Happy Easter! Enjoy our No-Bake Easter Egg Fruit Tarts!