Springalicious Easter Smoothie Recipe
If you're looking for some super fun and healthy additions to your Easter breakfast, these smoothies are perfect! And you can feel great about providing your kids with awesome nutrition to fuel their busy holiday weekend. Kids who consume the recommended amount of fruits and veggies enjoy these lifelong benefits:
A lower risk for Type 2 diabetes
Improved immunity
Healthier weight
Better vision and skin
Healthier gums and teeth.
More energy for work and play
Genuine enjoyment of healthier food!
Stronger brain function.
Improved sleep.
A longer life
Smoothies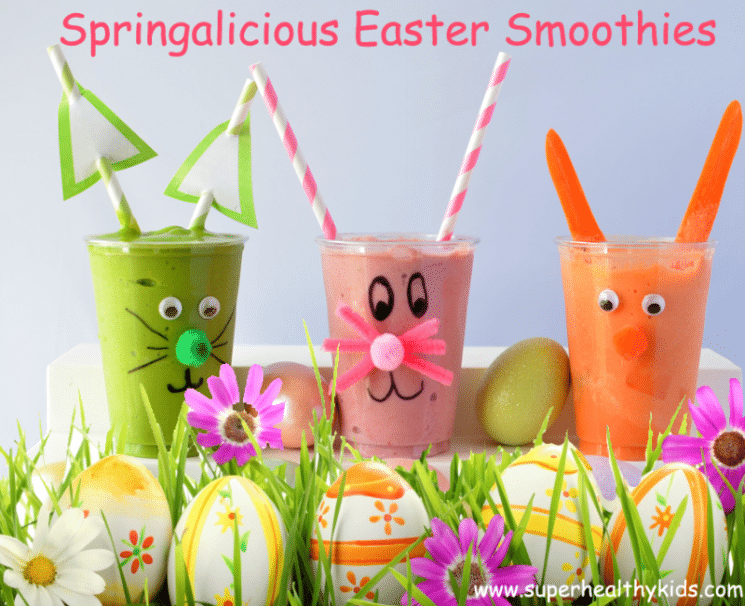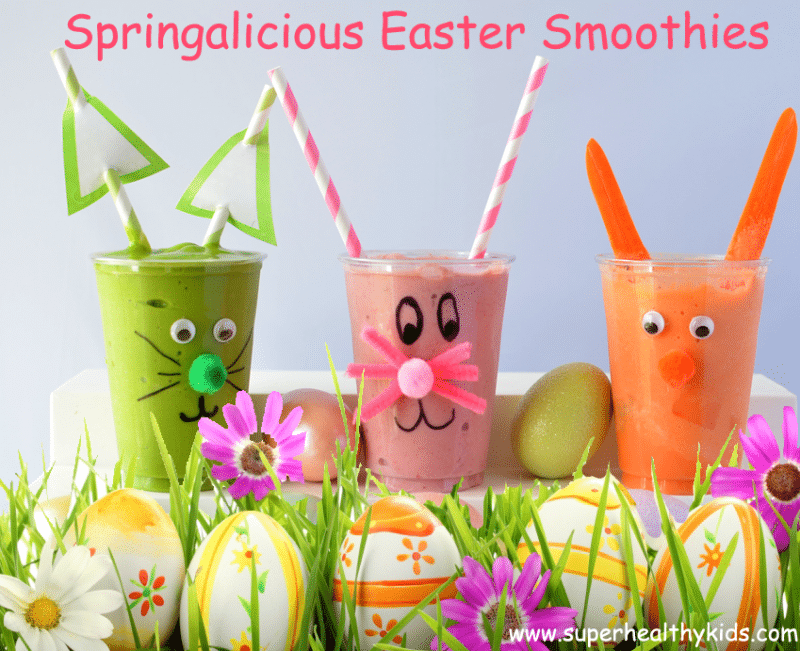 Add your hard boiled egg and a pancake, and you have a complete and balanced breakfast.

Springalicious Easter Smoothie Recipe
Here is what we did:
Step 1) Let the kids decorate cups.
First, get creative with your faces! You can use glass cups, or clear plastic cups. For decorating supplies, get:
Glue (we used hot glue because it's faster and sticks very well)
A sharpie marker
Googly eyes
Pom poms
Paper or card stock (for ears)
And pipe cleaners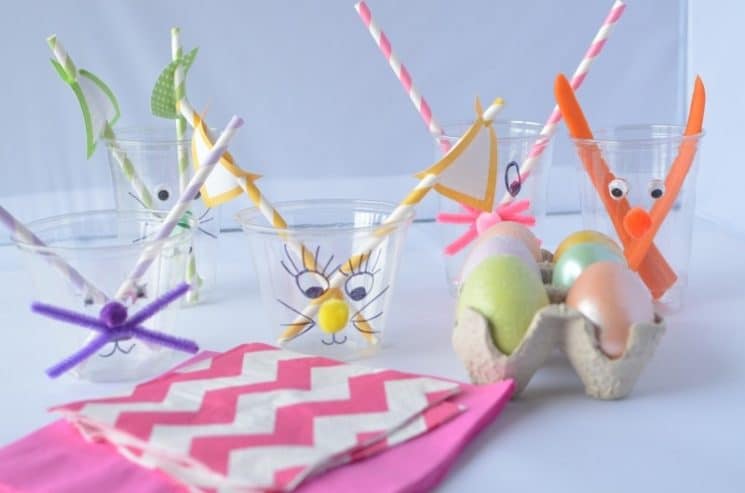 Step 2) Choose your ears.
Next, cut triangles from paper or card stock, and punch two holes in the triangles so you can slide a straw through it for an "ear." (See the pictures.) Give each one of your bunnies two of these. I also love how our carrot ears turned out! We just peeled a carrot, and sliced it in half, so the two sides were identical. (I should have drawn some eyelashes on this orange guy!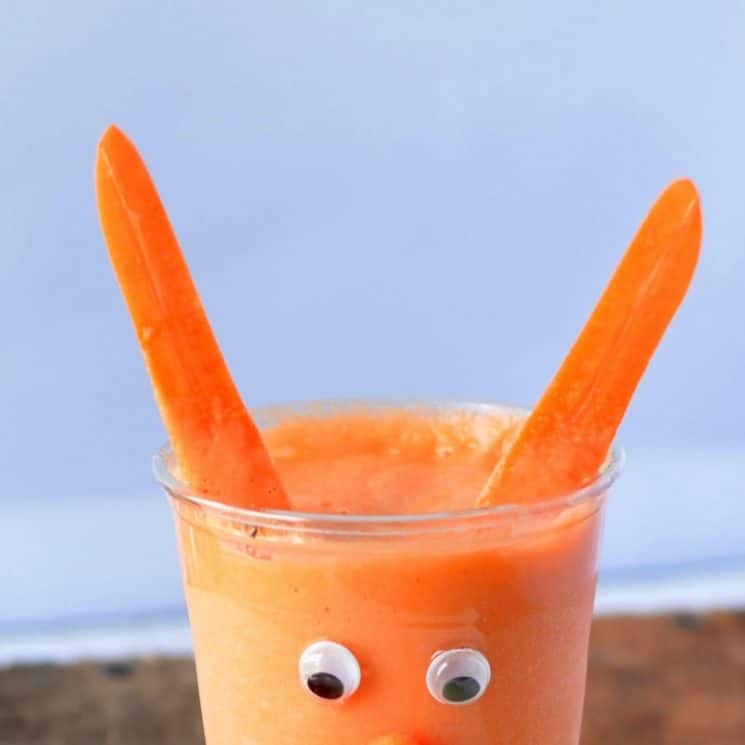 Step 3) Make your smoothies
You definitely don't have to make every color smoothie for breakfast! Feel free to choose one or two colors, and stick with it for all the smoothies. (Cleaning out your blender five times isn't exactly a quick activity.) You can choose from all the recipes below.
Step 4) Have fun!
Remember, these kitchen memories and traditions you have with your kids are meant for bonding and having fun. If they don't drink or eat everything you lovingly make for them, that's OK! They'll still remember the fun they had decorating cups together and spending time with you.
Let us know if you decide to make these for your kids!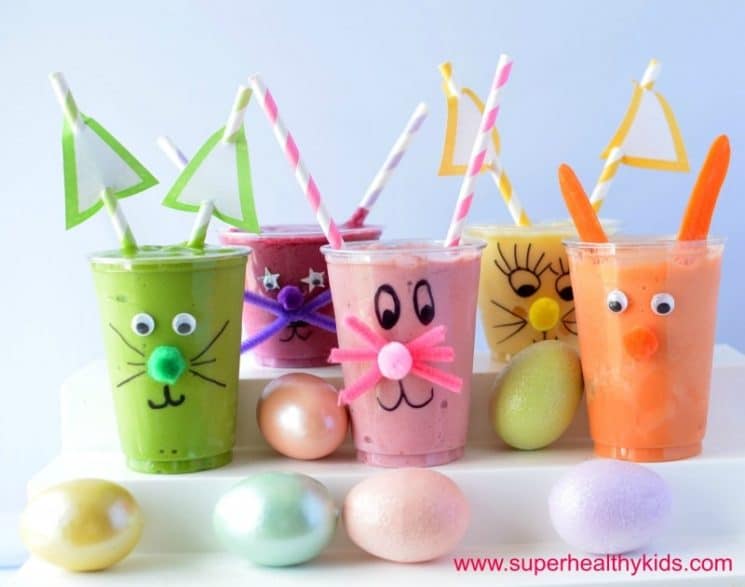 Ingredients
Pink Smoothie
1 1/2

cup

milk

almond milk or soy milk works as well

2

cup

frozen strawberries
Green Smoothie
1 1/2

cup

milk

1

cup

spinach

1

frozen banana

1

tablespoon

honey
Orange Smoothie
1 1/2

cup

milk

2

carrots

chopped

1

cup

frozen mango chunks

1

frozen banana
Yellow Smoothie
1 1/2

cup

milk

2

cups

frozen mango chunks
Purple smoothie
1 1/2

cup

milk

2

cups

frozen blackberries
Notes
Each makes 2 glasses (1 cup each)  We like them thick- like ice cream. Add more liquid if you like it thinner.