Easy Healthy No-Bake Mini Cheesecakes
Healthy no-bake cheesecakes that are gluten free and made without refined sugar (only a few dates and some honey!). The perfect size for a small portion of a delicious treat.
I'm SO excited to share it with you today because it is AWESOME! You are going to love how easy these Healthy No-Bake Cheesecakes come together (hello no-bake!), you'll love that they has no refined sugar (just a little honey and a few dates), and they are chock full of protein and fat which I'm always trying to get a little more of into my young active children. Plus, the texture is perfection, it's super easy to make, and it tastes just like a traditional no-bake cheesecake dessert, if not better.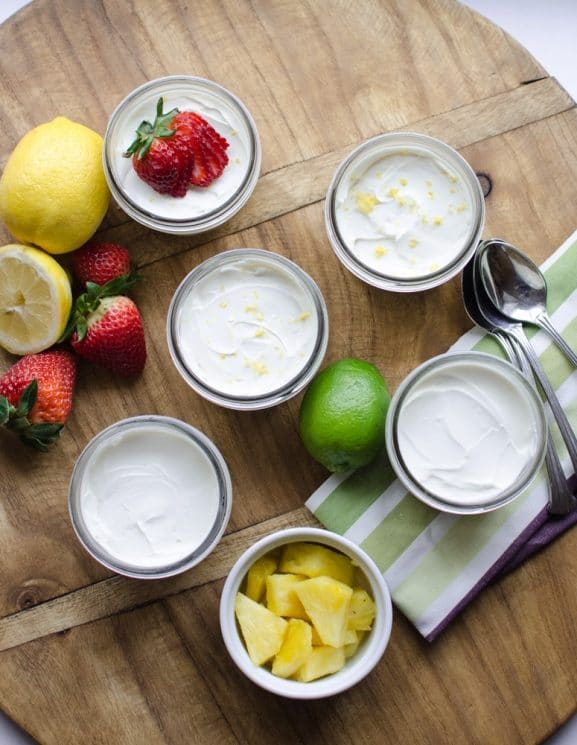 Fun and Yum!
It's extra fun to serve individual/mini things and these mini cheesecakes are super cute. I used these one cup (half-pint) wide mouth canning jars to make them in and they are the perfect size. Plus I love having these handy little jars on hand and use them often. I have made a classic vanilla cheesecake for you today and that means that you can top it with just about anything. You can add fresh fruit (strawberries, pineapple, blueberries, raspberries, and/or cherries are perfect). You can top it with a little lemon or lime zest, or you could even top it with a few pretty chocolate curls.
Delicious and easy!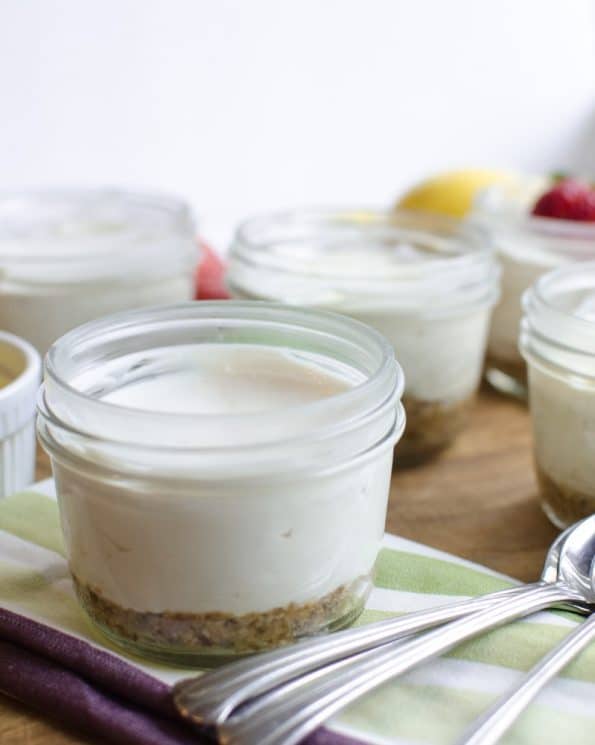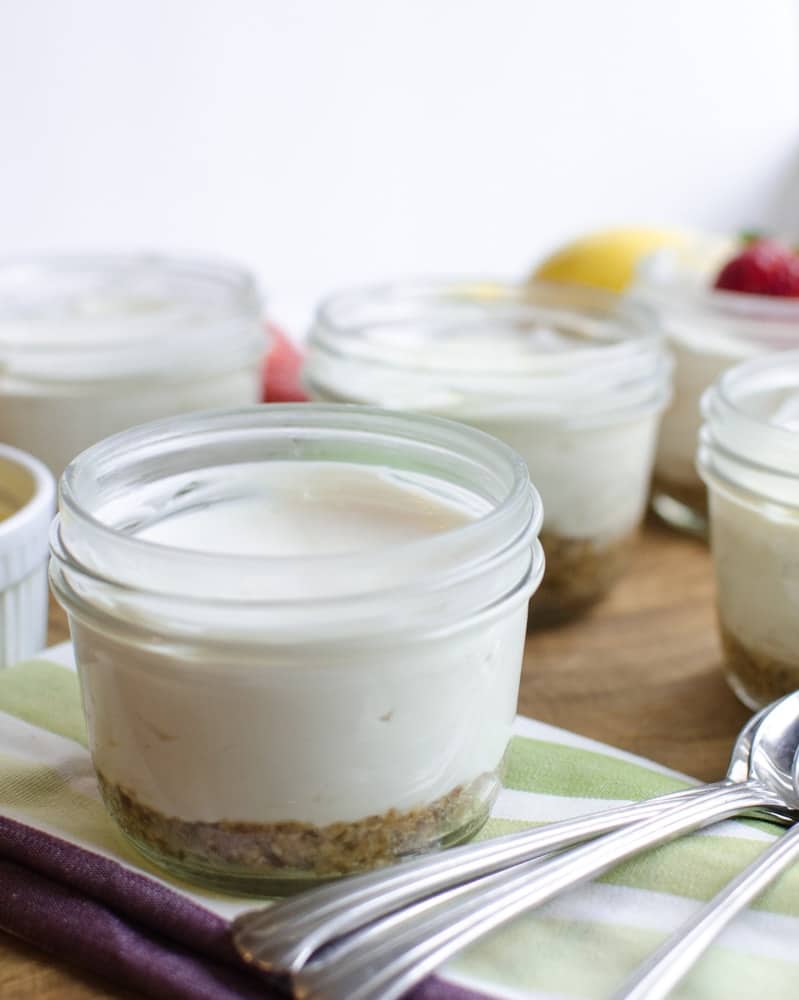 Tips for Making No-Bake Mini Cheesecake
A few notes on the recipes. I made this with plain Greek yogurt. You can use any flavor of Greek yogurt that you would like to change the flavor of the cheesecakes. Most flavored yogurts have some added sweeteners so adjust the amount of honey you use according to your taste. Don't use reduced fat or fat free cream cheese or Greek yogurt here, they won't set up the same.
In addition, I would recommend using a whole milk Greek yogurt (it might say 4% milk fat on the package). The Greek yogurt that you use should be very thick (a spoon should stand up in a tub of it). If your Greek yogurt is thin or watery you can strain it in a few layers of cheesecloth for a few hours to remove extra moisture. If you'd like a little lemon or lime flavor to your cheesecakes try adding the zest of 2 of which you prefer. You have so many options!
You can use just about any nut you'd like for the crust since they all taste amazing. I really like cashews in this because they are a mild nut and their texture is smoother/less crunchy than others. Feel free to use what you have on hand, though peanuts would have a very distinct peanut taste. (which might be delicious if you like peanut butter cheesecake!). Enjoy! I can't wait to hear how much you like these Healthy No-Bake Cheesecakes!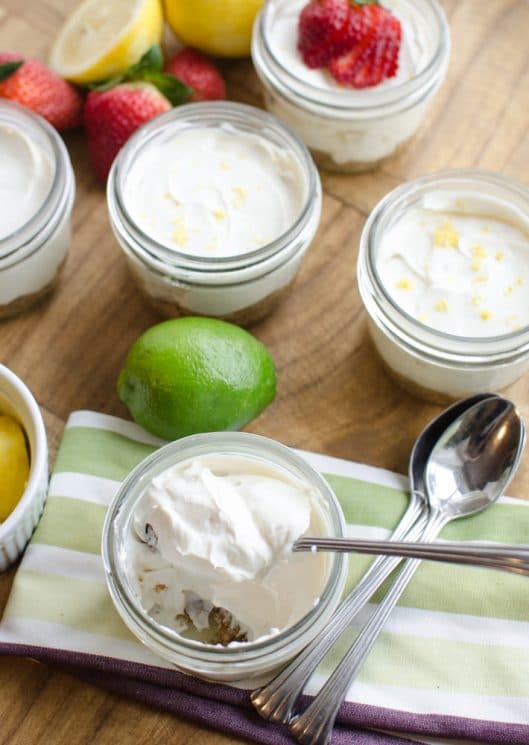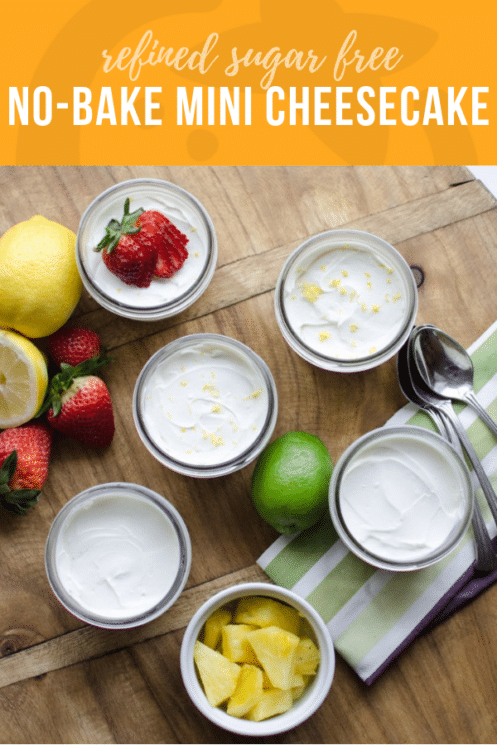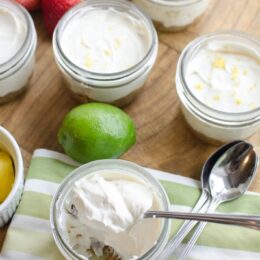 Ingredients
Crust
1

cup

dates, pitted

1

cup

cashews

1/8

teaspoon

salt
Cheesecake
2

cup

cream cheese, low fat

1

cup

Greek yogurt, plain

1/3

cup

honey

2

tablespoon

lemon juice

1

tablespoon

vanilla extract

1/8

teaspoon

salt
Toppings
1

cup

strawberries

1

cup

raspberries
Instructions
To make the crust add the dates, cashews, and salt to the bowl of a food processor and process until a loose ball forms. If your dates were a little dry you might need to add a tablespoon or so of warm water and then process again until the mixture starts to come together.

Add about a tablespoon of the crust to 6 glasses/mason jars/containers (about 1 cup in size) and use a spoon to press it into the bottom of the jar.

To make the cheesecake: place all of the ingredients in the bowl of a food processor and process until smooth (about 1 minute).

Spoon the cheesecake mixture evenly into the 6 jars. Use a spoon to smooth out the top.

Cover and refrigerate for at least 2 hours before serving. Serve with your choice of toppings (like berries or other fruit).