Delicious cake , sweetened with honey and coconut sugar!
The next time that you're looking for a classic vanilla cake, whether for a birthday, holiday, or a special event, you must try this one! It's easy to mix up, has a wonderfully delicate crumb, and it boasts the rich flavor that you expect from a vanilla layer cake. It also has less sugar in both the cake and the frosting than similar cakes. This makes it a nice choice to share with your entire family.
This cake relies on a mix of coconut sugar and honey for sweetness and a combination of Greek yogurt, butter, and eggs for moisture. (If you're looking for a perfect fruit-sweetened first birthday cake, check this one out. Or this Banana Birthday Cake. Or this Sweet Potato Apple Cake.) It also manages to maintain the flavor and texture that you want from a classic cake, while also including less sugar—especially since it features a cream cheese frosting, rather than one made from powdered sugar.
A small slice of this cake is perfect for a birthday party or a special event. It also goes a long way towards satisfying a craving for dessert. The fresh berries add a nice contrast to the rich cake. The frosting, made with cream cheese, strawberry jam, and a little honey, is creamy without being cloyingly sweet. In short, the elements combine to make a delightfully less-sweet dessert with real ingredients that everyone  will love.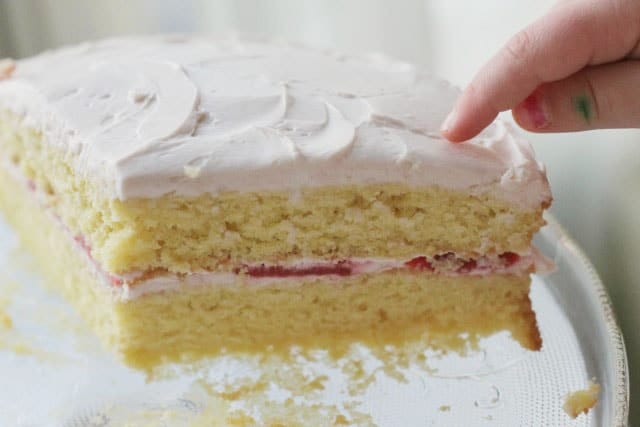 My daughter, who generally prefers vanilla ice cream over any other dessert, loved her little slice of this cake. And she got her little fingers into the icing when I wasn't looking. I took it to be a sign of homemade dessert success!
This vanilla layer cake is best served on the day that it's made, though we had no problem eating up the leftovers on the day after. (Just be sure to cover the cake so that the frosting doesn't dry out.)
Note about the coconut sugar: If you can find "blonde" coconut sugar, that will give you a lighter color. Otherwise, the darker kind that's often more readily available will create a slightly darker golden cake, which isn't necessarily a bad thing, but just to manage expectations. (Both work the same in the recipe.) Can't find coconut sugar? Try using organic cane sugar instead.
Amy Palanjian shares recipes and feeding inspiration for little ones at Yummy Toddler Food. Follow her on Instagram or find her on Facebook.