6 Super Healthy Green Ice Cream Recipes for Kids
Wow your kids with these vibrant and fun frozen treats made with frozen fruit and leafy greens! Green produce like spinach, kiwi, avocado and kale bring super nutrition and gorgeous color to these healthy desserts. Grab a spoon and dig in!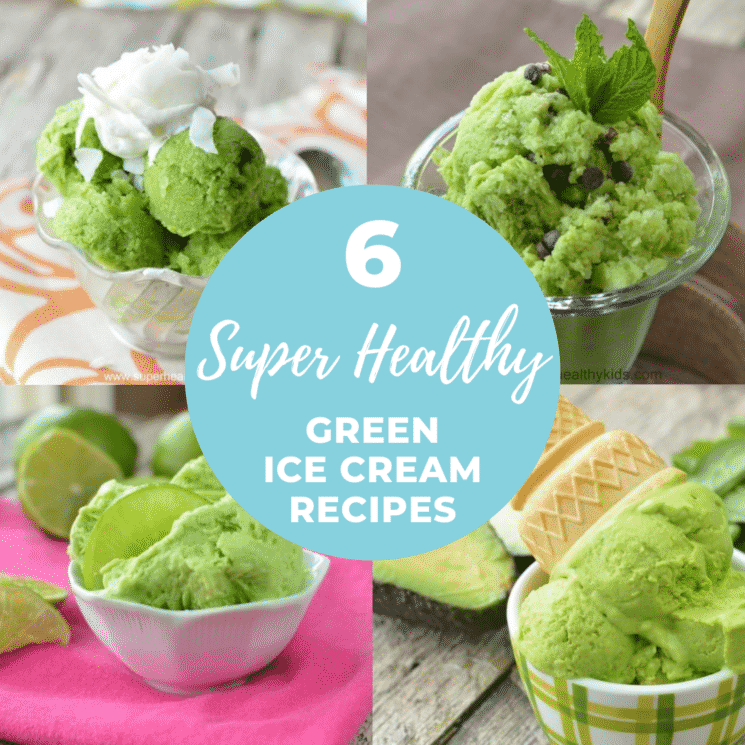 Leafy greens are the ultimate super food, and most kids don't get enough. In your quest to get more leafy greens into your kids' diet, frosty green desserts can be a valuable trick up your sleeve!
Beyond your typical green smoothie, green ice creams boast more creaminess, more sweetness, and a more scoopable consistency than what you might be used to blending up.
Try these bright and fun frozen concoctions with your picky eaters, and get those greens in!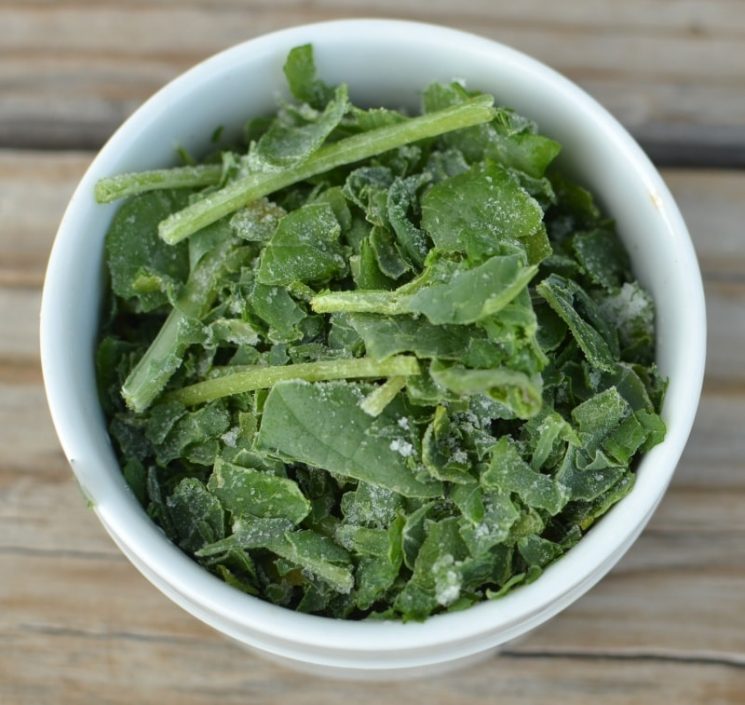 Tips for Freezing Leafy Greens
Frozen leafy greens are perfect for smoothies and ice cream, because their brittle texture gets ground up easily by the blender blades.
You can freeze fresh bunches of kale (or your own garden kale!) easily. First rinse it and dry it well. Then par-freeze it for a couple of hours on a baking sheet. Lastly, transfer the leaves to a freezer-safe bag.
You can also simply throw an entire bag of chopped kale or spinach from the store right into the freezer! Keeping a couple of bags of frozen greens on hand lets you buzz up green smoothies and ice creams with little advance planning.
Got some in your freezer right now? Use it up in these tasty and gorgeously green frozen treats!
Tropical Coconut Green Ice Cream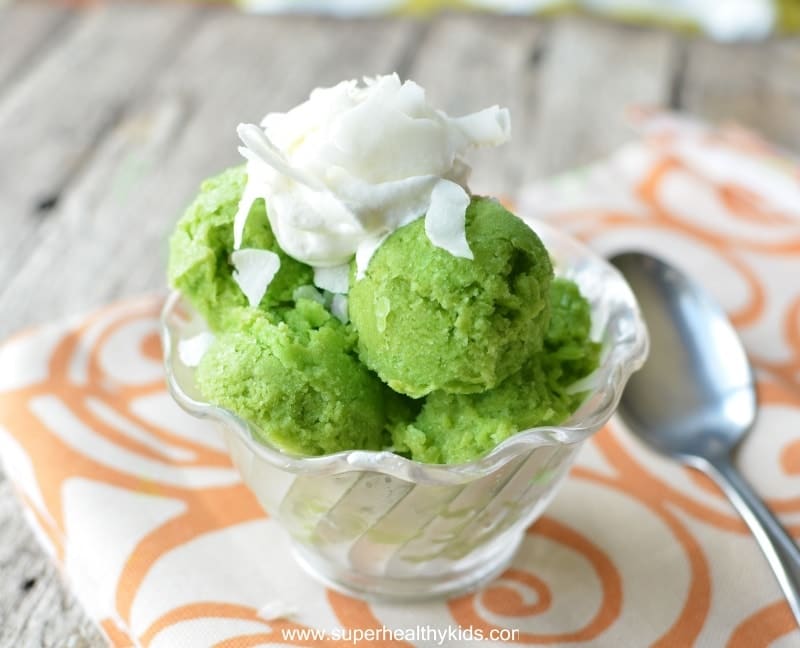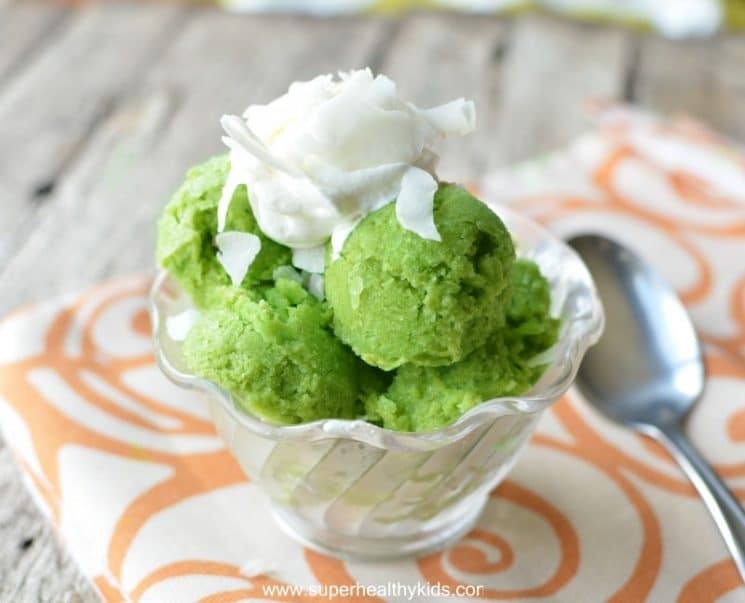 For the tropical coconut we combined these ingredients in our blender:
1 cup coconut milk
1 cup frozen spinach or kale
1 tablespoon honey
1 cup frozen pineapple
1 frozen banana
Flaked coconut for garnish
Blend it all up, then pour into a container and freeze at least 4 hours. After frozen, remove from freezer and then wait about 10 minutes to make scooping easier.
Creamy Avocado Green Ice Cream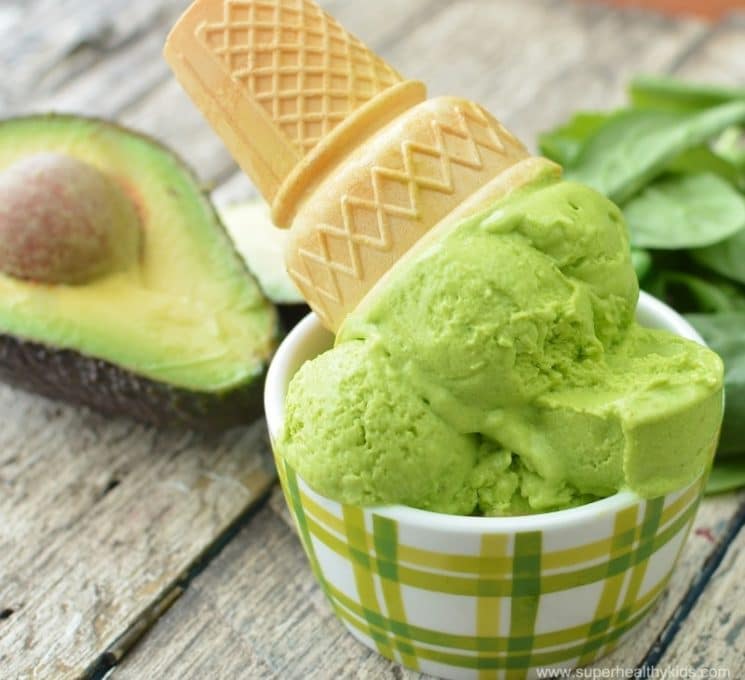 We started with our original recipe for avocado ice cream here, and modified it based on your feedback. Here's the latest and greatest version:
1 cup coconut milk
1 tablespoon lemon juice
1 avocado
1 cup frozen kale or spinach
1 tablespoon maple syrup
1/2 cup plain yogurt.
This one was super creamy! It almost didn't need to be frozen. Kind of like soft serve. But we froze it for about 2 hours anyway, and it was even better!
Vegan Almond Pistachio Ice Cream
This one isn't mine, but I couldn't have a round up of green ice creams without pistachios! So, I found one from Somer at Veged Out that looked amazing! Check out her super healthy, vegan Almond Pistachio Ice Cream here.
Healthy Mint Chocolate Chip Ice Cream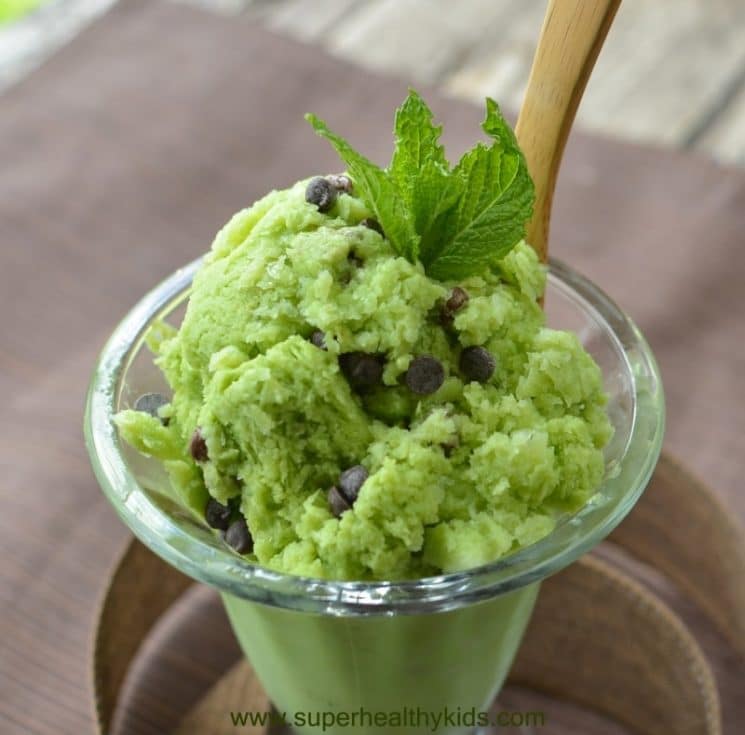 MMmmmm! Do your kids like mint chocolate chip? Some kids love it, some don't. Either way, this one was easy. We used:
1 cup milk
1 cup frozen spinach or kale
1 teaspoon vanilla
1 tablespoon honey
1/2 cup mint leaves
1 frozen banana
1/4 cup mini chocolate chips
Blend milk, greens, vanilla, honey, mint, and also banana in a high powered blender. Then Fold in chocolate chips. Scoop into bowl and freeze for 2-4 hours.
Fresh Creamy Lime Ice Cream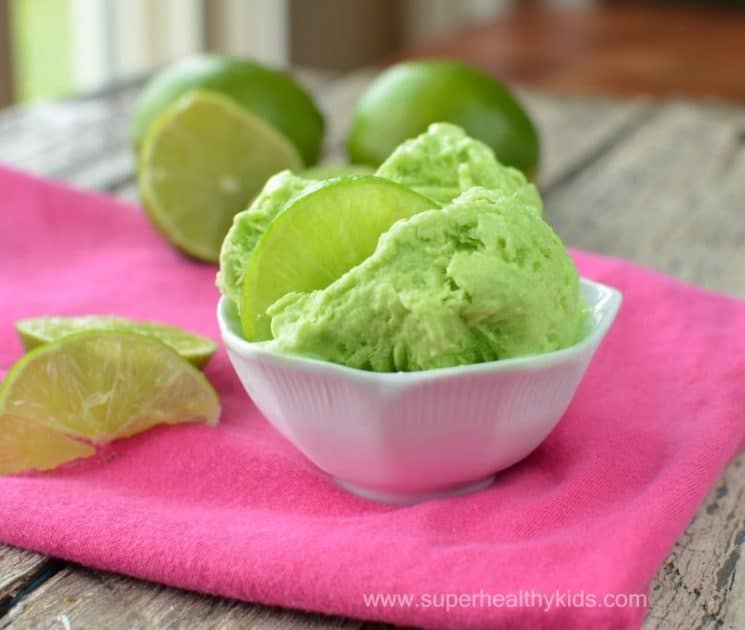 This one does taste fresh and amazing. We used:
1 cup milk
1 lime, juiced (we just squeezed the lime juice into the blender)
2 dates, pitted
1 teaspoon vanilla extract
1 cup frozen spinach or kale
Blend all ingredients in a high powered blender. This one will be super runny. But just pour into a bowl and put in the freezer. It will take at least 5-6 hours to freeze to our desired consistency.
Kiwi Sorbet
We've been making this one for years! Fruit and honey is really all you need, and maybe your kids don't even need the honey!? Check out the steps over on our Kiwi Sorbet post here.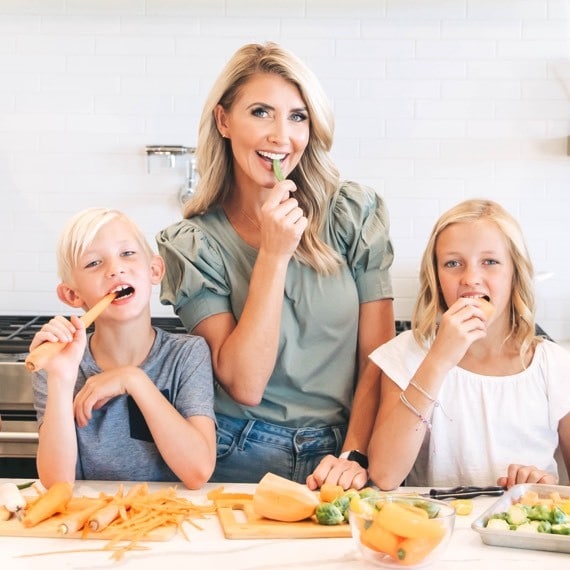 Natalie Monson
I'm a registered dietitian, mom of 4, avid lover of food and strong promoter of healthy habits. Here you will find lots of delicious recipes full of fruits and veggies, tips for getting your kids to eat better and become intuitive eaters and lots of resources for feeding your family.
Learn More about Natalie