With the right herbs and spices, this pasta dish tastes like a delicious Italian Chicken dinner.
We love Italian cuisine like Italian Chicken. Italian food is known for its pasta, bread, cheese, and risotto. This makes it easy to get kids interested in an Italian meal!  The many types, sizes, shapes, and lengths of pasta can make a variety of dishes feel and taste different, as well as provide a base for different fillings and toppings.   According to Wikipedia, Italian cuisine is also known for its simplicity, which is also appealing.  Usually only a few ingredients with lots of delicious herbs and spices.
This particular pasta dish is a great meal for healthy kids because in just one skillet, we have all the macronutrients necessary for a balanced meal.
Protein:  The chicken in this dish is, of course, a great source of protein.  We used chicken breasts for this recipe, but we also like to use chicken thighs.
Fat: Like all good Italian cuisine, cheese is a must!  We added Parmesan cheese to this dinner, providing a little fat to make the dinner taste good and be more filling.
Fiber: I love this dish, because unlike a lot of pasta dishes, we've added beans! Beans are a great source of fiber as well as vitamins and minerals.
Carbs: Of course, you can't have an Italian pasta dish without stating the obvious- that pasta is a great source of carbs!  In a society where people like to talk about carbs being the fattening macro-nutrient, we still maintain at Super Healthy Kids that carbs are vital for energy, for satiety, and for delicious, inexpensive meals!
What herbs and spices make Italian flavors?
We all know Italian cuisine is famous for pasta and cheese, but Italian food is also known for it's distinct combination of specific herbs and spices grown native to Italy.  Some typical flavors you'll find with Italian food include:
Parsley– Grown in the Mediterranean region, parsley is one of the most popular herbs on the market.  Like most herbs, parsley is low in calories, therefore dense with nutrients.  Parsely has only 3 calories for 2 tablespoons, but contains 10 mg of calcium 123 mcg of vitamin K, 10 mg of vitamin C, 0.5 mg of iron, and even some folate.
Oregano– This is possibly the spice that is most associated with Italian cuisine. Oregano is typically eaten dried, because the flavor is stronger dried than fresh.
Pepperoncini– An Italian name for hot chili peppers, these are an excellent source of vitamin A.
Bay Leaves – Often a full dry bay leaf might be included in cooking to enhance the flavor, but then removed before the dish is served.   A bay leaf eaten whole is bitter and pungent!
Basil – basil comes in many different shapes and flavors and can be eaten fresh or dried.  Many people enjoy basil blended with oil to make pesto.  Basil is an excellent source of Vitamin K, iron, and calcium.
Sage – Sage is often used to flavor meats like chicken, sausage, and pork.  Many people will rub fresh sage onto the meat to  release some of the oils and enhance the flavor.
Rosemary– Some people believe rosemary has potent antioxidants that stimulate brain health and memory.   Research has supported some minor boosts in memory recall, so it's worth a try!  (source)
Thyme – finally, thyme! It's a good source of vitamins C and A, and enhances the flavor of Italian dishes.
How to make homemade Italian Seasoning
Markets sell these dried herbs and spices altogether in a spice blend they are calling Italian Seasoning.  You can definitely buy this blend, but it's easy to make it yourself, especially if you are cultivating and drying your own herbs.  A common combination includes equal portions of:
You can also include garlic powder, salt, and onion power in your seasoning mixture.   We use Italian seasoning for adding flavor to tomato-based products like marinara sauce, spaghetti sauce, pizza sauce, etc.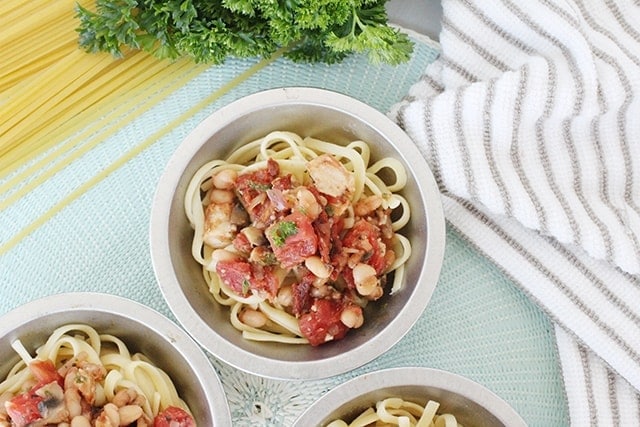 Raising kids to be adventurous eaters starts with exposing them to new tastes and flavors of different cuisines and cultures. This Italian chicken is a great start.
More Italian dinner ideas:
RELATED POST:
Top 30 easy weeknight dinner ideas.