Healthy Italian Spaghetti Carbonara Recipe
Try bacon and eggs for dinner in Italian spaghetti carbonara! This Italian dish is super quick and easy to make – it's done in just 20 minutes. Plus, we've made a few simple changes to help make this yummy dish good for you too!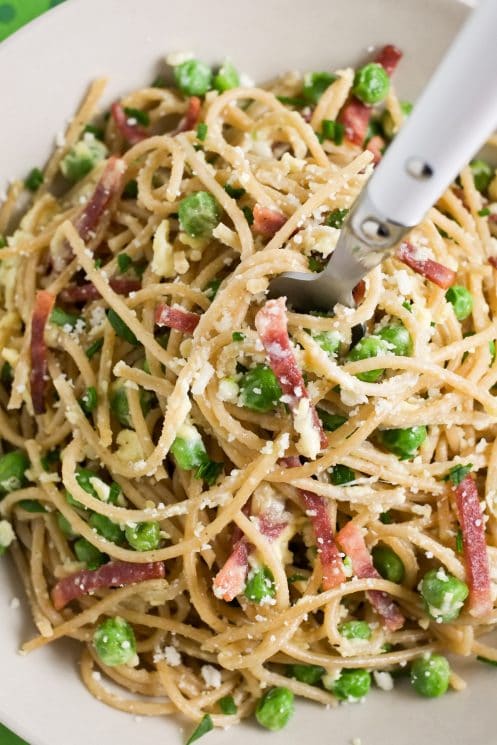 Growing up, spaghetti carbonara was a dinner we all loved. Though delicious, these simple parmesan, egg, and bacon noodles are traditionally not the healthiest. So we didn't have them very often and they were a special treat.
But lately I've been craving these noodles. So I've found a few easy ways to make this dish actually pretty healthy. Swapping ingredients and adding veggies for the win!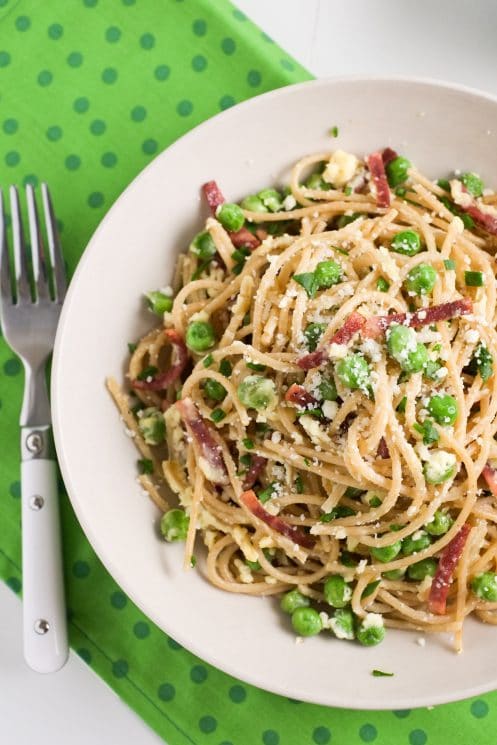 And want to know the very best part? This meal took me literally only 20 minutes to prepare! It's so fast and convenient!
Modifications for a healthy Italian spaghetti carbonara
First, we made the easy swap of whole wheat noodles for regular. More fiber, better digestion, and some prevention of chronic disease!
Second, we used turkey bacon instead of regular bacon. Have you ever tried this stuff? I think it's actually really good – not exactly the same, but really tasty. It's lower in calories and fat. This is great for cooking because then you don't have all  that leftover bacon grease to cook up. But it's also great for your heart and arteries. If you prefer to use regular pork bacon, the benefit of that is that it is higher in protein.
Finally, we added a veggie – peas! I think peas work really well with the flavors, but you could definitely use another vegetable. Next time I might use spinach and see how that goes.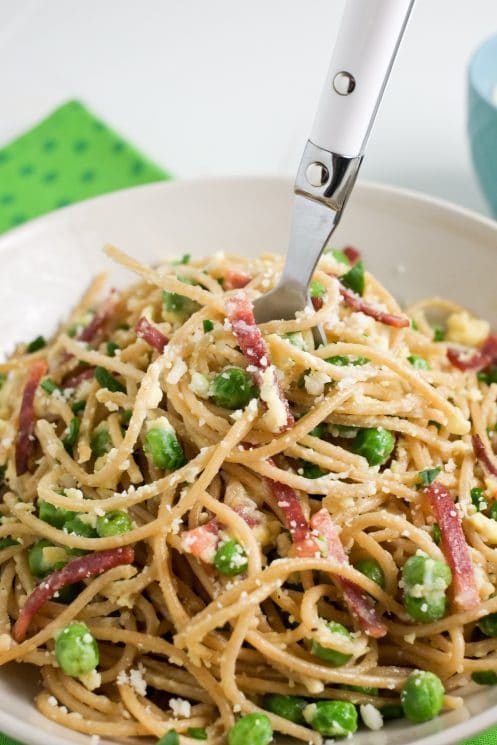 Spaghetti carbonara is already great because it uses eggs and Parmesan as the "sauce" so you're getting in some good protein. It also means you get a buttery pasta without using butter!
How to make healthy carbonara
Begin by cooking the noodles according to package directions. You need 8 ounces for 4 servings, which is half a regular 1 pound package. Once the noodles finish, reserve 2 tablespoons of the cooking water and then drain the noodles. Toss with a drizzle of olive oil to keep them from sticking together and set aside.
Meanwhile, cut 4 slices of bacon into small strips. Cook them in a large skillet over medium-high heat until cooked to your liking. I like mine crispy so they take a little longer, maybe 7-8 minutes.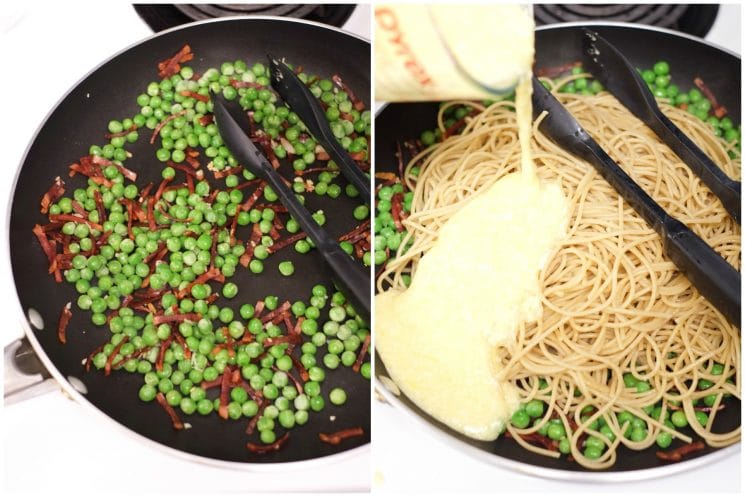 Next, mince 5 cloves of garlic. Add the garlic and 1 cup of peas to the bacon once it is done cooking. Saute everything until the peas have thawed a little bit, about 3-4 minutes.
Finally, whisk 3 eggs and 1/2 cup of parmesan in a small bowl or glass measuring cup. Add the 2 tablespoons of noodle water and whisk again. This water helps thin the egg mixture a bit, and the extra gluten from the noodles help it thicken the sauce when cooked.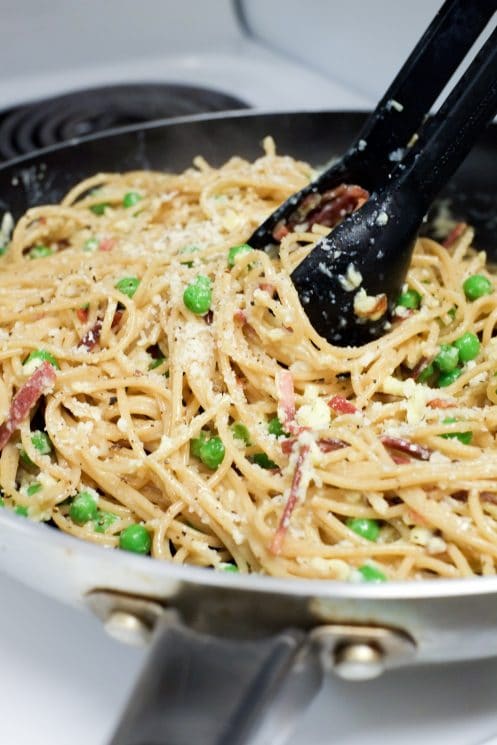 Add the noodles and egg-Parmesan mixture to the skillet. Mix and toss quickly to make sure noodles are equally coated in the egg mixture. Cook for 5 minutes to cook the eggs.
Serve immediately with extra Parmesan on top, and salt and pepper to taste if desired.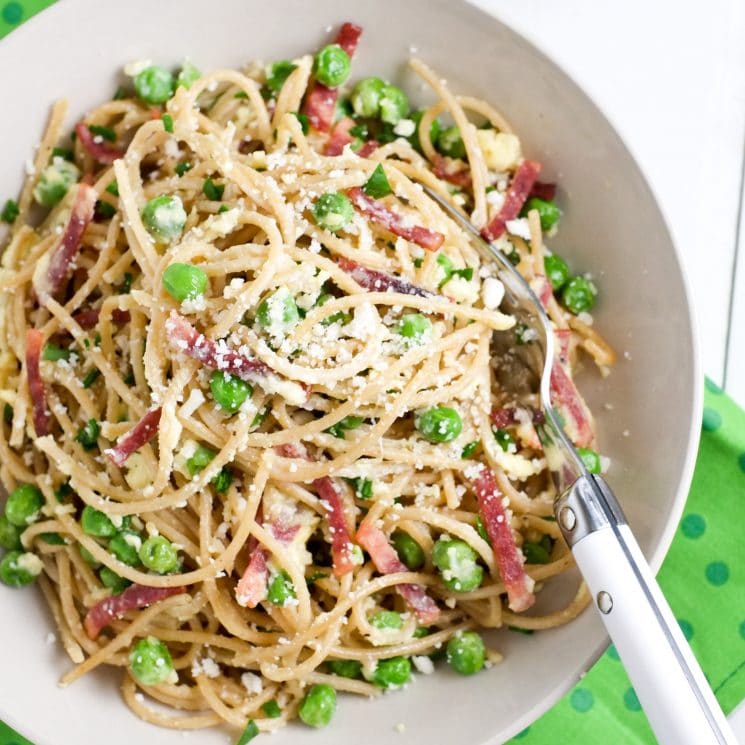 Enjoy this meal with some fresh fruit and extra veggies for a simple and easy weeknight meal!
Ingredients
8

ounce

spaghetti pasta, whole-wheat, dry

1

tablespoon

olive oil

4

slice

turkey bacon

5

clove

garlic

1

cup

green peas, frozen

4

large

egg

1/2

cup

Parmesan cheese, grated

2

tablespoon

water
Instructions
Boil noodles according to package directions. **Reserve 2 tablespoons of noodle water to use later.** Drain noodles and toss with a drizzle of olive oil to keep them from sticking together.

Meanwhile, chop bacon into small strips and then saute in a large skillet over medium-high heat. After cooked to your liking, add minced garlic and peas. Keep on the heat for a few minutes, until peas have partially thawed.

In a small bowl, whisk eggs, parmesan, and 2 tablespoons of reserved noodle water. Add noodles and egg-parmesan mixture to the skillet and toss to coat. Make sure noodles are evenly coated and keep on the heat for 5 minutes, stirring regularly, to ensure egg mixture is cooked.

Serve with extra fresh parmesan on top and salt and pepper to taste.