Instant Pot Steel Cut Oatmeal (with eggs)
You've made dinner with your Instant Pot – now try it for breakfast! Protein packed Instant Pot Steel Cut Oatmeal with eggs tastes like regular oatmeal but has a protein boost and is extra creamy. Serve it sweet or savory – it's totally versatile.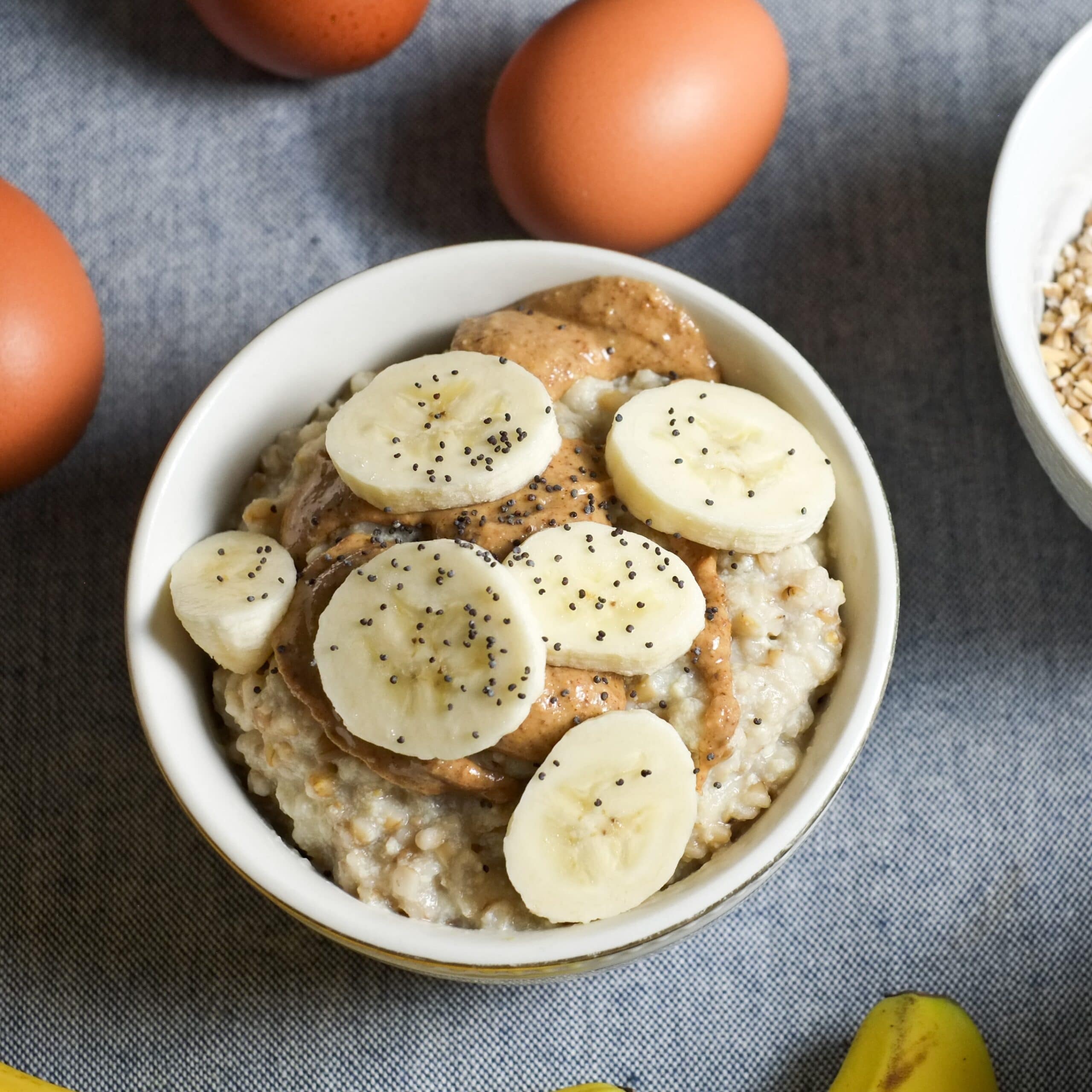 Have you ever added an egg to your oatmeal? If not, you really should. Cracking an egg into your oats and cooking it in porridge itself adds protein and extra creaminess. You won't even notice there are eggs – and neither will your kids!
Now of course this can be done on the stove, but what about in the Instant Pot? I was a little wary of trying because I couldn't find any recipes online, so I thought perhaps it just didn't work… but it does!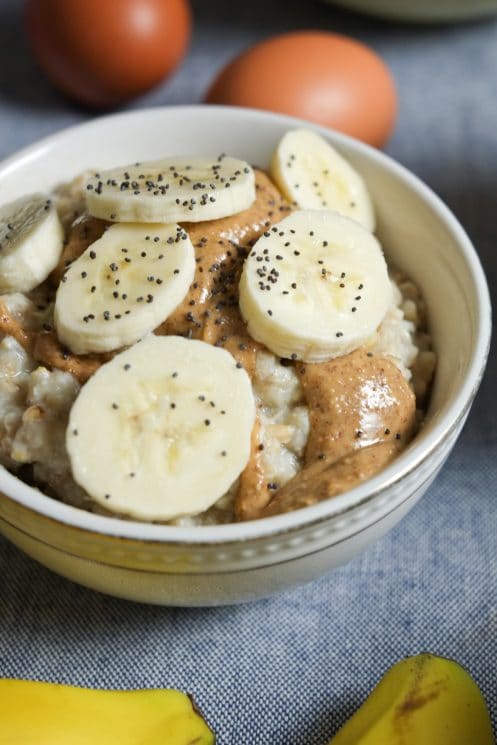 We love cooking steel cut oats in the Instant Pot because there is absolutely no fuss! No constant stirring and babysitting, no boiling over. It's pretty amazing. If you end up not adding an egg to your oatmeal, you can use these instructions (sans eggs) to prep it all the night before and set the timer so it's done when you get up. Amazing!
So why add an egg to your oatmeal?
Steel cut oatmeal is already a wonderful breakfast food. This whole grain has lots of fiber and quite a bit of protein to keep you satiated. So why add eggs?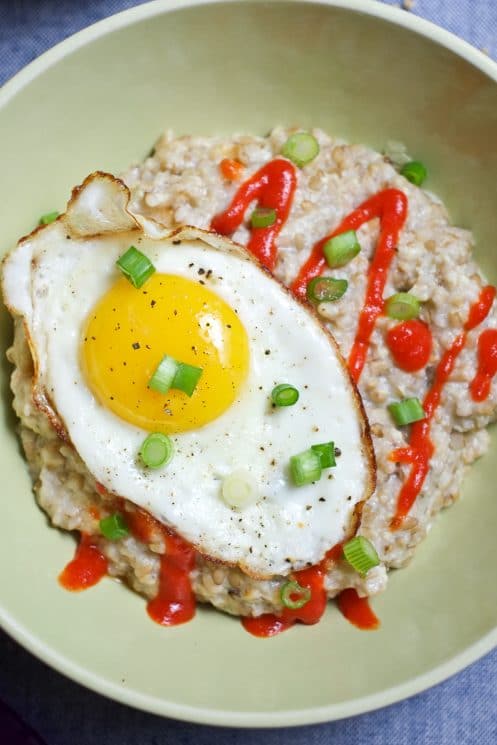 Eggs add extra protein that will keep you full even longer! We all need that extra staying power, especially kids! Eggs also have extra vitamins and minerals important for brain development and bone health. Plus, they just make the oatmeal so creamy! And of course, you can still add an egg on top, too, if you want. It's actually delicious.
And don't worry, you can't taste the eggs. You can still make this oatmeal like you would normally. We've added two eggs to a four-serving batch, but I am sure you could increase the number of eggs if you don't mind noticing the eggs just a little more and want the extra egg protein.
How to cook steel cut oatmeal in the Instant Pot (with the eggs!)
First rule – don't use dairy milk! Milk scalds during pressure cooking, so just use water or a milk-substitute (like almond milk). I used water and it worked just great. Other than that, this recipe is pretty foolproof.
Begin by spraying the bottom of the Instant Pot bowl with cooking spray. Next, crack two eggs into the bowl and dump three cups of water on top. Whisk really well so that the eggs are well distributed. Finally, pour in 1 cup of steel cut oats and a pinch of salt. Give it all a little stir.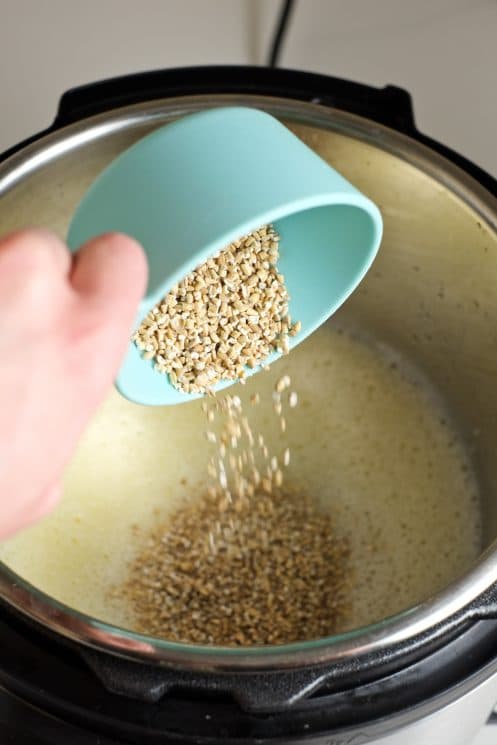 Set your Instant Pot to "Manual" and make sure it's on high pressure. Adjust the time to 3 minutes and then you're good to walk away! Oh, and don't forget to make sure the vent is closed.
Note: if you prefer oats on the soft side, set your timer for 5 or 6 minutes. I like steel cut oats because they have a little "bite" so I cook mine for 3 minutes – they are fully cooked at that point but not mushy.
The pressure should build in about ten minutes, then cook for 3 (or whatever you selected), then it will take about 15-20 minutes for the pressure to release. So go ahead and shower or whatever. No need to stir like regular stovetop oats!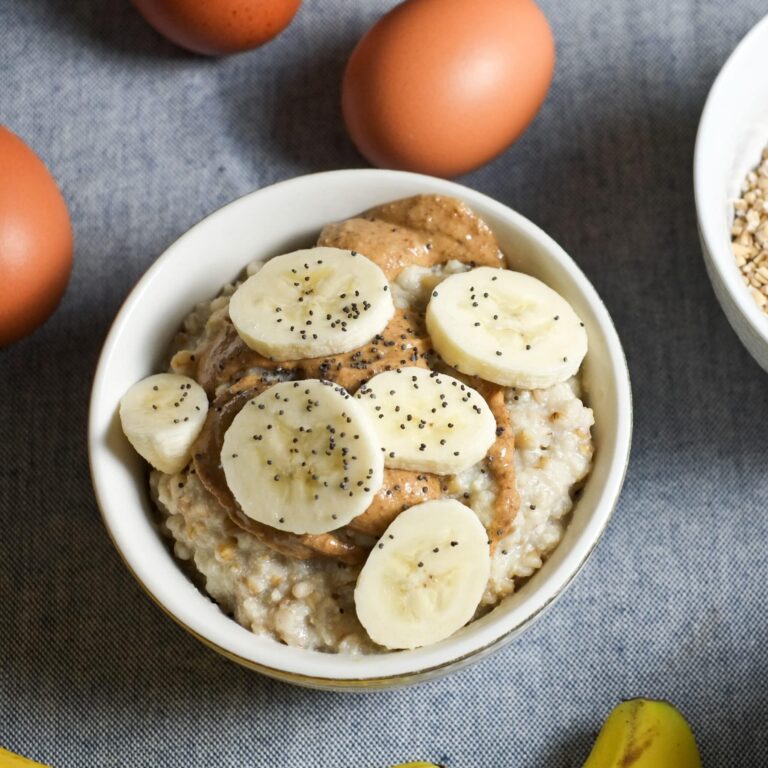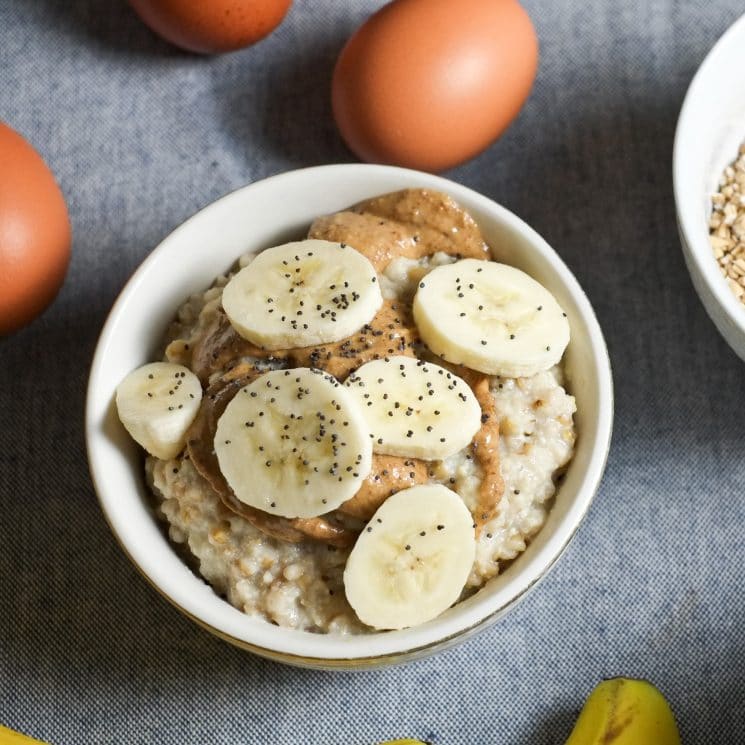 If it's convenient, try to push "Cancel" after the pot is done cooking (it will beep). This will help the bottom of the oatmeal avoid any risk of burning on the "keep warm" setting as the pressure releases. I have done it without cancelling and it was fine, but I have heard it can burn a bit – so just a heads up!
Important: do NOT try to manually release the pressure! This could cause sputtering and clog your vent, which can potentially ruin your new device. Instead, just let the pot sit for 20 minutes until the pin drops.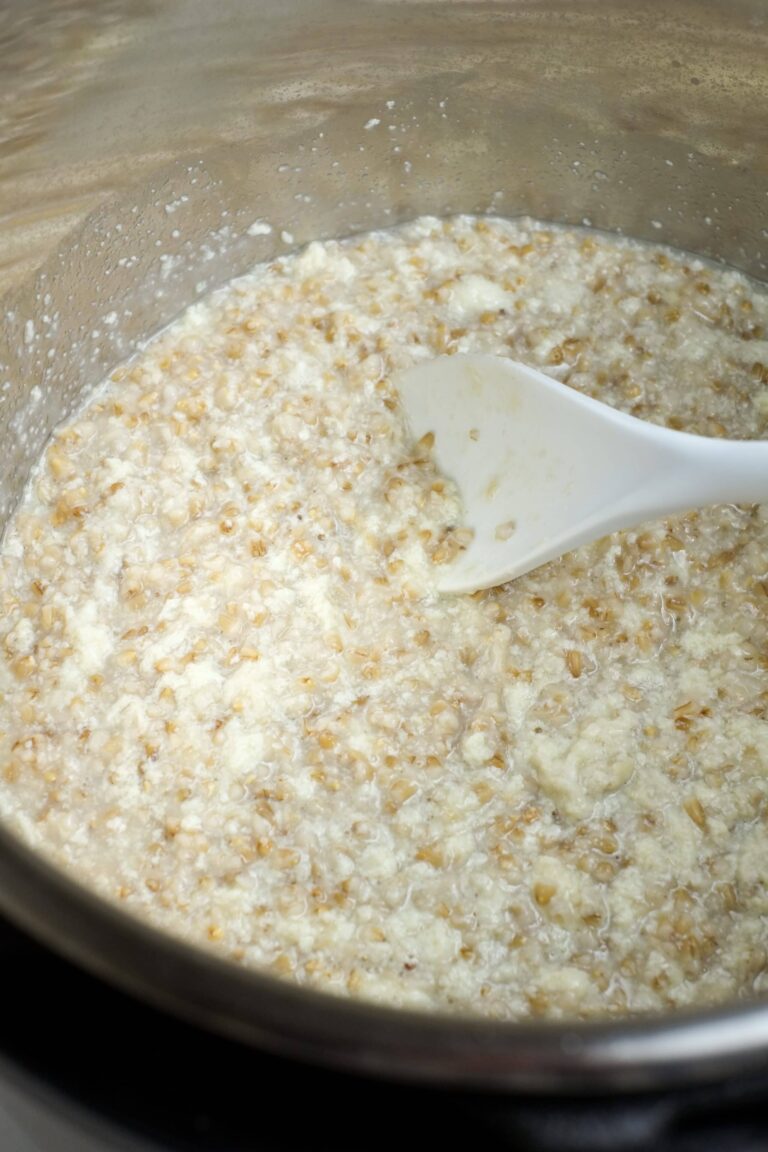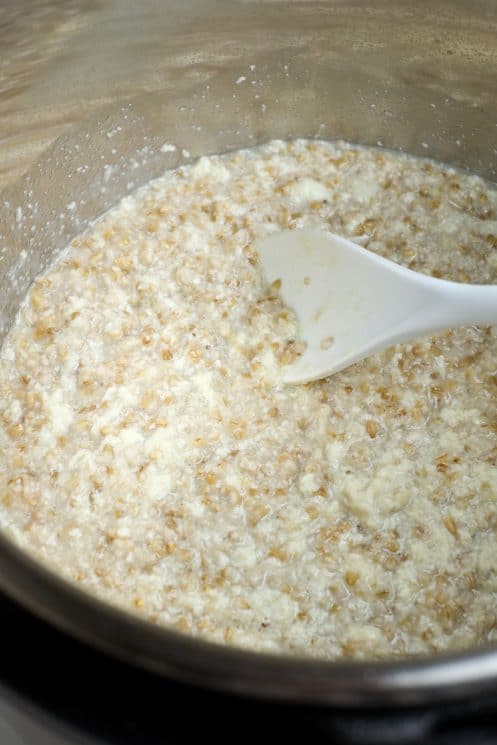 When first opened, the top of the oatmeal will be covered in egg froth. Not to worry, just give the pot a good stir and it will mix together nicely.
Breakfast is served!
At this point, can flavor your oatmeal as a big batch if you like – with sweet potato, cinnamon, maple syrup, even a little milk, etc.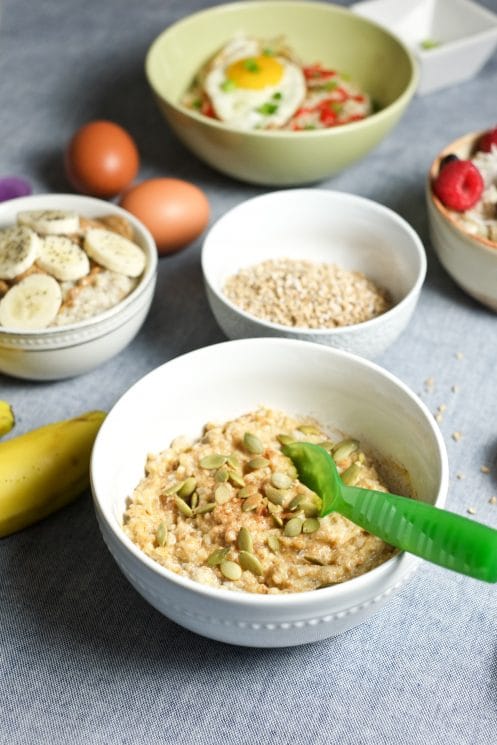 Serve with whatever you love on oatmeal! I tried a few variations here: maple pumpkin, coconut berry, peanut butter banana, and even a savory one with an additional (fried) egg, sriracha, and green onions.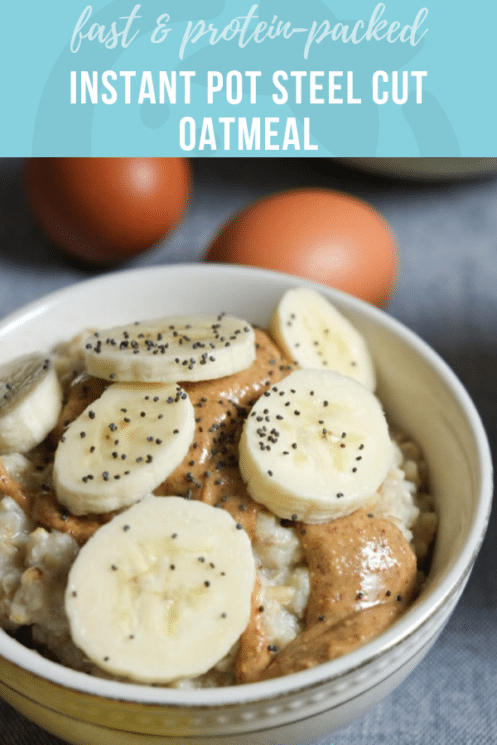 Instant Pot Steel Cut Oats
You've made dinner with your Instant Pot – now try it for breakfast! Protein packed Instant Pot Steel Cut Oatmeal with eggs tastes like regular oatmeal but has a protein boost and is extra creamy. Serve it sweet or savory – it's totally versatile. 
Instructions
In a 6-quart Instant Pot add water, almond milk, oats and a pinch of salt. Stir to combine everything.

Seal the lid and close the vent valve. Push the "Manual" button, set to "High" pressure, and set for 3 minutes (or 5 if you like them really soft)

The pot will take a few minutes to reach pressure, then cook for 3 minutes, and then beep. Once it beeps, push "cancel" so the pot doesn't automatically go to the "keep warm" setting, which might scorch the oats.

Allow 10-15 minutes for a natural pressure release before opening the lid. This is important to keep the foam of the oats from sputtering and clogging the vent if you tried doing a manual release. Once the pin drops you will know it is safe to open.

Carefully open the pot, stir well, and serve with favorite toppings: a splash of milk, honey, cinnamon, nuts, and fruit. Enjoy!

You can store in the fridge in an airtight container for up to 5 days.
Nutrition
Calories:
159
kcal
|
Carbohydrates:
27
g
|
Protein:
7
g
|
Fat:
3
g
|
Saturated Fat:
0.4
g
|
Polyunsaturated Fat:
0.2
g
|
Monounsaturated Fat:
0.2
g
|
Sodium:
50
mg
|
Potassium:
0.001
mg
|
Fiber:
4
g
|
Sugar:
0.03
g
|
Calcium:
60
mg
|
Iron:
2
mg
www.superhealthykids.com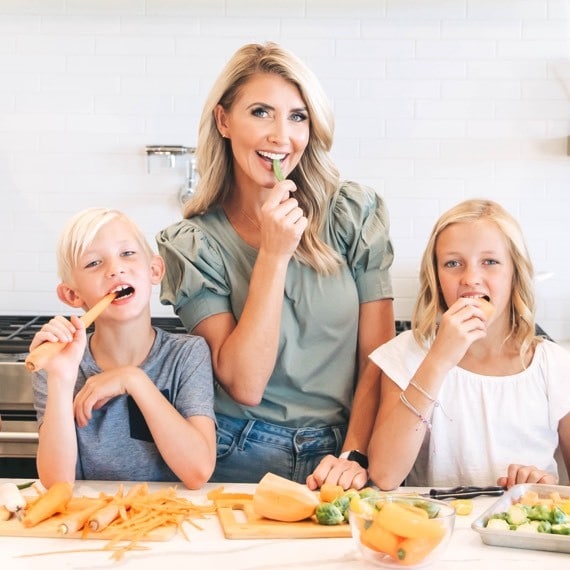 Natalie Monson
I'm a registered dietitian, mom of 4, avid lover of food and strong promoter of healthy habits. Here you will find lots of delicious recipes full of fruits and veggies, tips for getting your kids to eat better and become intuitive eaters and lots of resources for feeding your family.
Learn More about Natalie