How to Prevent Cut Fruit From Turning Brown
We tested four different soak-solutions to find the best way to keep fruit from turning brown, even up to 24 hours after cutting it! Find out our top two contenders.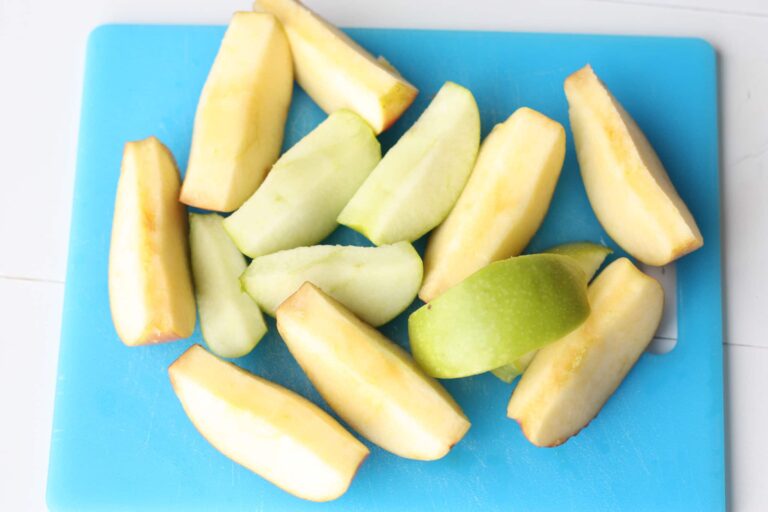 I think we can all agree: oxidized (brown) fruit is just not appealing. It might not taste any different, but we all eat with our eyes to some extent… and kids do especially!
I chose apples as my sliced fruit because they are commonly used and definitely go brown fast. The methods I used could definitely be used for any fruit though.
We Tested Four Soak-Solutions
We tried these four solutions on our cut apples:
1) Lemon Juice. Ratio: 1 tablespoon juice to 1 cup water. You can also use other citrus juices like pineapple, or orange for a different flavor.
2) Citric Acid. Ratio: 1 tablespoon citric acid to 1 cup water. You can usually find citric acid in the canning supplies section.
3) Soda Water. No mixing necessary. You can buy this by the bottle under various names like club soda, seltzer, or soda water.
4) Plain Cold Water. No mixing here either. Just run the tap!
Methods and Results
We place the slices of fruit in a small bowl and soaked them for 5 minutes only. Then we put the apples in the fridge for an hour. THEN we let the cut slices sit on the counter top at room temperature for an hour. Then we took a look. Here are the results:
The Best Way to Prevent Cut Fruit from Turning Brown
In our experiment, seltzer water worked best to prevent browning! It also preserved the flavor and texture of the apples very well. Lemon juice was a close second, and we still recommend it, especially if you enjoy a citrus-y zing to your cut fruit.
By the way. the next day these apples still looked great! Check out the photo below. They also were super crunchy and juice, not mealy.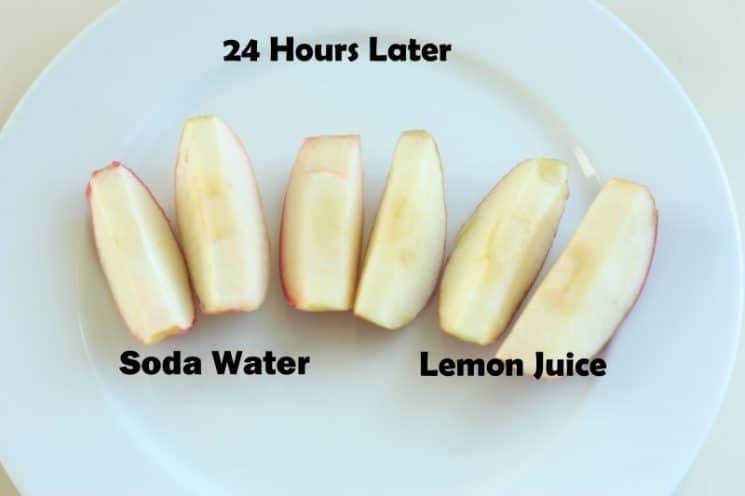 Non-Soaking Methods of Keeping Cut Fruit Fresh
If you don't want to soak cut fruit (or don't have time!) there are a couple of other ways you can keep your fruit looking and tasting fresh, even after it's been cut.
Cut the apple, then use a rubber band to fit the pieces snugly back together around the core. This keeps oxygen from reaching the apple flesh, which prevents browning
Sprinkle cinnamon on fruit. Yup, what you're really doing here is masking browning by dusting the fruit with an already-brown spice! This obviously adds flavor to your fruit, too.
Squeeze lemon juice directly onto fruit. You don't need to mix up a solution if you don't have time. A squeeze of lemon works fairly well (but you won't get the total coverage you'd get from soaking.)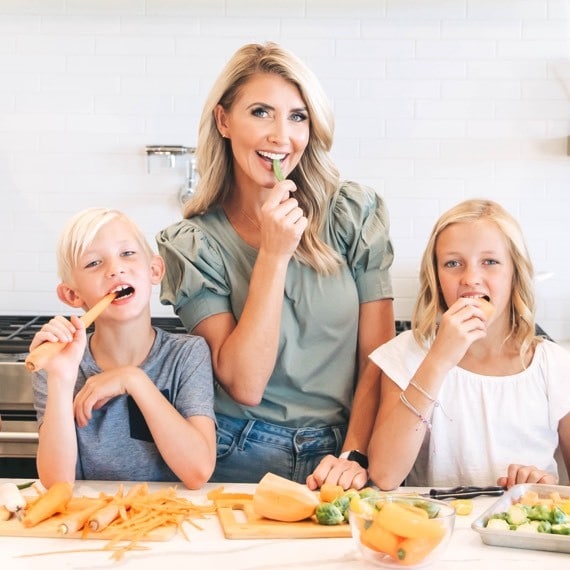 Natalie Monson
I'm a registered dietitian, mom of 4, avid lover of food and strong promoter of healthy habits. Here you will find lots of delicious recipes full of fruits and veggies, tips for getting your kids to eat better and become intuitive eaters and lots of resources for feeding your family.
Learn More about Natalie