Hoover Floormate Hard Floor Cleaner Review
If you are looking for a floor mop that will change the way you mop floors forever, The Hoover Floormate is it!
Want Your Kids to Help with Chores?? Check out our Kitchen Chores By Age post
If you cook a lot in your kitchen, you know that your floors can get really dirty really fast. Splatters, spills, drips and sticky crumbs all add up to a messy floor. Getting down on your hands and knees is the last thing you want to do after spending a lot of time cooking and feeding your family. The Hoover Floormate is the mop that will change the way you mop your floors and will get your floors cleaner than any other mop out there! (and no this post is not sponsored – I just truly love this mop and wanted to share with all of you!)
What is the Hoover Floormate?
The Hoover Floormate is a combination of a vacuum and a mop. It deep cleans and scrubs your floors while vacuuming all the dirt and debris leaving no trace behind. It is safe on sealed hardwood, vinyl, ceramic tile, laminate and marble floors.
Features:
Counter-rotating removable brushes that wash and scrub surfaces and grout from all angles
Dual tanks – separates clean and dirty water so you can easily fill, empty and rinse
Wash and dry modes – wash with brushes and water/solution then switch to dry only to remove excess water
Pros:
Keeps the dirty and clean water separate leaving your floors squeaky clean.
Can wash and dry at the same time – pushing washes and pulling it dries your floor.
Easy to maneuver.
Lightweight – weighs under 15 pounds making it easy to lift and carry it.
Easy to clean the tanks and brushes.
Handle folds down making it very compact for storage.
Inexpensive compared to other floor mops of the same quality.
Cons:
Need to rinse out the tanks and let them air dry to prevent mildew buildup.
Loud – sounds like a vacuum.
Takes up more space than a regular mop.
Isn't the best at picking up large pieces of things – may have to do a quick sweep before.d
Check it out on Walmart
Watch to see why this is the BEST mop!
My Personal Experience with the Hoover Floormate
I have been using the Hoover Floormate solely on my hard floors for about 8 years. I am on my second machine, which I think is pretty amazing for how much I use it. In my high traffic areas in my kitchen I will do a quick mop about 4-5 times a week. I never liked the idea of swishing dirty water around my floor while mopping and I can tell a huge difference in how clean my floors get with the Hoover Floormate. I loved knowing when I had babies crawling around on the floor, that my floors were actually clean! It sucks up all of the dirt, dust, and small debris that a regular mop wouldn't. After I'm done mopping, I am always so surprised at how dirty the water in the dirty tank is! I would definitely recommend this mop if you love clean floors and want an incredibly easy to use machine to clean them with.
More Cleaning Posts: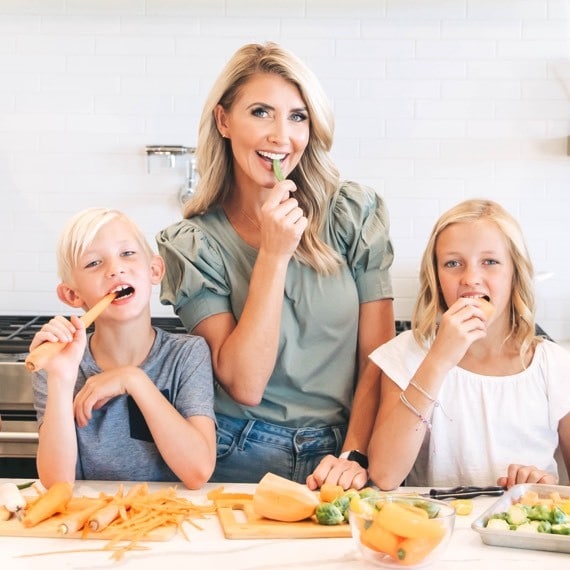 Natalie Monson
I'm a registered dietitian, mom of 4, avid lover of food and strong promoter of healthy habits. Here you will find lots of delicious recipes full of fruits and veggies, tips for getting your kids to eat better and become intuitive eaters and lots of resources for feeding your family.
Learn More about Natalie