Spring Cleaning: Kitchen Organization and Storage
SPRING
Having a clean and organized home is important for healthy kids. When you have a clutter free home that is organized:
You will save money- How many times have you bought a second bag of walnuts, only to find a half open bag in the bottom of your freezer? When you are organized, you know where things are and can see them easily.
You will save time- this is obvious if you've ever spent a good part of your day looking for your car keys. There is peace, calm, happiness and joy with a clean and organized house, and your kids will feel it too. Keep the shades open, the home bright, they chaos under control, and your kids are more pleasant.
So, we have a few pictures from our kitchen to get you started!
The Pantry
I found an inspiring blogger, Bea Johnson at Zero Waste Blog. Bea is the ultimate example of clutter-free. She purchases all her food without packaging and even brings her own jars to the grocery store to have them filled. Anytime you can have see-through containers in your pantry to know when you are low on certain foods, you won't be purchasing double and you'll know when you need more. This is a picture from Bea's pantry (used with permission). If you don't think it's possible to bring all the food you need into your home without packaging and have a pantry that looks like this, you really should check out her detailed shopping tips on how she shops! Even if I don't shop the same way, there is still some great take-aways! Check out her post here.
From Natalie's pantry: She stores her baking supplies in clear boxes (found at Ikea), with some cute labels (she found on Etsy)
I store our nuts and dried fruit that way. If you don't use your nuts quickly, it's best to store them in the fridge or freezer to avoid going rancid. But purchasing nuts and dried fruit in the bulk bins is truly the best way to buy them affordably. Also, it's the only way I've been able to find dried fruit (such as dried cranberries) without added sugar.
The Spices
Every healthy kitchen needs a good supply of herbs and spices- even the dried ones. Natalie puts hers in a drawer, which I LOVE.
This makes it easy to see what you have, and what you need more of.
The Fridge
Cleaning out your fridge weekly makes it easy for your kids to see what there is to eat- and hopefully that means fruits and vegetables and lots of water! When your fridge gets stuffed with moldy leftovers or old containers of sour cream, it no longer invites healthy snacking.
I also started putting my frozen veggies in freezer safe- air tight containers like this one.  Do you know how many half open bags of peas I had in my freezer?  Too many!  Plus, we like to freeze our own veggies when they are in season.
On the front of our fridge is the meal plan for the week! It makes it so easy for me to look at in the morning, so I know when I need to start preparing dinner.  Sometimes, I can prep the entire meal at breakfast, and then when our evening get's busy, all I have to do is put it in the oven.  This is an area where being organized truly pays off, as you don't have to resort to cereal for breakfast. lol  We have some blank printable meal plan charts, and of course we also have the meal plans that we write every week.  My kids also like the meal plan posted, then they don't have to ask me what's for dinner!
MISC-
And lastly- my medicine cabinet! Before I moved over to these mini drawers, I kept buying band-aids and they would get buried since our medicine cabinet is high and I am short! Now, I can get to them super easily.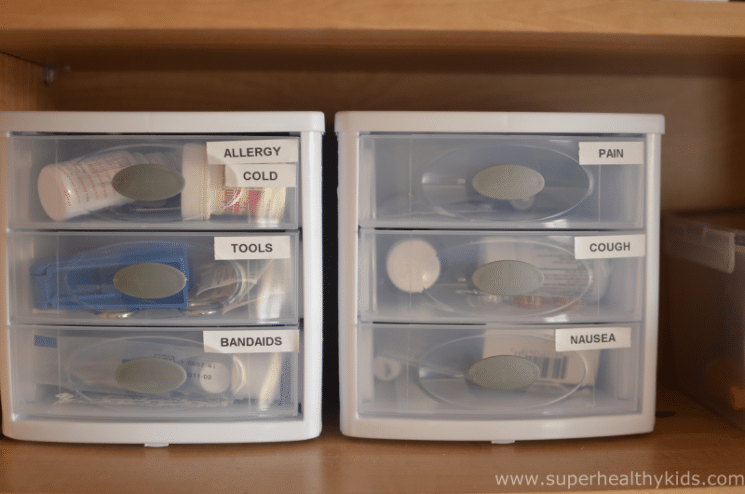 Start with one cupboard or drawer today! You'll have your entire kitchen organized and clean in no time!