Kitchen Chores for Kids by Age
There are many kitchen chores you kids can do! Read below to find a printable chart with kitchen chores for kids by age.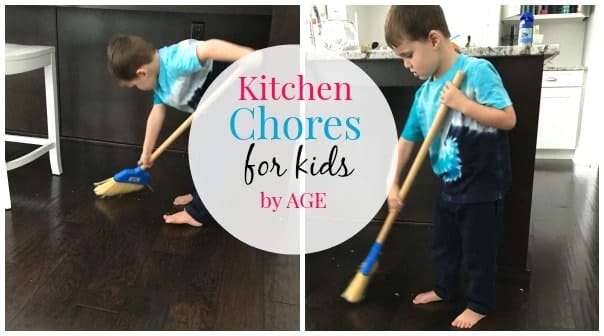 Parents
She's only three! She can't hang up her coat.
I watched as she put her coat on the ground, put the hanger on top of it, zipped it up, and put it in the coat closet.
Wait! She can zip, too?
It blew my mind!
My daughter is now seven and I have my second child in Montessori preschool. I've embraced the philosophy of independence and let it overflow into my home. I spend a lot of time in the kitchen and my kids started kitchen chores at a young age. I'm teaching them important life skills and, most of the time, they are making my life easier. Also, if your kids have the right type of tools, sometimes it helps them get excited to be involved!
It's not difficult to involve your kids with kitchen chores. Set the expectation and follow through every day. Soon, they'll know exactly what they are supposed to do and will do it without you even having to ask. All right, maybe that won't happen all the time. Let's be real. You'll have to remind them. But rest assured, your kids can do chores in the kitchen, so set the bar high!
Here's a chart that acts as a general guideline to what kitchen chores kids can do at different ages. Keep in mind that every child is different. Some children will follow this guideline to a T, while others will be slightly ahead of or slightly below the curve. That's normal, but you can use this to help you see at about what age your child can start helping with certain tasks.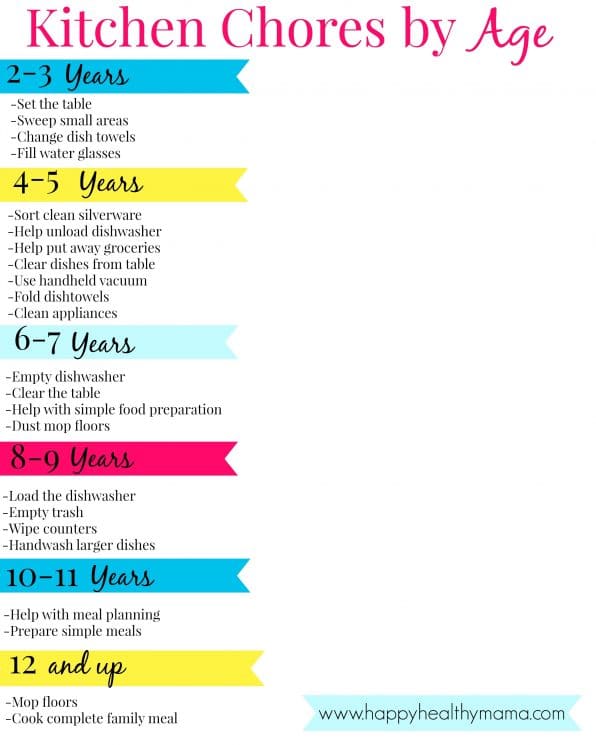 Click Here for this chart in printable form.
Show Them How
Before I require my children to do any of the tasks described, I demonstrate exactly what I expect of them. They don't get it right the first time. It takes practice and consistency on my part. But the effort is worth the result, I promise!