Homemade Whole Wheat Tortillas Recipe with Breakfast Burrito
The holiday performances are beginning! I always let my kids choose one sport and one instrument to participate in (if they want.. I don't have the energy to get them to activities they aren't interested in). I really think playing instruments makes them smarter! So, I always hope they'll want to play. My boys are the only ones interested in music however. Erica has tried both piano and flute, but it was really never her thing, as evidenced by the fact that she never practiced. TJ (my 9 year old) asked if he could start taking piano last year, and he loves it. He practices without me reminding him, which is literally my only requirement to continue paying for it. We still have a band concert coming up (my 14 year old plays the French Horn in the JR. High band), and a ballet performance.
(My husband missed this recital because of work, but he would be pretty ticked to see TJ's tie on the outside of his collar like it is in this picture! He's sort of the clothes police. I literally didn't even notice until I saw this picture!)
And while I can hear Christmas piano music practicing in the background, you can usually find me in the kitchen! Today it was to make some homemade, whole wheat tortillas. While store bought tortillas don't seem to be too bad in the ingredient department, there are three reasons we would choose to make our own:
The price! The "healthy – whole wheat – brands" can run you over $0.29 per tortilla! I can literally make this entire recipe for that much.
The convenience- Not the convenience of having a package in your pantry- but for those days you are out of tortillas and you know if you run to the store to just get tortilla's, it will likely cost you $40, because who really runs in for one thing and only gets one thing? Plus, you have to GO to the store. So much more of a hassle than to just mix them up the way I describe.
The taste! I think homemade tortillas taste so much better! They taste fresher, chewier, and super super delicious!
Homemade Whole Wheat Tortillas Recipe
So, in order to make your own, fresh, delicious, healthy and cheap tortillas:
Step 1) Mix up your dough (recipe below)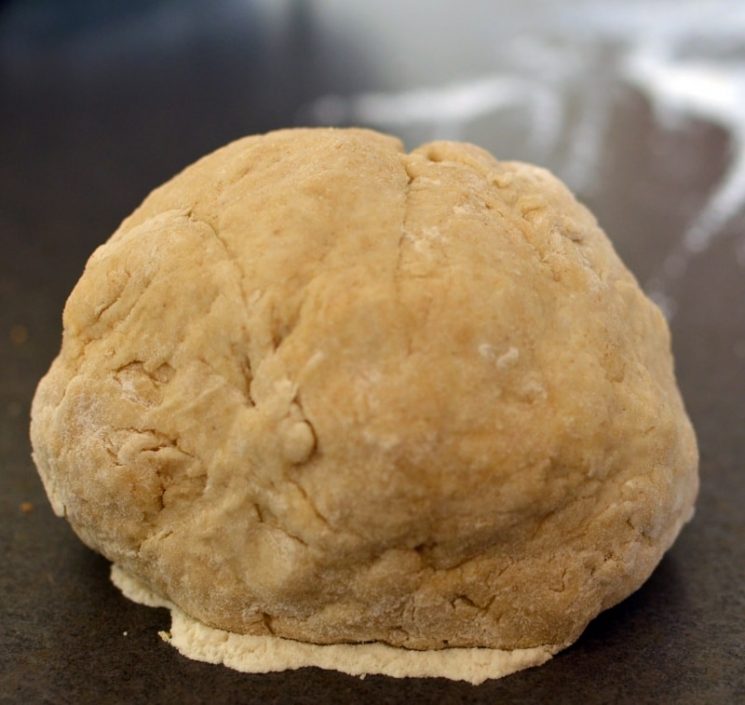 Step 2) Divide your dough in half, then each ball in half again, etc. until you have 8 equal sized pieces of dough.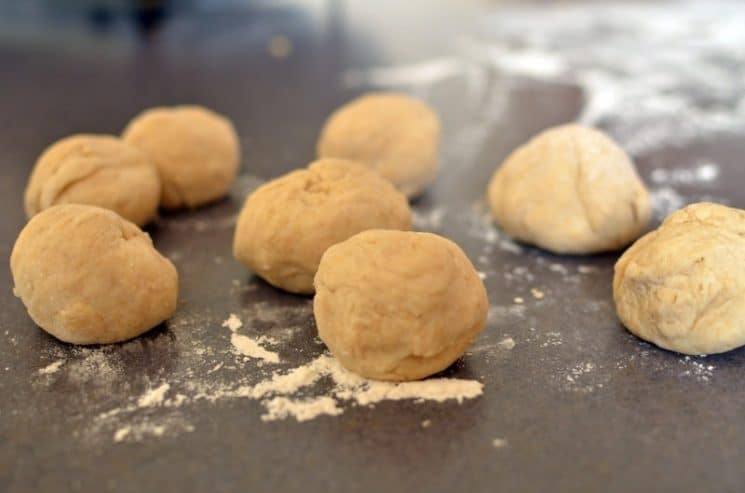 Step 3) Roll out each ball of dough until the dough is as thin as you can get it! Kids can help with this step!
If you really like them to be true circles, you could always go back and cut a circle out of the dough you rolled out. Then use the rest of the dough for another tortilla.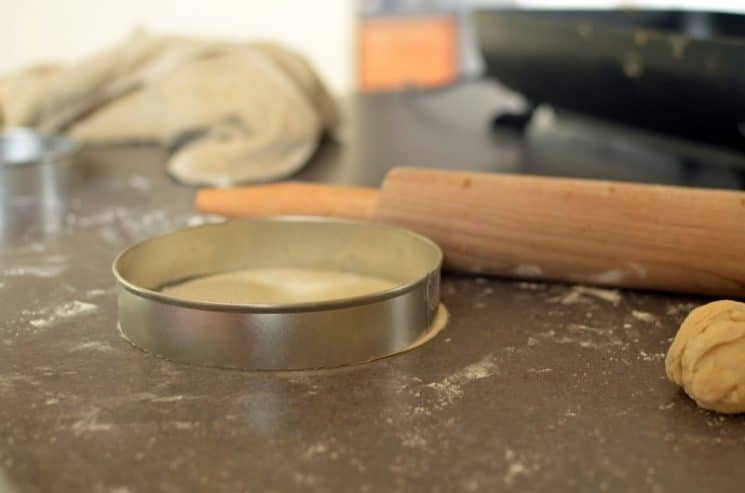 Step 4) Lay rolled out tortilla dough on a hot griddle. Brown on both sides. The longer you cook them, the crispier they will be. If you like them soft and pliable, like for burritos, don't over cook them.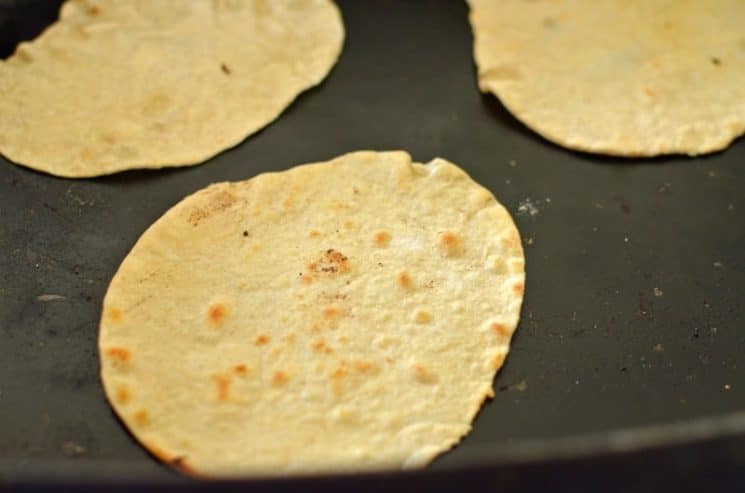 Step 5) Eat with your favorite recipes!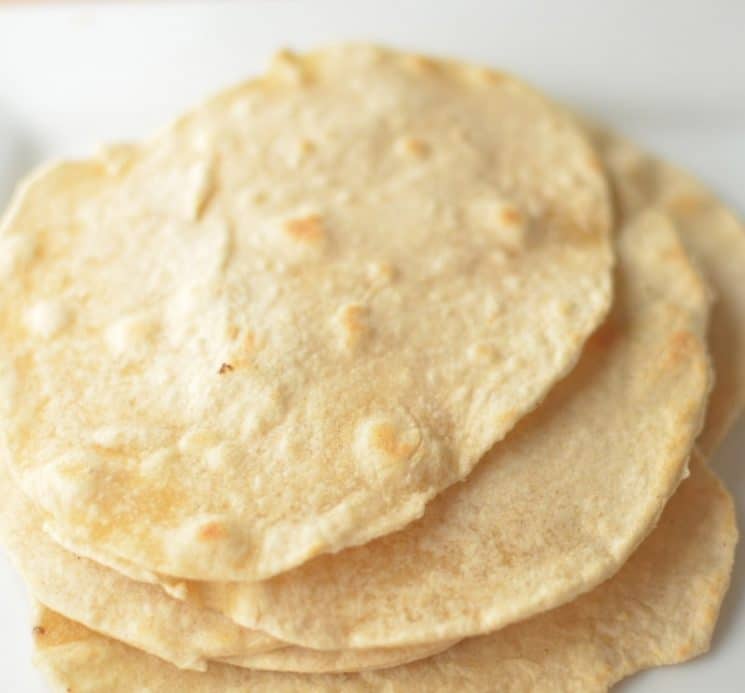 One of our favorite foods is breakfast burritos. We made them festive for Christmas by adding some red and green peppers!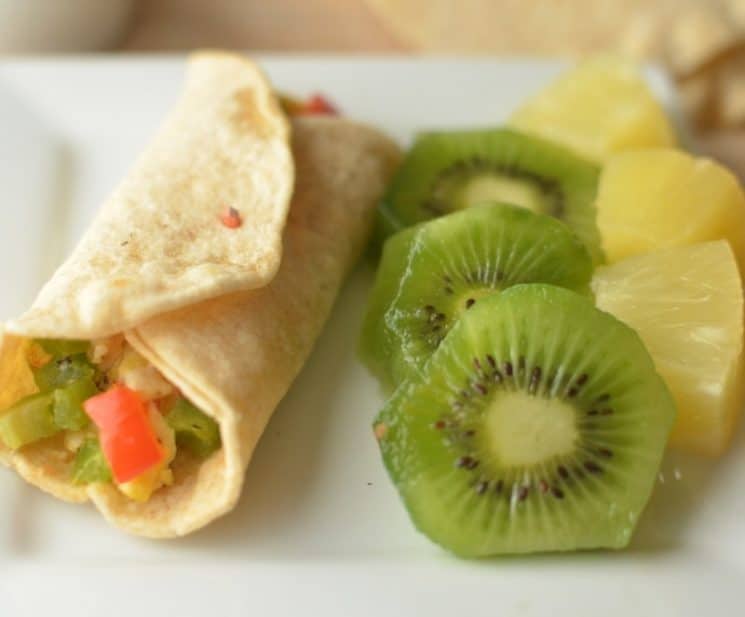 So, get your wheat and rolling pin out, and make your own tortillas next time you need some! You won't regret it. They freeze well too if you make extra!!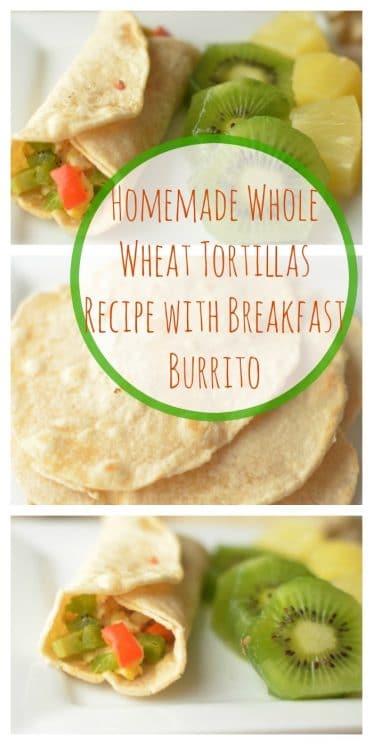 Homemade Whole Wheat Tortillas Recipe with Breakfast Burrito
Print
Pin
Rate
Instructions
Mix together flours and salt.

Mix together first with a spoon, then with your hands.

Once your dough is easy to handle, divide into 8 balls.

Roll out as flat as possible.

Cook each rolled out dough on a hot griddle, browning both sides slightly.
Nutrition
Calories:
153
kcal
|
Carbohydrates:
23
g
|
Protein:
4
g
|
Fat:
6
g
|
Sodium:
149
mg
|
Fiber:
2
g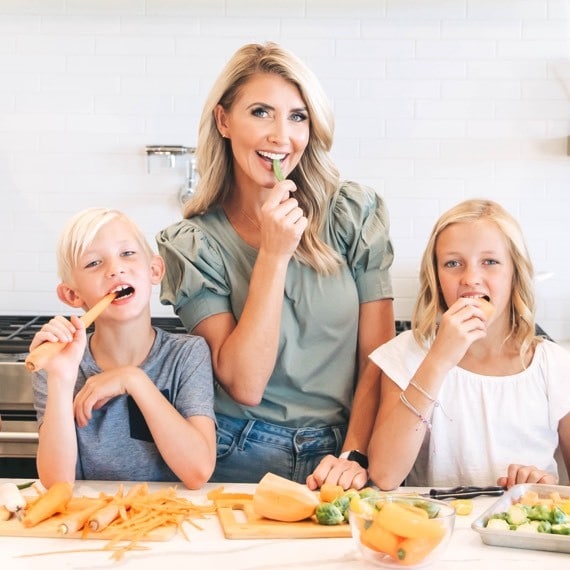 Natalie Monson
I'm a registered dietitian, mom of 4, avid lover of food and strong promoter of healthy habits. Here you will find lots of delicious recipes full of fruits and veggies, tips for getting your kids to eat better and become intuitive eaters and lots of resources for feeding your family.
Learn More about Natalie