Helping Kids Adjust to a Move
Moving can be tough on kids because they thrive on routines and familiarity. Leaving their friends, neighborhood and school they are comfortable with can be a hard transition. Our tips can help make this transition as smooth as possible for your kids.
10 Tips to Help Your Kids Adjust to a Move
Discuss moving with your kids in advance. Try to give them as much information as you can about the move and allow them to process their feelings and thoughts about it both positive and negative. Explain what will be different, but also make sure you talk about the things that will be the same – their toys, family, etc.
Give your kids a safe space to express their feelings. If you are feeling a lot of anxiety or sadness about the move, try not to let that rub off on your kids when talking about it. Let them express their real feelings to you and not worry about it making you more sad or anxious. You can validate that their feelings are normal while also trying to maintain a positive perspective.
Make a moving book. Take pictures of your house, yard, friends, favorite neighborhood spots, and school. Let your kids help take the pictures and decide what they want pictures of.
Visit your new home/neighborhood before moving. When possible, take your kids to tour your new neighborhood and city and visit places that matter to them. The library, parks, and local swimming pool. This can help take some of the mystery and worry out of the move. If it isn't possible to actually visit your new area, check it out online with your kids.
Let kids help with planning. Have your kids draw a picture of how they want to arrange their new space. On moving day, have your kids pack one box of their favorite things that they can open right away when you get to your new house.
Help your kids say goodbye and stay connected. Host a goodbye party for their friends and classmates and have them write their contact info in an address book for each of your kids. Plan a trip back home to visit friends.
Maintain normal routines. Continue with the same routines you had before the move like family meals, game night and bedtime. This helps kids have some sort of consistency that is reassuring to them.
Reassure your kids. Show your kids lots of love and stay positive and upbeat about the move. Talk about how new adventures await and how fun it will be to meet all sorts of new friends.
Get to know neighbors. Help your kids make new friends by paving the way and meeting the people who live around you. Talk to people about local activities and sports you can get your kids involved with.
Become involved in your new community. As you meet new people through local schools, groups, or organizations, you can be opening some doors for your kids to meet other kids and make new friends. Reach out to people who have kids the same age as yours. Set up a playdate or invite them over to make it easier for your kids to connect. Look into local sports activities, YMCAs community clubs. When your kids see you getting involved and finding your place in your new neighborhood, they will likely feel more comfortable doing the same. If you can help your kids find a new friend before school starts, they will feel a lot less scared about going to school and not knowing anyone.
Buying or Selling Your Home

Our family recently moved from our home of 10 years. One thing we found that really helped reduce the stress of the moving process was how smooth the sell of our home went. We recently sold our home using Homie and had an amazing experience. Our home sold in 12 hours with a full price offer!
If you are about to start the process of buying or selling your home, we definitely recommend using Homie. It is the new way to buy or sell a home without expensive realtor commissions involved. Homie's technology automates the entire real estate transaction for buyers and sellers. The bottom line, you handle more of the transaction yourself using our simple online tools, and pay a fraction of the cost. Instead of the typical 6% commission fees charged by traditional real estate agents (which is $18,000 on a $300,000 home), Homie charges a low fee and zero commissions.
The features of Homie that were the most helpful to us:
Photography – Homie provides a professional photographer to come to your home and take photos. The way your home looks in your listing is critical to being able to sell your home. Our photos looked incredible and I know were a big part of selling our home.
Value report and pricing – Homie provided comps and information that helped us set a good price to sell at.
Take care of all the things you don't know how or don't want to do. You get a dedicated team of Agents that help you through the process that will help guide you every step of the way. Technology makes it efficient and their team makes it an incredibly smooth process.
Check out their frequently asked questions here for more info!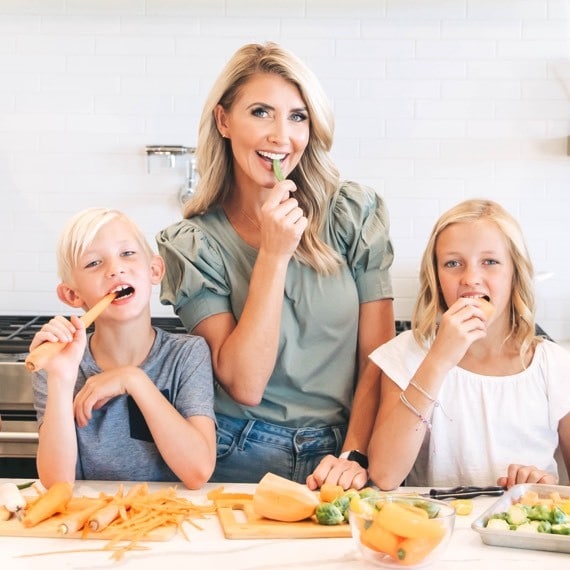 Natalie Monson
I'm a registered dietitian, mom of 4, avid lover of food and strong promoter of healthy habits. Here you will find lots of delicious recipes full of fruits and veggies, tips for getting your kids to eat better and become intuitive eaters and lots of resources for feeding your family.
Learn More about Natalie