This tangy Mango Guacamole takes regular Guac to a new level! Sweet chunks of mango mixed with smooth avocados, lime and spices is the perfect chip dip.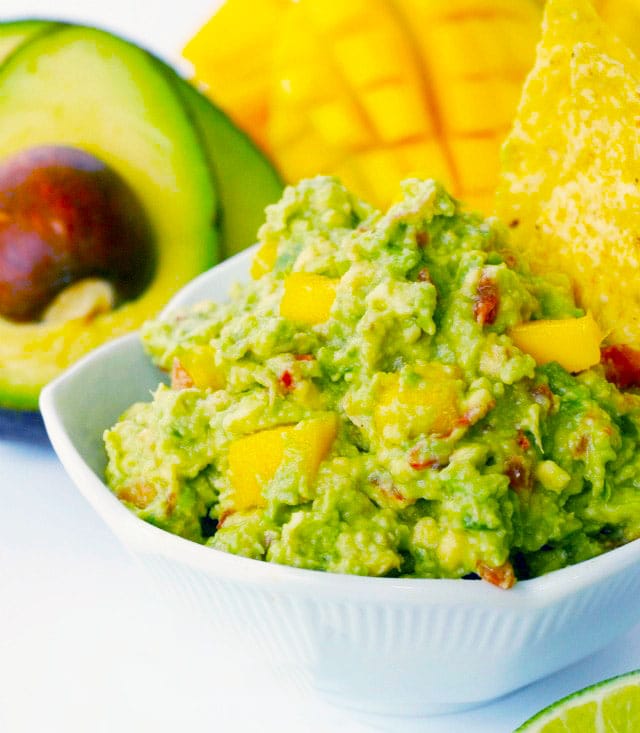 How Do You Make Guacamole From Scratch?
Making your own guacamole is so easy and uses fresh, quality ingredients. You start with ripe avocados. If your avocados aren't ripe, your guacamole will be watery and flavorless. Mash the avocado with the back of your fork to the consistency you want. You can make it more chunky or smooth depending on what your kids like.
Next dice your tomatoes, mango, and onions. Mix with your avocado, and then add lime juice and seasonings. It is that easy!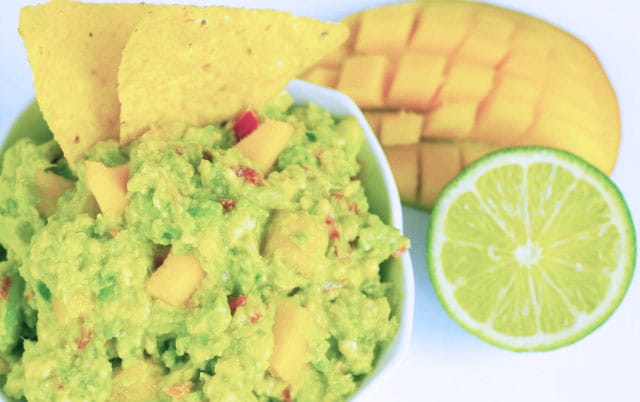 Is Guacamole Healthy?
Avocados are the main ingredient in guacamole, and are loaded with healthy monounsaturated fat, which boosts brain function. Avocados also contain fiber, lots of potassium, magnesium, high levels of folate vitamin E, vitamin B for cell health, and vitamin K.
Homemade guacamole is definitely a healthier choice than store-bought. Store-bought guacamole usually has added sugar, artificial flavors, preservatives, and a lot of sodium.
Also, try dipping vegetables like carrots, bell peppers or celery in your guacamole.
Fun Way For Kids to Eat Guacamole
Try these Guacamole Icecream Cones as a fun way to serve guacamole to your kids!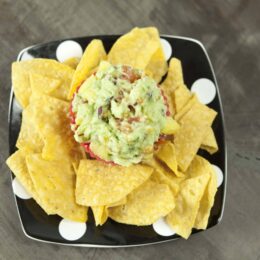 Ingredients
2

medium

avocado

1

medium

mango

1/2

medium

tomato, red

1/4

medium

onion, red

1

clove

garlic

1

medium

lime

1/8

teaspoon

sea salt

1/8

teaspoon

black pepper, ground

1/4

teaspoon

cumin, ground

4

oz

tortilla chips
Instructions
Mash the avocado with the back of your fork to the consistency you want.

Dice mango, tomato and onion; mince garlic. Add to the avocado.

Add the juice from the lime, salt, pepper, and cumin; stir to combine. Serve with tortilla chips.
Nutrition
Calories:
338
kcal
|
Carbohydrates:
39
g
|
Protein:
5
g
|
Fat:
21
g
|
Saturated Fat:
3
g
|
Sodium:
175
mg
|
Fiber:
10
g
|
Sugar:
9
g