Healthy 3 Ingredient Ice Cream
There is a frozen yogurt shop close to my house that my girls LOVE going to. They ask to go almost every time we drive by. This place is a self-serve type place and the cups that you use are HUGE. There are about 20 flavors to choose from, and so of course my girls think that they need to fill up their cups with a bunch of different flavors. They get all excited, and then we sit down and they take about 3 bites and then they just want to play. They leave their huge cups of frozen yogurt (that contain flavor combinations I would never eat) to melt and waste.
So the other day I was drinking some chocolate soy milk (yum its one of my favorite treats) and I thought – it would be so easy to whip up some 'ice cream' using this and it would be delicious! I came up with 2 different recipes and they each took me less than 5 minutes. And then I could give my girls a small portion with no waste, no added sugar, and added nutrients!
Dairy-Free Chocolate Peanut Butter Banana Ice Cream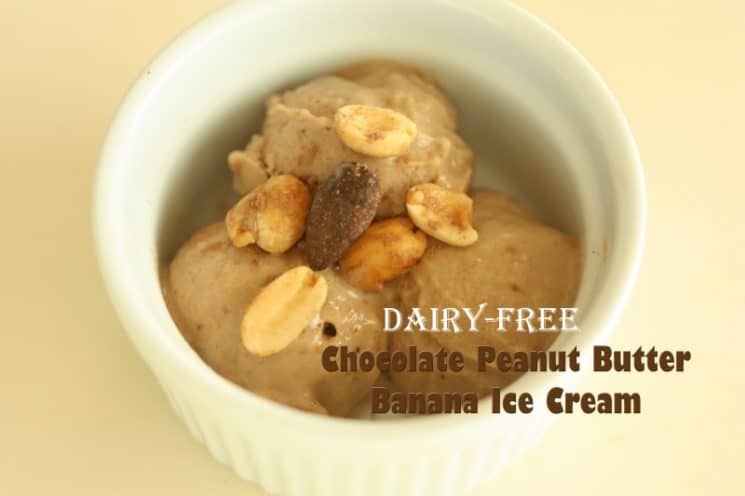 The key ingredient in both of these recipes is a frozen banana. I couldn't believe how smooth and creamy just blending up a frozen banana by itself could be. I made mine in a food processor, but if you had a really strong blender, you could probably do it in that also. I blended:
1 1/2 frozen bananas
2 Tbsp Peanut Butter
2-3 Tbsp Chocolate Soy Milk
That is it! This will make about 2 servings. Blend until the consistency is smooth and creamy. When you are done the texture should be similar to soft-serve ice cream. If you like it a little more frozen, place in a dish or freezer safe tupperware and freeze for an hour or so. This is SO good. Sweet, creamy – way better than most ice cream I have had and much healthier!
Raspberry and Cream Banana Ice Cream
To make this, blend in a food processor:
1 1/2 frozen bananas
1/2 cup frozen raspberries
1/3 cup vanilla Greek yogurt
Blend until smooth and creamy. Eat immediately or place in the freezer for a harder consistency. This flavor is creamy and delicious, but also refreshing!
Both of these recipes are going to give your kids a lot more nutrients than just regular ice cream and without all of the added sugar! Need more healthy ice cream?
Try our Coconut Vanilla Dairy Free here.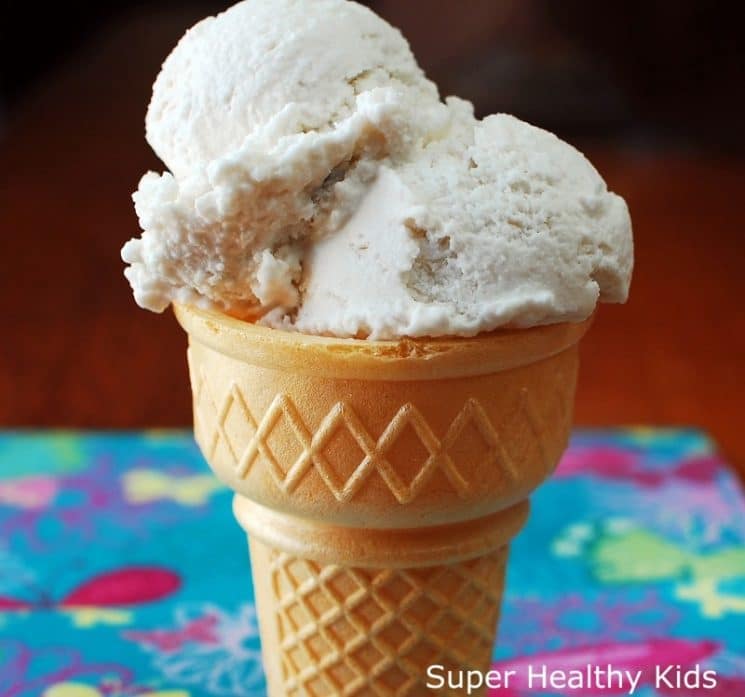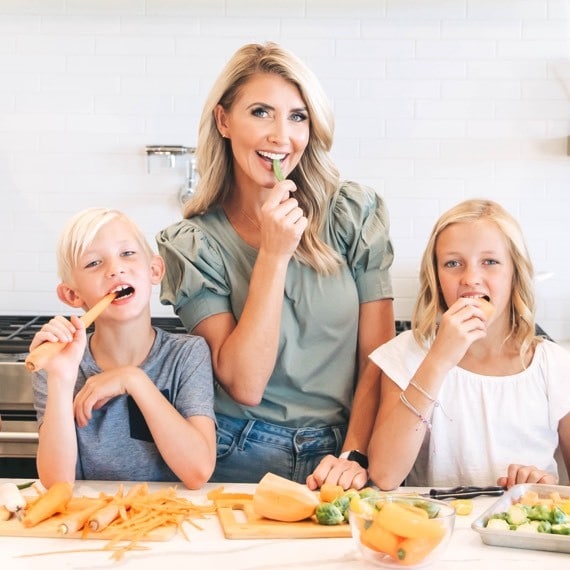 Natalie Monson
I'm a registered dietitian, mom of 4, avid lover of food and strong promoter of healthy habits. Here you will find lots of delicious recipes full of fruits and veggies, tips for getting your kids to eat better and become intuitive eaters and lots of resources for feeding your family.
Learn More about Natalie