Flavored Water for Kids Plus Essential Benefits of Water!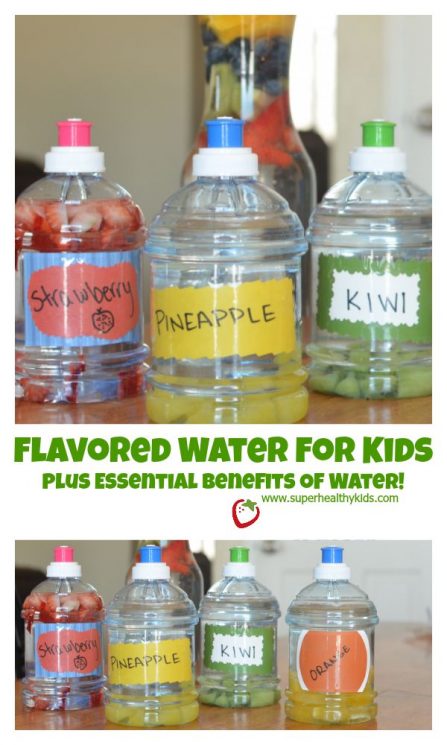 Water! We all need it, especially kids! Did you know:
Losing only 5% of water causes headache, fatigue, confusion, forgetfulness, elevated heart rate.
Water regulates body temperature.
Water dilutes toxins and flushes them out.
Provides a moist environment for ear, nose and throat tissues.
Carries nutrients to your cells
Water lubricates joints, improves skin, cushion's body's organs, and repairs tissue.
And lastly, we like to believe drinking plenty of water helps shorten the duration of common colds and flu's (although I wasn't able to find any studies to support this!! Do you know of any?). About 2 weeks ago, a nasty little virus made it's way into my house! I strictly ordered the kids to increase their water intake and figured I needed to do a few things to make it happen.
How I get kids to drink more water!
I first buy a case of bottled water. My husband and I have fought about the purchase of bottled water for years! He thinks bottling companies are ripping us off big time, considering you can get water for free- but once in a while, when the convenience factor is important to me, I grab some! The kids really do drink more water when I get some and desperate times call for desperate measures.
I flavor some! Save the cucumber and lemon flavored water for baby showers! My kids won't drink it. However, water flavored with simply fruit is familiar and tasty! We don't add veggies, we don't add herbs or spices- just fruit. If your kids are used to you diluting their juices with water anyway, it shouldn't be too different for them. We made some up yesterday. We took four separate re-usable water bottles and chopped up strawberries using a good fruit and veggie knife. In a separate bottles we added oranges, pineapple, and kiwi! One in each water bottle and chilled in the fridge. They are ready to go in a pinch and as soon as someone gets thirsty!
Finally- Be an example!! Do your kids see you chugging the water? Don't expect them to drink up if you aren't!
Here is a peak inside my fridge with our water bottles:

Do your kids like flavored waters? What combination- or single ingredient is their favorite?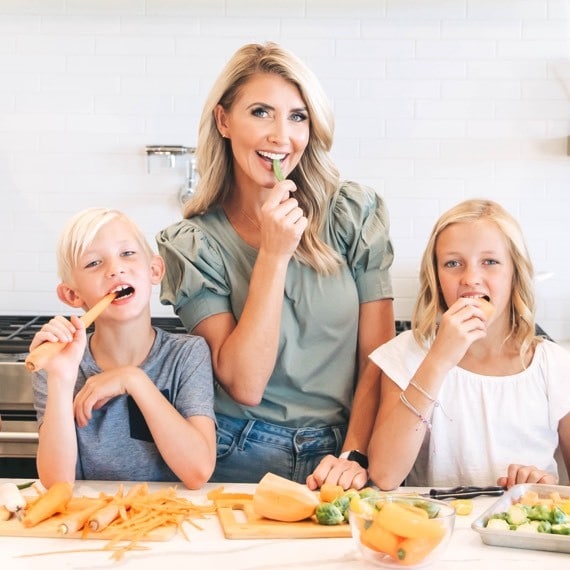 Natalie Monson
I'm a registered dietitian, mom of 4, avid lover of food and strong promoter of healthy habits. Here you will find lots of delicious recipes full of fruits and veggies, tips for getting your kids to eat better and become intuitive eaters and lots of resources for feeding your family.
Learn More about Natalie